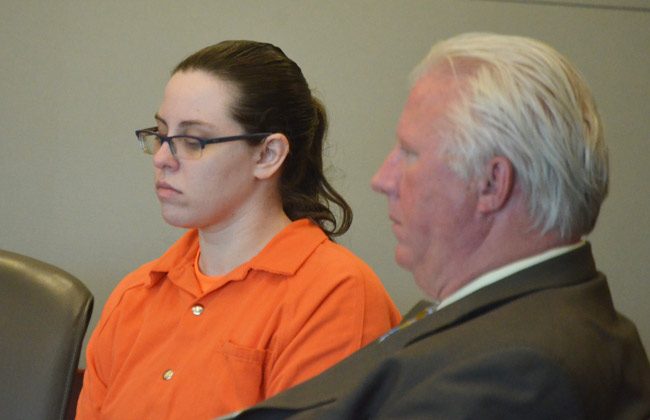 Erin Vickers, the Palm Coast woman facing 49 charges related to sex crimes against children, will go on trial Sept. 18 on the first of those charges—the alleged tape of her own daughter, who was 1 year old when the alleged assault took place on Feb. 26, 2015. Vickers since that winter has been held without bond at the Flagler County jail, where she marked her 23rd birthday last week.
Her case is intricately tied to that of Paul Dykes, 20, who also faces eight charges of raping a child about the same age as Vickers's—he has a child of his own, but his parental rights were terminated by court order in March 2016—among the 41 charges that have been filed against him. Dykes, formerly a resident of 22 Buffalo Meadow Lane in Palm Coast, had been in an unusual relationship with Vickers. He's also being held without bond at the county jail.
Vickers and Dykes met in 2011 or 2012, according to court papers, "communicated verbally, never met in person and eventually stopped speaking for a number of years. It is unclear when they may have started speaking again whether it was late 2014 or early 2015."
Vickers and Dykes appeared before Circuit Court Judge Dennis Craig this morning for the continuation of a hearing that, like the public documentation surrounding the pair's case, appeared and sounded complicated. That's in large part because the co-defendants face 90 charges between them, with additional charges being added by the State Attorney's Office as if on a seasonal schedule: the two had started with about 10 charges each. In fact, the two cases are not as complicated as they seem when shucked of lawyerly layers and pared to their essentials, which is what Craig achieved by the time the 90-minute hearing ended today.
Here, in summary, is what the case is about, and what was accomplished today.
According to Dykes's arrest report, the social media company Whisper in August 2014 reported to the National Center for Missing and Exploited Children that a user who went by the name "anarchist" had uploaded images of child pornography from a particular Brighthouse account in Palm Coast, later narrowed to the Buffalo Meadow Lane address. State investigators served a search warrant there in late March 2015 and initially found a cache of images and videos on a cell phone and a laptop, depicting sexual acts involving adults and pre-pubescent children. Dykes was initially arrested on 10 counts of possession and transmission of child porn, but investigators uncovered what eventually amounted to more than a thousand related items—images and video—including Skype chats with Vickers, found on her phone, a Dropbox account that belonged to Dykes and contained more images, and three videos of the alleged rapes involving both Dykes and Vickers. That led to Vickers's arrest and, eventually, to the 90 combined charges.
Another complication was Vickers's record in Polk County, where she was on probation for sex crimes involving a child there—an adolescent in that case.
Today's hearing, a continuation from a hearing earlier this year, was for Craig to rule on several motions filed by the public defenders for Vickers and Dykes—Garry Wood for Vickers, William Bookhammer for Dykes. Both were looking to separate many of the counts against their clients into separate cases, or separate trials. Wood was seeking to exclude any evidence from the Polk County case. Wood, and to some extent Bookhammer, was also seeking to exclude much olf the totality of the evidence in the accumulated cases from being introduced in any single trial.
Assistant State Prosecutor Joe LeDonne's position was simple: all evidence in all cases must be included at all times because it is all inextricably linked. "This is one of those cases where every piece of evidence, every count, is going to be prejudicial to the defense," LeDonne said. "I don't think that they can be severed. They're inextricably intertwined." ("Severed" is the term lawyers use when discussing splitting charges into separate trials.)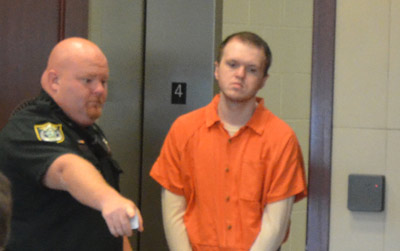 But Wood was insisting: even though Vickers faces 41 counts, he wants what could potentially be 41 trials—or at least a trial on each of the nine rape charges Vickers faces, though he didn't put a number on it. That perplexed the judge, who questioned the strategy in a remarkable exchange with Wood.
"Let's say you survive the first trial, then you go and you've got to survive the next sexual battery charge," Craig said, "and the next sexual battery charge and the next sexual battery charge. So as far as the strategy goes, is that really what you want to do?"
"Judge I'm on this case 'till the end of time, it looks like," Wood said. "I'm here to protect Ms. Vickers's right to a fair trial. I respect certainly only what the court is alluding to there, but we are going to maintain our position stated in the motion to sever, and the objections to the similar fact evidence that the state has filed in this case." (Similar-fact evidence is things like pictures and video, which have generated their own charges of possession and transmission of child porn, and which the defense wants to exclude, but the prosecution considers an integral part of the case.)
Wood continued: "We have no other choice but to do that. It's such a weighty, serious set of allegations to begin with. Quite honestly why muck it up with all this other stuff? We really should be down to three or four counts at the most to try this case. I don't understand the state's logic in presenting all this other stuff. Respectfully, by the end of this year, who knows how many more amendments we're going to contend with for this case." He was referring to the prosecution's periodic piling of new charges.
"We're going to do a trial in the near future regardless of whether it's the whole thing or one count or two counts or five counts or whatever the case may be," the judge said. "State, wouldn't it make a nice clean trial if we just picked [the charge] for Ms. Vickers and try the sex battery?"
"There isn't a lone sex battery charge, judge, there's several," LeDonne said.
"You'll still have those," Craig said.
Bookhammer and Dykes listened in the whole time, essentially sidelined for now.
But one thing leaned in favor of having serial trials: the victims will not be testifying, so there is no risk of putting them on the stand again and again—usually a traumatic experience for victims of sex crimes—even though LeDonne argued to the judge that every time a picture or a video of the alleged assaults is shown jurors, the victims are being victimized again—an argument more emotionally than empirically potent that judge or defense did not challenge.
In the end, starting with the one trial on the one rape charge against Vickers is just what Craig ruled, giving Wood what counts as a minor victory in the pyrrhic battles already under way: Vickers and Dykes will be tried separately. Whether they will be tried on each separate count again and again has not been determined. What Craig did rule is that the first trial will focus on the first rape charge against Vickers, with many of his decisions to be made pending the outcome of that trial, which could render a lot of the motions and questions surrounding additional charges moot. If Vickers is found guilty on what amounts to a capital charge, she won't face the death penalty—that's been ruled illegal years ago with regard to crimes not involving murder—but she will face life in prison without any chance of early release. But she would still have the right to appeal, and Wood spoke today as if he would exercise that right on her behalf, making the rest of the charges against her anything but moot: they would still have to be tried and defended.
The complications, in other words, are more a matter of calendars and court time than the particulars of the cases.
As for Dykes, his trial turn may come in October. But again, that hinges on the outcome of the Vickers case. Dykes is not going to appear in the Vickers case, not even as a witness, even though central to Vickers's defense is what amounts to this claim: Dykes made her do it.
Dykes and Vickers arrived in court together shortly before the judge walked in. They were in the usual orange jump suits, hands and feet shackled. They were seated separately, Dykes at the front table next to Bookhammer, Vickers behind him next to Wood. Both were stone-faced. Neither said a word, and Craig did not address them, as his predecessor—Judge Matthew Foxman—surely would have, if only to ask them if they were being treated well at the jail, or to hear the tone of their voice and get a sense of their mental state.
Vickers's trial is expected to take at least a week, with jury selection alone lasting two days because of the nature of the evidence to be presented potential jurors: lawyers expect that many in the pool of jurors will opt out, while the lawyers themselves will seek to weed out anyone who's had exposure to the case through media.