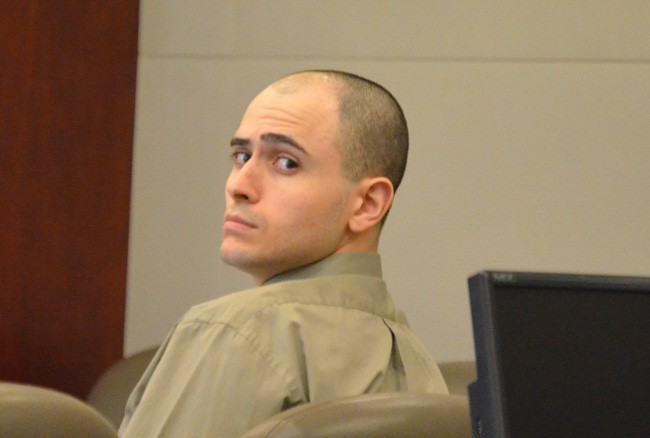 Giuseppe Verdone Jr. knows what he's in for if he is convicted on even one of the five violent felony charges he faces as his trial began at the Flagler County Courthouse this morning. The slight 24 year old—he's 5'9'', listed at 150 pounds in his local jail record—had finished a stint in state prison barely a year before his latest arrest. He was in for grand theft and burglary, his most serious conviction until then, after several years of finding himself jailed on lesser charges, including exhibiting a weapon at school, a guilty verdict for brandishing a weapon, and a guilty verdict for forgery just weeks before he was accused of committing his most serious crimes yet.
If he is found guilty, those crimes could lead to a life sentence in prison, without parole.
The incident happened the night of November 2, 2013, when the victim, Ming Gong, was so brutalized—his skull was fractured, he was bleeding in his brain, and was scarred from being thrown from a vehicle as he was handcuffed—that he couldn't speak to detectives before he was flown from Florida Hospital Flagler to a hospital in Jacksonville. Gong was the co-owner of King Palace, the Chinese food restaurant on Palm Coast Parkway. He'd gotten an order for an address on Bayside Drive in Palm Coast. When he got there, a man posing as a cop asked him for his car insurance card.
Flagler County sheriff's detectives later pieced together a case that led to Verdone, who had been showing off his handcuffs and had allegedly told others that he was looking to target a Chinese delivery driver to get a car and enable him to see a 15-year-old girl (who'd been reported missing at the time). Verdone's family at 64 Bannerwood Lane cooperated most with detectives, providing video surveillance from around the house that showed Verdone getting out of a car (he did not own a car) the evening of the alleged carjacking, and providing the laptop on which Verdone had searched for a motel in Virginia. The search history was still there.
Detectives put out a be-on-the-lookout to agencies north. Verdone was arrested by the Hardeeville Police Department after a high-speed chase began by other agencies in Georgia and lasted 45 minutes. Verdone was driving Gong's Toyota. He had a 15-year-old girl with him, the girl listed as missing from Palm Coast. At the time of the arrest, Gong had just been induced into a coma, because of the extent of his injuries.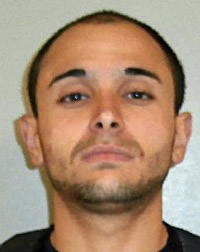 Verdone appeared in court this morning trim and neatly dressed in the sort of casual business clothes one might wear to work every day. Even though he's been jailed at the county jail since his arrest, court rules are such that at trial, a defend ant does not wear the usual jail jumpsuits, so as not to prejudice the jury against him. He looked much less defiant than his posture suggests in either his prison or local jail mugshots.
Jury selection was scheduled to take all day. The pool was large: several dozen men and women gathered in the courtroom before Circuit Judge Bill Parsons, who was sitting in for Judge David Walsh just for that portion of the trial. Walsh is expected back Tuesday. Parsons said the trial may last all week. By day's end, the jury of six, with two alternates, was to have been chosen.
The witnesses on the list of those expected to testify include two doctors from Florida Hospital Flagler (Donald Niez and Ramez Taher), four police officers from the Hardeeville, Police Department, two members of the Port Wentworth, Ga., police department, one member of the Liberty County Sheriff's Office in Georgia, half a dozen Flagler County sheriff's detectives and deputies, including the department's crime scene investigator, at least two members of the Flagler County Fire Rescue department, several members of the Verdone family, and two minors. None of those individuals were in court today. The victim, too, is on the witness list, though being on the list does not necessarily mean the witnesses will be called to testify.
Verdone initially faced seven charges, all of them felonies. Two were dropped last week: falsely impersonating a cop, and interfering with the custody of a minor. The charges that remain are robbery with a firearm, kidnapping, aggravated battery with a deadly weapon, burglary with assault or battery, and armed burglary. The jury will be asked to pronounce judgment on each of these charges, with each charge carrying either 30-year or life terms on conviction. The prosecution is led by Assistant State Attorney Christy Opsahl. The defense is led by Public Defender Regina Nunnally.

Giuseppe Verdone Arrest Report (2013)