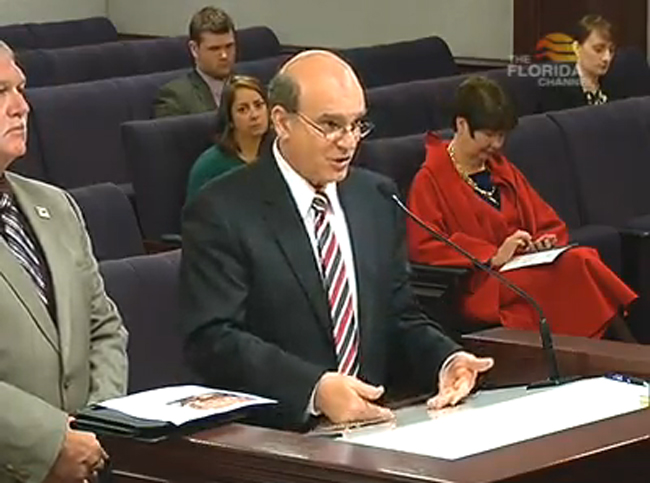 In a victory for Flagler County government's attempt to regulate short-term vacation rental properties in the Hammock, a Florida Senate committee on Thursday gave a unanimous go-ahead to a proposal that would return authority to regulate short-term rentals back to local governments. The Legislature in 2011—and with a unanimous vote by the Senate—had abrogated that authority with a so-called pre-emption law that forbade local governments from regulating the industry with city or county ordinances.
Over the past two years the annual legislative delegation meeting, where local residents and government representatives face their state legislators and list their wishes for new laws or funding, were dominated by conflicts between the Hammock's permanent property owners and businesses—or property owners—that run short-term rentals in the area. Permanent residents implored their legislators to revisit the 2011 law. Businesses and property owners profiting from short-term rentals asked the legislators to leave the law alone.
At the October legislative session in Bunnell, Sen. John Thrasher and Rep. Travis Hutson, whose districts include all of Flagler County, pledged to each file companion bills to eliminate the pre-emption language from the 2011 law. They did. And on Thursday, Thrasher's bill (SB356, see below), got its first boost, clearing the Regulated Industries Committee, but not without a serious caveat from the committee chairwoman.
Kelli Stargel, the Lakeland Republican, summed up the issue as "a question of putting personal property rights up against local control, and it's very difficult at the local level to try and meet both of those expectations." But Stargel said she was supporting the Thrasher proposal more to continue the debate than because she is convinced that the proposal is fair, as written.
"I'm conflicted in a person who already has a vacation rental, already has purchased property, already has built a house, and now to come back and basically do some sort of a public taking. But I am going to support this bill," Stargel said. "I think we need to continue this conversation and move forward. I'm not sure if at the end of the day in this current form I can support it all the way through like it's written, but I do think we need to try to address both these issues, but also putting a high weight on property rights as well as looking at what we can do with local governments."
The proposal has a long way to go. It hasn't yet been heard in the House, and must still clear several committees in the Senate before it reaches the Senate floor—if it does. It can die along the way. But Thrasher's backing is no small momentum, nor is Thursday's 8-0 committee vote, including five Republicans and three Democrats.
---
Full Audio: Senate Committee's Discussion on SB356, Short-Term Rentals (45 mn)[media id=363 width=250 height=250]
Thrasher was unequivocal: "I frankly think we made a mistake in 2011," he said, having himself voted for the pre-emption measure back then. The best arbiters of these disputes, he said, "is not the Florida Legislature, but it's the local government. That's all I want to do. I want vacation rentals to be successful. I want Florida to be Number 1 in vacation rentals, but I don't want my property owners who are impacted by these folks to be abused either. That's all I'm saying. I guess maybe I over-trust our local governments. I think they'll do the right thing in this regard, and if they don't we'll hear back from folks about that."
Earlier in the 45-minute hearing on the bill, Thrasher sought to assure legislators that he was not aiming to diminish either property rights or business rights. "This bill does absolutely nothing to impact the time-share industry, the food and lodging industry," he said. "In fact the only impact this legislation has is to return home rule to the local governments to deal with the issues that have arisen in local jurisdictions, and evaluate, and create perhaps ordinances to govern the counties and respond to their constituents and their property owners' concerns as they deem appropriate. So that's really all the bill does. It simply says that, you know, if you're a property owner, and you're at one of these so-called mini-hotels that cannot now be regulated, you have some rights too. That's the essence of what the bill does. Rather than preempt to the state some type of very innocuous potential regulation, we say it ought to be back in the local districts where they can look at these issues and better evaluate them so that their constituents can have some recourse."
Thrasher's proposal had the support of the Florida League of Cities and the Florida Association of Counties. Casey Cook of the Florida League of Cities noted that the grandfather clause in place now, which allows local regulations that were in place before 2011 to stay in place, may have helped local governments but also ended up punishing them—if the regulations are not in line with new problems that must still be addressed: local governments are too fearful to alter their regulations for fear of losing their grandfather clause.
Flagler County was never in that situation, having never passed an ordinance regulating short-term rentals. But an opinion from the Attorney General in October confirmed that Flagler's hands were tied, with no recourse to making new rules absent a change in law from the Legislature.
Three local officials appeared before the Senate committee: County Commissioners Frank Meeker and Charlie Ericksen, and County Attorney Al Hadeed. (In the interest of time, Ericksen opted not to speak, though he had a presentation at the ready.)
Meeker illustrated the issue with a nightmare scenario that, in many regards, exaggerated the issue, but had its effect on the committee: the committee members kept returning to Meeker's example.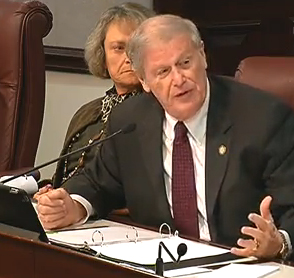 Meeker asked the panel to imagine having bought a dream home on the beach, only to be faced with a new house next door that has 12 bedrooms, 10 baths, a dining area capable of seating 24, eight or 10 cars parked in the grass that makes "getting out of your neighborhood something like trying to get out of Atlanta at 5 o'clock in the afternoon and there's a three-car pile-up already on the road."
Meeker continued: "Imagine if you will that that house catches fire, and with cars everywhere blocking access, consider the challenges presented of fire personnel as they try even to get access to the house to put the fire out. They'd like to rescue some of the people inside but can't because some of the bedrooms don't have windows. Some of these places don't have sprinklers, or sprinkler systems for fire prevention, yet they're loaded with 24 people, so the fire department has to kind of sit around while the place burns down, and your palace is in peril. So you go to your elected official, in that case it's me, and you ask me for some help, hoping I can protect your investment, and I tell you I'm sorry I can't, and I can't because I'm prohibited from doing so because of the previous acts of the Legislature." He described the "McMansions" that have changed the characteristics of the single-family neighborhood, thanks to the state's pre-emption language.
"My constituents aren't happy. They live here full time," Meeker said. "The vacation renters often are out of state owners. They don't have to put up with the noise, the congestion, the loss of privacy, the sound of peace and quiet shredded and replaced by hard rock, loud voices and carnage next door that happens every two weeks and flips that way every 26 weeks." He asked the panel to turn back the clock a little and restore some regulatory powers to county government.
A senator asked whether the houses were permitted when built. They were. But there were no regulatory distinctions made between permanent and short-term rentals, Meeker said: the law forbids the county to change the zoning, in other words.
Hadeed specified: "What the legislation essentially did was to define for all local governments that a vacation rental could exist in a single family home in a single family home zoning district, and what the legislation did in 2011 was to freeze whatever existed with respect to that as it applies to any vacation rental. So, for example, Brevard County, they had regulations as of 2011 that governed vacation rentals in single-family neighborhoods. So their limitations on size, frequency, things of that sort, whatever they thought was appropriate for their community. Now, we are prohibited from doing that because we didn't have anything on the books." But even local governments that had regulations on the books are afraid of changing them—of tweaking them, in line with more recent needs—because they're afraid of losing their grandfathered authority to regulate.
Such vacation rentals don't even have to be registered with the local government—nor do they have to be individually registered with a state agency. Up to 72 units can be registered under a single entity. That prevents local governments from tracking where the rentals may be. The state's pre-emption clause forbids local governments from requiring registration.
Sen. Oscar Branyon of Miami Gardens, the ranking Democrat on the committee, asked Hadeed and Meeker what sort of local ordinances Flagler may have in mind, "because once we open it up, I mean anything could happen."
Meeker could not give an example. "As a policy maker, I haven't gotten that far yet," he said. "What's important to me is that the characteristic of the neighborhood is maintained." But the commission, he said, has not determined what constitutes abuse, whether it's having more than 12 people in a short-term rental home, or whether the terms themselves can be five days or more, or less. "We haven't dealt with that as a policy issue," he said—namely, because it would have been pointless for the commission to do so, knowing that for now it had no authority to enforce any such measure.
"By giving us the ability to regulate, we can look at those questions to see if we need to do it and size it and scale it to our resource," Hadeed said. But both Meeker and Hadeed strained to stress Flagler's traditional respect for property rights. They did not want to give the impression that the county was ready to descend on short-term rental property owners and drastically alter what allowances are already in place. (Hadeed and Meeker did not address the economic impact of short-term rentals, but the rentals' nuisance factor aside, they do generate tens of thousands of dollars in local tourism sales surtax dollars that go into county coffers.)
"In this particular situation," Hadeed told the panel, referring to the mansion sporting 12 bedrooms, "we may address it by making sure for example that their vehicles are not placed in the roadways that would impair the access of emergency vehicles, so it may be not so much, you know, maximum number of bedrooms. An ordinance could not be applied to that. For example, hypothetically, we may do things with respect to activities that are generated there that impair public health, safety and welfare, or potentially compromise it."
Only one person addressed the committee in dissent from Thrasher's proposal: Lori Killinger, an attorney representing the Florida Vacation Rental Managers Association. It was the association that put the legislative language in place, in 2011, that's now at the heart of the issue Thrasher's bill—and Flagler officials—hope to change.
"We attempted yes, to pre-empt local governments, but we did so in the smallest way possible, in order to ensure that equal property rights were protected," Killinger said. "The equal property rights are the property rights of an owner of property who wants to rent the property, and the property right of an owner who doesn't want to rent the property. The only thing under the law in our opinion local governments can't do is single out vacation rentals. So the zoining out of a vacation rental, or the individual regulation of just vacation rental, yes, would absolutely be prohibited under the law. However, there are innumerable things that can be done to address the issues that arise as a result of potentially vacation rentals being in residential areas. For instance, the noise, garbage, parking and frat-house-like atmosphere that the commissioner was setting out to you all, all could be regulated under the current law. The regulation would just have to apply across the board to whatever area they want to adopt the ordinance to effectuate the change. The size of a home could be regulated before 2011 and it could be regulated after 2011. That mcmansion could have been stopped any time, and it can be stopped in the future even if this law were to stay intact. If a local government wanted to pluck out an area of their municipality or their county and say, in this area a home could be no more than x square feet, or have no more than x bedrooms, they're welcome to do that. If they want to say, if that home is rented, it can have no more than x number of unrelated people, or related people, total occupancy, they can do that, under the law, so long as it does not only apply just to vacation rentals."
Killinger said she could not point to a single example of a local government attempting to adopt regulations of vacation rentals, "because not one has attempted to do so." Flagler officials would argue that they haven't done so because they were forbidden from doing so.
Killinger disagrees, citing the way Tallahassee regulated student housing around Florida State University, but before 2011. The Thrasher proposal, she said, would create inequities. "What they want to do," Killinger said, "is they want you to remove the small pre-emption so they can pick a winner and a loser in the property rights clash between the person who wants to rent their property, and the person who wants to own it and live in it."
Sen. Eleanor Sobel, a Hollywood Democrat, said the 2011 legislation had gone too far. "We have much bigger fish to fry, honestly up here, and bigger issues, than, you know, whether or not how many rooms, what's the noise decibel level, of a specific neighborhood, and housing." Police, fire, traffic issues should all be regulated locally, she said, just as the main function of local government is planning and zoning.  "I'm checking my voting record, I can't believe I voted for this."