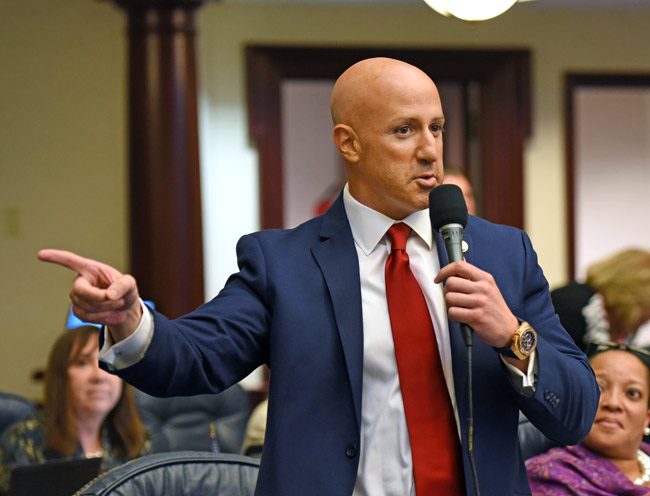 Rep. Joseph Abruzzo was livid.
"Most of us have been part of this process for a long time, and I've never seen that happen," he said toward the end of a contentious hearing on a controversial vacation-rental bill, as most such hearings have been for the past couple of years that variants of the same bill have been heard in Tallahassee. The bill proposed to all but eliminate local government regulation of the industry, handing a big victory to the vacation-rental lobby but upsetting attempts by local governments, among them Flagler County, to balance vacation-rental rights with neighborhood peace.
Abruzzo had taken the floor during debate over the bill in the House Government Accountability on Feb. 22. Numerous amendments were waiting to be introduced. A packed hearing room reflected the number of people who'd traveled from around the state to be heard, among them Flagler County officials. But Rep. Jayer Williamson, a Pace Republican, had just made a procedural move that would end all debate and immediately call for a vote.
By then, the vacation-rental bill's companion in the Senate had easily cleared two committees and was heading for a third, its momentum reflected in the House. Vacation-rental advocates were buoyant, thinking this would be the year they would scrap a 2014 law crafted at Flagler County's initial urging that restored some local government regulation. The industry's favored approach was state "pre-emption," meaning that only a state agency could regulate vacation rentals, and would do so with a very light hand. Local governments would be prohibited from regulating vacation rentals any differently than they would residential homes. Vacation rentals, in sum, would have the exact same rights and protections from regulation as residential homes.
The vote in the House committee was on a proposal by Rep. Mike La Rosa, the St. Cloud Republican who had tried the same approach last year but fell short in the final days of the Legislature.
"I've heard the question be called after public testimony," said Abruzzo, a Boynton Beach Democrat who's been either in the House or the Senate for the past 12 years, "but to cut off the public, to say that your voices have no right to be heard here in this committee where there could potentially be a close vote is absolutely wrong. And it should be noted. This is a point in the process that I'm quite frankly Mr. chairman and the committee, this is shocking, this is shocking that the public won't be heard today."
He spoke of the additional amendments still to be heard, of the controversy of the issue, of its central importance to Florida tourism, but the chairman went ahead with the vote anyway: La Rosa's bill cleared the committee, 13-11.
It was a much narrower vote than the two Senate committee votes had been. Whether because of the mounting opposition to the bill, Abruzzo's indignation or the way gun policy and school safety diverted the Legislature's attention after the Parkland school massacre on Aug. 14, the vote in that House committee proved to be the vacation-rental bill's last hurrah.
Just as it did last year, the proposal to scrap the 2014 law appears to have died. The legislative session ends Friday. But neither bill completed its runs through committees, and Sen. Greg Steube, sponsor of the Senate proposal, declared it "dead this year" in an interview with the Orlando Sentinel.
There is always the possibility of a floor maneuver, where an amendment could be tacked onto another bill on the House or Senate floor. But Al Hadeed, the Flagler County attorney who wrote the 2014 regulatory ordinance that numerous other counties and cities have adopted as a template for their regulations, said a floor maneuver would be unlikely in the next three days.
But he's not celebrating. Hadeed, County Administrator Craig Coffey and various county commissioners shuttle back and forth to Tallahassee this session, as they had last year, to battle the bills. They expect they'll have to do so again next year.
Steube is leaving the Senate to run for Congress, but he says the push to repeal the 2014 law will be renewed until the push is successful. Hadeed doesn't doubt it. But he says the same factor that undermined the vacation-rental industry's arguments will undermine it again in the future—namely, the premise that a vacation rental used as such for most of the year is the same thing as a residential home. It's not, Hadeed says. "It's being used as a kind of a hotel, a stripped-back version of a hotel," he says.
That's what's been galvanizing opponents of deregulation, who say their property rights are being violated when their assumption–that the home they bought in a residential neighborhood would be surrounded by people who use their homes as permanent homes—is at risk of being proven wrong. But proponents of vacation rentals have made strong arguments about property owners' rights to use their properties as they see fit. In Flagler County, the issue was focused over the Hammock, where the county is regulating about 100 or so vacation-rental properties. The county does not regulate owner-occupied vacation rentals, such as those that fall under the auspices of Airbnb: owner-occupied rentals are believed to be self-policed in ways that rentals owned by absentee owners are not.
It's not a small business sector. Short-term rentals generate thousands of dollars in tourism-tax revenue for Flagler.
This year's bills at one point would have eliminated a grandfather clause that would have preserved regulations pre-dating 2011, thus erasing Flagler Beach's ability to regulate vacation rentals, and eliminate homeowner association's ability to regulate vacation rentals as they saw fit. Both provisions were removed by amendments in attempts to win the bills greater favor. It worked, briefly.
The House bill eventually stalled, Hadeed said, because of "the greater appreciation of many of the members that this bill was going to undermine the single-family neighborhoods in a way they had not previously understood."
The respite is bound to be only temporary.