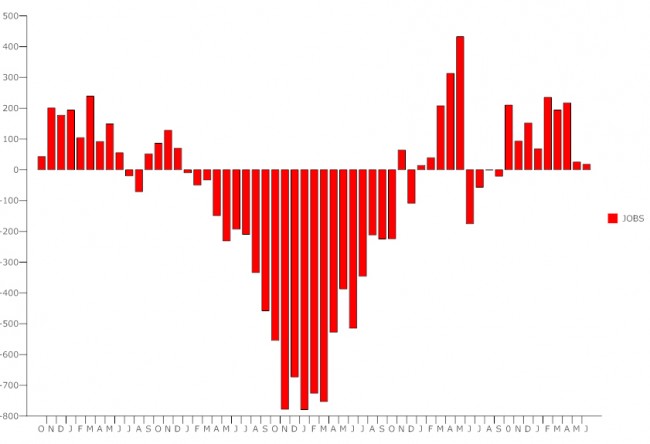 The national unemployment rate again rose in June, to 9.2 percent, the Labor Department announced this morning, and job creation virtually disappeared, with just 18,000 jobs created, the lowest number in nine months, and far less than the 125,000 economists surveyed by Down Jones Newswires had expected, raising fears of a double-dip recession.
Job creation for the previous two months was also revised downward: it was halved in May, from the originally reported 54,000 to 25,000. It was reduced to 217,000 in April, from 232,000.
Private-sector employment increased by 57,000 jobs in June. But it was offset by another heavy loss in government jobs, with 39,000 such jobs lost–14,000 of them at the federal level, the rest at state and local levels, as governments and public school districts continue to cut programs and services.
Since March, the ranks of the unemployed have increased by 545,000, and the unemployment rate has risen by 0.4 percentage point.
The number of unemployed Americans rose to 14.1 million (1 million of them in Florida), though the number is significantly under-counted, as it does not include the 2.7 million long-term unemployed–those who have quit looking for work. The number of people involuntarily employed part time was at 8.6 million.
Employment in manufacturing, which had been relatively strong until April, has stalled. Employment in construction continues to be flat. Leisure and tourism employment rose by 34,000, and has increased by 279,000 since January 2010, but those are lesser-paying jobs with low benefits and reduced effect on spending power to affect the economy: hotel maids can't buy houses, cars and refrigerators, particularly when banks are no longer lending.
Health care employment ticked up 14,000 and mining by 8,000.
Here are the unemployment rates by groups:
Adult men: 9.1 percent.
Adult women: 8 percent
Teens: 24.5 percent
Asians: 6.8 percent
Blacks: 16.2 percent
Hispanics: 11.6 percent
Whites: 8.1 percent
The average workweek for all employees on private payrolls decreased by 0.1 hour to 34.3 hours in June. The manufacturing workweek decreased by 0.3 hour to 40.3 hours. The average workweek for production and nonsupervisory employees on private payrolls remained at 33.6 hours. Average hourly earnings for all employees decreased by 1 cent to $22.99. Over the past 12 months, average hourly earnings have increased by 1.9 percent, not enough to keep up with inflation in food and energy costs. Average hourly earnings of private-sector production and nonsupervisory employees declined by 1 cent to $19.41.
"The choppy two-year-old recovery," the Wall Street Journal reported this morning, "is proving to be one of the worst since the 1930s. It has been too slow to make up for all the jobs lost after the financial crisis of 2008 and 2009. With little scope left for policy to help, President Barack Obama is likely to confront the highest unemployment rate of any postwar incumbent when he seeks re-election in the fall of 2012."