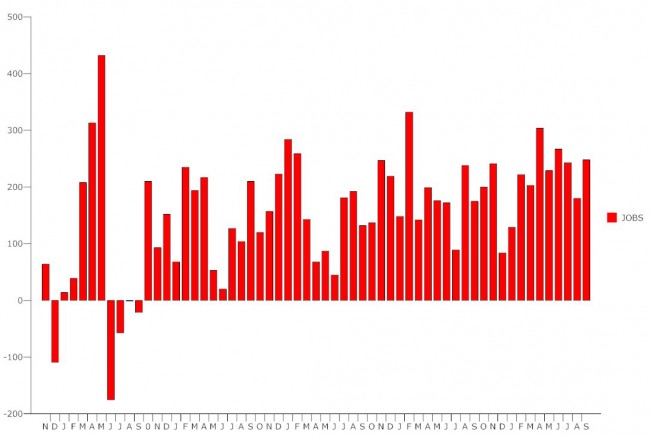 After nine months in the 6 percent range, the national unemployment rate in September fell to 5.9 percent, reaching a level last seen in July 2008, when it was rising fast.
An economy with 5 percent unemployment or less is usually considered at close to full employment. But this economy appears to still be at a considerable distance from full employment as involuntary part-timers still make up 7.1 million of the workforce, and the workforce participation rate is a still historic low of 62.7 percent, suggesting that millions of workers have dropped out of the workforce altogether.
And while the number of unemployed people decreased by 329,000, some 9.3 million people remain unemployed. Average hourly earnings fell by a cent in September, to $24.53, keeping wages stagnant–which means that when inflation is taken into account, workers have been losing ground, and seeing their standard of living continue to fall. Labor Secretary Tom Perez called raising wages "a civil rights issue and a human rights issue" in a tweet Thursday as he linked to a new report on the matter by the Center on Poverty and Inequality.
Still, today's report from the U.S. Department of Labor adds to a relatively steady record of economic improvement over the months, slow as it may have been. Job-creation totals for July and August were also revised upward, resulting in 69,000 more jobs than previously estimated, and totaling 671,000 net new jobs in the last three months.
The alternative measure of unemployment, the so-called U-6 measure, which accounts for part-time employment and discouraged workers, and therefore combines unemployment with under-employment, also improved to 11.8 percent, from 12 percent the month before. It was at 13.6 percent a year ago. In Florida, however, the U-6 rate remains at 13.6 percent, one of the highest rates in the nation, masking an otherwise lower unemployment rate of 6.3 percent. The majority of jobs created in Florida's recovery have been low-paying and part-time.
Professional and business services added 81,000 jobs in September, retail trade rose by 35,000 with food and bars adding 20,000 jobs, and the return to work in New England of 25,000 grocery store workers helping to bump employment numbers up–just as their strike the previous month had depressed numbers. Health care added 23,000 jobs, information technology added 12,000, mining added 9,000, leisure and hospitality 20,000 and construction 16,000. Employment in other major industries, including manufacturing, wholesale trade, transportation and warehousing, and government, showed little change over the month.