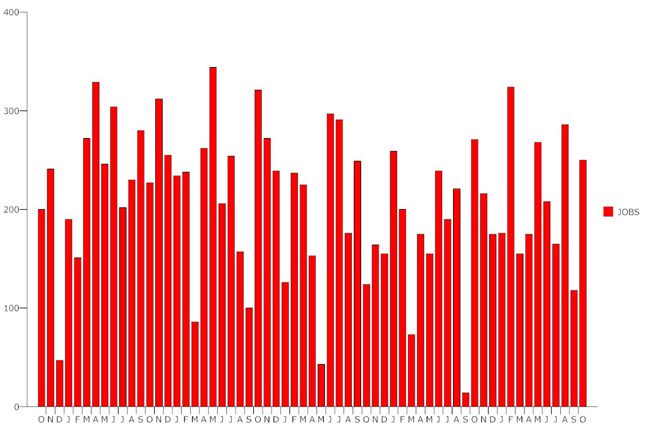 Twice since the end of World War II the national unemployment rate fell almost to insignificance: for nine straight months between 1968 and 1969, it stood at 3.4 percent. And for 11 months between 1952 and 1953, it fell below 3 percent, bottoming out at 2.5 percent in May and June 1953, still the post-war record low.
The current economy isn't quite there, but getting close: since last April it matched the 3.9 percent lows of the end of the Clinton years in 2000, and for the past two months, it's fallen to 3.7 percent. Exactly nine years ago, it had reached 10 percent.
The October rate was helped by another strong month of job creation as the economy added a net 250,000 jobs despite two hurricanes striking the mainland within weeks, events that usually depress job numbers. The economy has now been in positive territory since October 2010, or for 97 straight months, 22 of them on President Trump's watch. It is the longest such uninterrupted expansion since before the Great Depression. The average monthly gain this year has been just over 210,000 jobs, equal the average monthly gains of the last two Obama years.
There were 6.1 million unemployed people in October, with 1.4 million of them unemployed 27 weeks or more. There were also 4.6 million involuntary part-time workers–people whose full-time hours were reduced or who could not find full-time employment, though they're seeking it. That figure has been going down in tandem with the unemployment rate. There were over 9 million involuntary part-time workers at the height of the recession.
Average hourly earnings went up only modestly, however, continuing a trend that has seen wages barely keep up with inflation despite recent slight improvements. In October, average hourly earnings for all employees on private nonfarm payrolls rose by 5 cents to $27.30, and by 83 cents for the year, or 3.1 percent. The annual inflation rate is 2.3 percent. In essence, while it's been a record expansion measured by length of months, wage growth for the past two decade, and especially since 2010, has remained well below the 4.2 percent annual average that preceded the 2001 recession. The positive numbers mask underlying stresses on a large segment of the American workforce.
On Thursday, the Center for Financial Services Innovations found that "only 28 percent of people in America are considered financially healthy, that 47 percent "spent more than or equal to their income in the last 12 months, and that 36 percent are unable to pay all of their bills on time." That means much of the financial gains of the past few years rests on growing debt. This at a time when "almost half of these individuals (45%) have less than one week's worth of expenses saved," and 30 percent say they have more debt than is manageable: According to the Federal Reserve, credit card debt now exceeds its last peak during the Great Recession, a warning sign for personal finances. Total credit card balances were nearly $1.04 trillion in May, a 5 percent increase over the previous year.
"The headlines about high employment and steady stock market returns only tell part of the story and fail to highlight the financial reality for the millions of families in America that cannot afford medical care or are worried about putting food on the table," said Jennifer Tescher, founder and CEO of CFSI. "The U.S. Financial Health Pulse provides a true composite framework for measuring financial health that enables us to look beyond the headlines and better understand the real financial lives of people in America."