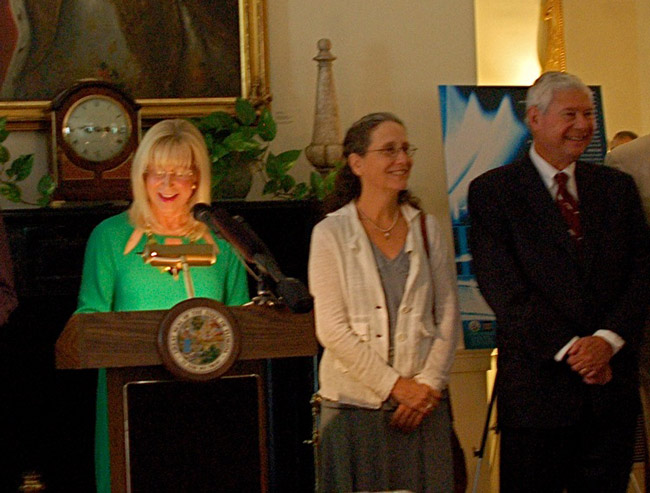 In the midst of national upheaval, dissent and political fracture, the Governor's mansion in Tallahassee was the site last month of a gathering that crossed all political barriers and honored eighteen authors from across the state of Florida. Politics was a no-show as Ann Scott, Gov. Rick Scott's wife, hosted a delightful luncheon and spoke with true warmth to honor winners of the 2011 Florida Book Awards.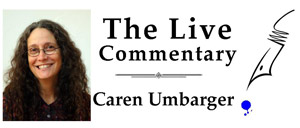 I was there because my novel, Coming To: A Midwestern Tale, won the bronze medal in the general fiction category and I did, indeed, feel honored and excited to be among so many other writers and people who support writers.
Before lunch, everyone spent a half hour or so mingling, conversing and admiring the mansion's lovely rooms and gardens. The library held a collection of all the present and past winners of the Florida Book Awards, including my novel!
Ann Scott then stepped to the lectern to welcome her guests and begin the ceremony honoring the writers. Secretary of State Ken Detzner talked about his commitment to helping the governor's wife further her goals of advancing reading and literacy in Florida and what he termed "a wonderful celebration of Florida's literary talents." (You can watch the full ceremony here.)
"I just want to make a personal comment," Detzner said, "about how important it is for the literary industry, the culture of literature to have such a great supporter in the governor's wife. It is very important. It sends a message throughout Florida, it sends a message to the Legislature and to the constituencies out there of young people who are being inspired by the work that you all do."
When Scott called my name ("Where are you Caren?"), it took me a moment to realize that I was the first author to be introduced. I took my place by her side at the front of the room. The next author she called up was Senator Bob Graham, who won a bronze for Keys to the Kingdom (Vanguard), a "novel of suspense" (as the book's dust jacket reads) based on his experience as the co-chairman of the 9/11 commission. The former senator then stood by my side for the rest of the introductions. It felt good to stand between a Republican and a Democrat and feel only positive vibes.
How proud I felt to be recognized as an authentic author and an honored citizen of Florida where, thanks to the Florida Book Awards and people like Ann Scott, authors are supported for their hard work and contributions.
"Reading and literacy are important to me as first lady of Florida," Scott said. "I can't tell you how much fun I have traveling around the state, visiting schools, libraries and state parks all throughout the year, sharing my passion for reading with school children. I love reading to them, and I love encouraging them to read and to write." Scott told us, among other things, about an event she held at her home, where the Florida Book Award gold medal winner for Children's Literature and several other children's authors read to school children from their own books as they gathered in different rooms. Imagine the impact an outing like that could have on a child, igniting and enhancing the love of books and reading.
The luncheon, which was held in the dining room, was a delightful and varied buffet. I ended up near the end of the line and took my seat next to a young woman named Jessica Martinez, whose novel "Virtuosity" had won the silver medal in young adult fiction. When I asked her about herself, I was astounded to hear that she had been a professional violinist and that her novel was about a young violin player. Since I, too, am a violinist, you can imagine that we had a non-stop conversation that covered everything from performing to being a mother and a writer to publishing and book tours, and to the subject which was on all our minds: the television interviews which were scheduled for later in the afternoon.
Lunch concluded with a short walk to the parking area where Wayne A. Wiegand, the director of the Florida Book Awards, presented each author with a framed FBA poster from the back of his car. The day was mild, with puffy clouds and a light breeze. It couldn't have been more ideal.
Along with my constant companion, supporter and husband, Paul, I drove to the studios of WFSU, found a shady parking spot, laid my car seat back and took a short snooze while I waited for my interview time-slot. After an early morning start and a three and a half hour drive from St. Augustine to Tallahassee (when Paul drilled me mercilessly on potential questions so that I might have some chance at a successful interview) and an exciting luncheon, blissful slumber was easily achieved.
At 4 p.m., I was ushered into the television studio for my interview with Sarah Jane Ackerman. For me, it was my first interview. For her, it was her last interview of at least ten for the day. But, she was bright and lively and engaging and before I knew it, the cameras were rolling and I was talking about my book. It was nerve-wracking and fun and when it was over, it seemed to have taken one minute to do. Whether I was coherent remains to be seen.
My dream was to have a book in the Library of Congress. Now that that dream has come true, honorary events like the luncheon at the Governor's mansion are dessert for my life, and they propel me to continue to write. I hope I can help inspire others to overcome whatever obstacles may lie in their paths to achieve their own dreams. As we come together over the importance of reading good books, there is hope for a mending world.

Caren Umbarger is the artistic director of the Flagler Youth Orchestra and a contributor to FlaglerLive. You can easily buy "Coming To" at createspace.com, a subsidiary of Amazon, in a click, or at Amazon. It's also available on Kindle.