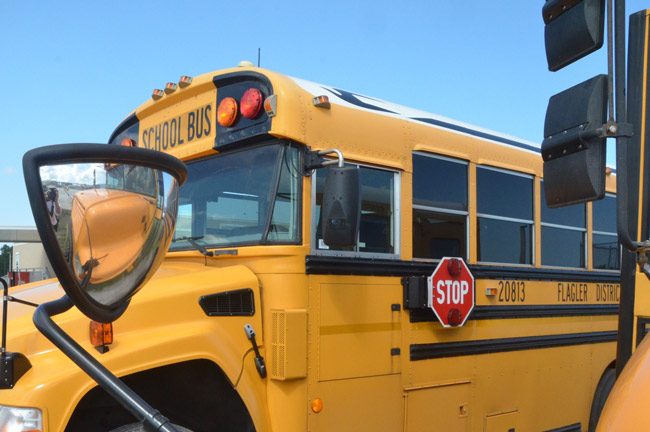 Two Flagler County school buses were involved in separate incidents during afternoon runs in Palm Coast on Thursday. Neither incident was serious, but at least one of them led to inaccurate rumors on social media that a weapon was involved: it never was.
One incident took place a little after 2:15 p.m., involving school bus #20516, which was taking home students from Indian Trails Middle School and Matanzas High School. The bus driver was seeking to drop off students in the area of Palm Coast Parkway and Fairways Circle, a stop that serves an apartment complex in the area. But a red Cadillac was pulled over in the grass in the area of the drop-off. Two men were outside the vehicle, arguing.
The bus driver wanted the vehicle to move out of the way so he could let the students off. He honked his horn to get them to move, according to a Flagler County Sheriff's incident report. The two men then walked towards the front of the school bus and yelled at driver. "The school bus doors remained closed and were never opened," the report notes. The men continued to yell at each other.
But when the men went back to their car and drove on, the bus driver followed them to the Shell gas station at 320 Palm Coast Parkway "to see where they went," according to the driver, who then went back to Fairway Circle.
"There were students on the school bus in the front seats during my contact with George," the deputy reported, referring to the driver. "The juveniles on board did not appear to be in distress. George told me that the males made no threats of any kind and did not try to get onto the school bus. George did not see any weapons nor were any used or displayed at any time."
Sheriff Rick Staly described one of the men who had yelled at the school bus driver as seeming impaired. That man had been a passenger in the Cadillac. He was located by a deputy, and it was the deputy who then drove the man to his destination subsequently, the sheriff said.
In a separate incident during the same afternoon bus run, the so-called Duck bus, #20207, transporting students home from Bunnell Elementary, was rear-ended by a pick-up truck at Belle Terre Parkway and State Road 100. There were 12 students on board. None was injured. They were transferred to a different bus and taken home.