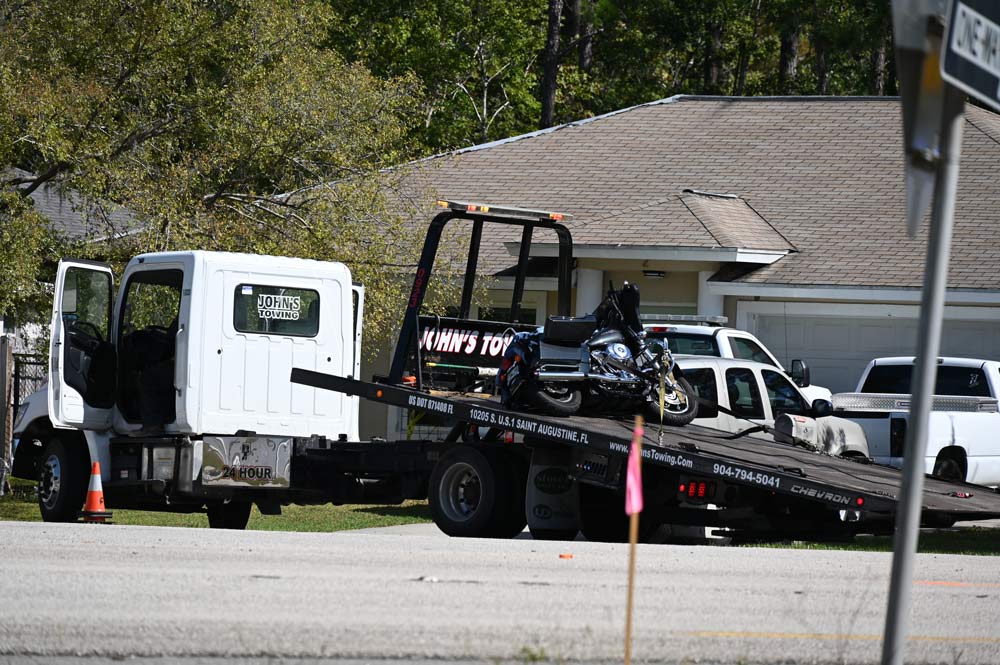 In the deadliest day on Flagler County roads this year, three people died in two unrelated vehicle crashes barely two hours apart on Sunday in Palm Coast.
18-year-old Aleksis Maksimyuk of Palm Coast was killed in a single car crash on an exit ramp from I-95 to Palm Coast Parkway, and a 65-year-old man and a 66-year-old woman, riding a motorcycle, lost their lives in a crash with a car at U.S. 1 and Karat Path at the edge of Seminole Woods. Both were from Ormond Beach.




The first crash was reported at 7:48 a.m. on the exit ramp to Palm Coast Parkway, off off I-95's northbound lanes. Maksimyuk swerved off the ramp, struck a light pole, then a tree, with the sedan wrapping itself around the tree.
Within minutes of responders' arrival, they had determined that Maksimyuk, who was entrapped in the car, had no pulse. Maksimyuk was pronounced deceased at 7:56 a.m., according to 911 notes. (A Florida Highway Patrol trooper was at the scene within two minutes of the crash.)
The Palm Coast Fire Police shut down the off ramp for several hours as the Florida Highway Patrol conducted the investigation, which is ongoing. The victim was reportedly an Uber driver, according to some of the responders who worked the crash.
Barely two hours later, at 9:59 a.m., 911 was alerted of the crash at U.S. 1 and Karat Path. A 32-year-old woman was at the wheel of a sedan, traveling south on U.S. 1. She took the left-turn lane to make a turn onto Karat Path. The Ormond Beach couple on the motorcycle was traveling north on U.S. 1. According to FHP, the driver of the sedan, a four-door Prius, drove across U.S. 1, violating the motorcyclists' right of way. The motorcycle struck the sedan on the front-passenger door.
Neither motorcyclist was wearing a helmet, FHP states. The 65-year-old man died at the scene. The 66-year-old woman was transported in critical condition to Halifax hospital in Daytona Beach, where she later died. The driver of the Prius was not visibly injured, but told responders of chest pains.




U.S. 1 northbound was closed to traffic for several hours after the crash.
The two crashes brought to 20 the total number of fatalities so far this year on Flagler County roads, with nine of the victims killed while riding either a bicycle or a motorcycle.