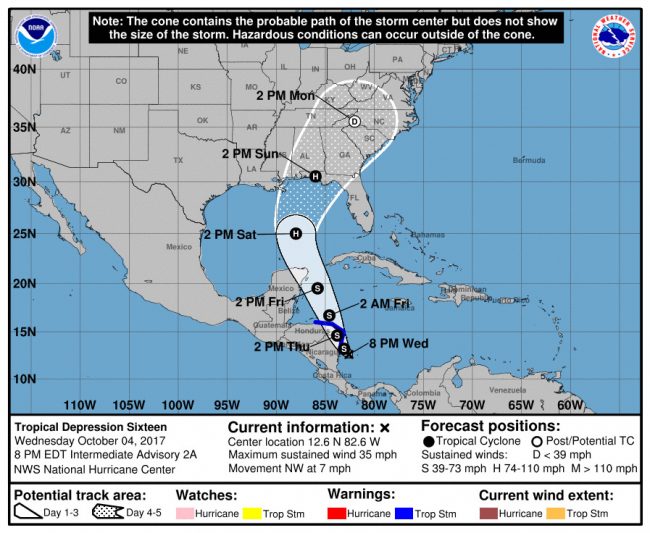 Florida Gulf Coast residents are advised to keep an eye on a rapidly growing storm off Central America that could impact the state this weekend and into early next week.
Gov. Rick Scott said Florida's Division of Emergency Management is monitoring the system, which was a depression late Wednesday afternoon with maximum sustained winds of 35 mph.
The system would become Tropical Storm Nate once the maximum sustained winds reach 39 mph.
"This storm has the potential to become a hurricane and impact the Florida Panhandle this weekend, and families must be ready," Scott said in a prepared statement. "Let's remember, we are still in the heart of hurricane season and while it's hard to imagine experiencing another storm right now, everyone has to be prepared."
The system, currently Tropical Depression 16, is forecast by the National Hurricane Center to bring heavy rains to portions of Nicaragua and Honduras through Thursday. And, while expected to strengthen, the size and path of the storm may be affected by the Yucatan Peninsula or western Cuba before finding the warm waters of the Gulf of Mexico.
Kelly Godsey, a National Weather Service meteorologist in Tallahassee, said a lot of uncertainty remains about the track of the storm.
"We could see a track that goes as far west as Louisiana and as far east as the west coast of the Florida peninsula," Godsey said Wednesday. "So, it is a fairly wide area at this point. That's another good reason why we need to be prepared and get stuff ready if the storm does zero in on the Florida Panhandle and the Florida Big Bend."
One logistical issue facing the state is that Florida State University is scheduled to host the University of Miami in a football game Saturday afternoon in Tallahassee. The game was already postponed once because of Hurricane Irma last month. Both schools released statements saying they were monitoring the storm.
Also, the state Legislature is expected to begin a committee week Monday in Tallahassee. A number of Senate committees are expected to review the state's response to Irma, which slammed the state Sept. 10 and Sept. 11.
Irma caused billions of dollars in damage as it made initial landfall in the Florida Keys, a second landfall in Southwest Florida and then moved up through the peninsula. Recovery efforts are continuing after Irma, as evidenced by an appearance Scott made Wednesday in the Keys.
As with the college football game, Irma caused lawmakers to cancel committee meetings in September.
–Jim Turner, News Service of Florida