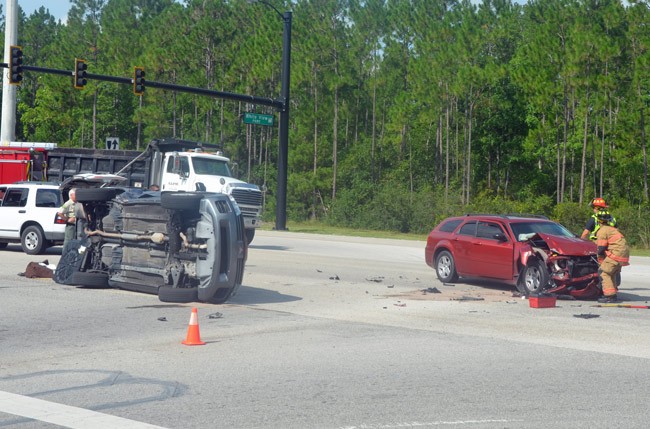 A Nissan SUV overturned after it was t-boned at the intersection of Whiteview Parkway and U.S. 1 in Palm Coast shortly after 10 a.m. Friday, resulting in one minor injury to the driver of the car that struck the SUV.
The wreck involved the Nissan and a Dodge Magnum. A late-middle aged couple was in the Dodge. The driver sustained an injury to his right hand, which was treated at the scene. The Palm Coast resident driving the SUV that overturned was not injured. All three individuals spoke and exchanged insurance information after the wreck.
The driver of the SUV was traveling south and making a left at the intersection, onto Whiteview. There is a flashing orange light there, which means drivers must take caution as they make the left, yielding to oncoming traffic. "I was turning left and the other gentleman was northbound on U.S. 1, he t-boned me," the driver of the SUV said.
Moments later, the woman who had been a passenger in the Dodge approached a reporter and said: "He turned on yellow in front of us."
The SUV ended up on its side facing north, in the right lane of U.S. 1's northbound lanes. The Dodge ended up facing north closer to the median at the intersection.
The Flagler County Sheriff's Office was investigating the scene. The Palm Coast Fire Department and Flagler County Fire Rescue responded, as did the Palm Coast Fire Police. Roger's Towing cleared the scene by 10:30 a.m., and normal traffic patterns resumed.