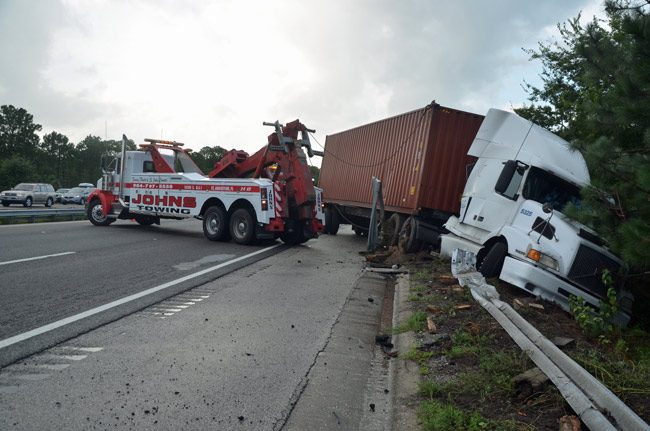 Vero Beach resident Dave Brown and his wife were visiting Flagler County during the first week of 2016 when Mrs. Brown had a one-car accident with her Ford Mustang on the Exit 284 ramp of I-95. With both the Florida Highway Patrol and Flagler County Sheriff's Office on the scene, the Browns' car was towed to Saxon's, the towing company that was up next in the pre-determined local towing rotation that week. Flagler has three towers, all in Bunnell.
The crash took place on Sunday. Brown showed up at Saxon's Monday morning to pick up his wife's vehicle. He was charged an eye-popping $380, which he promptly paid to get the car back. A bit of investigating led Brown to believe he'd been wildly overcharged–by more than $200. He spent weeks fruitlessly trying to get an answer or an explanation from Saxon's, Flagler County government and the Sheriff's Office.
Part of the problem, as the county would eventually acknowledge, was a vague and permissive ordinance that allowed towing companies to use their own terminology that led to fees that were not strictly illegal so much as slipped through because of vague or absent regulations.
"I can definitively say Flagler County is studying the issue, and we will make modifications to our ordinances and statutes if needed," Sherman said at the time. She'd been going through all of Brown's records of the incident, and she was aware of other complaints against Saxon's for similar charging practices. But Sherman said she was still trying to determine who has the authority to change the towing rotation. "I do not have a clear indication as to who's responsible for the towing rotation, but I'm hopeful we will clarify that soon."
It wasn't that soon: it took almost two years, but last week, the Flagler County Commission passed a revised ordinance that toughens requirements to be a tower in good standing and seeks, among other regulations, to prevent the sort of overcharging that Brown experienced, and that clarifies lines of responsibility. The ordinance, which the County Commission approved unanimously on first reading, makes clear that the county administration is the regulator and the agency with the authority to pull a tower from the rotation either for a brief suspension or permanently, should documented abuses persist.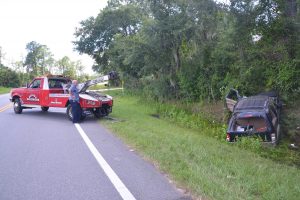 It replaces an ordinance in place since 2011. "Since that time we've started receiving complaints about the fees that were being charged, and based on our review we found that there were some gaps in the ordinance that kind of laid the groundwork for some of the abuses to take place," Sherman told the County Commission last week. (One of those serious gaps was the discovery that an employee working with a local tower was a sexual predator, Sherman said. "As a female who's used tow truck drivers the last thing I want to worry about is getting in a tow truck with someone who has a checkered past," she said.)
Separately, the county also devised a revised fee schedule.
The county worked with the Florida Highway Patrol and the Sheriff's Office to draw up the new ordinance, including the penalties. An appeals system was also devised so that county code enforcement officers will hear appeals in conjunction with the Sheriff's Office. The rotation will be in the sheriff's hands, but it'll be similar to the one used by the Florida Highway Patrol.
"We worked this ordinance with the three tow truck companies that are located here locally," Sherman said, referring to Saxon's, John's Towing and Roger's Towing.
"Sally Sherman and her staff did a very good job of putting this ordinance together to protect the motoring public from unscrupulous wrecker operators, period," John Rogers, owner of John's Towing–and a Bunnell city commissioner–said today. "This ordinance breaks down and makes plain the penalties for overcharging the motoring public, up to the fact that your occupational license can be pulled from you."
Some of the requirements under the new regulations: Charges may not exceed those laid out by a rate sheet established by the county. Chasing or running wrecks without being formally dispatched by the Flagler County dispatch center is prohibited, as is cruising streets in search of vehicles in distress. Failing to answer a call three times within a calendar month will lead to penalties. Incompetence at wreck scenes will also be considered a violation.
Any violation will result in a letter of warning from the county administration for a first offense. A second offense within three years will lead to a 30-day suspension from the rotation. A third offense will result in a permanent removal from the rotation list.
To towing companies, being on the rotation is the lifeblood of the business. Without it, a business could scarcely succeed. But the rotation is not the end-all: a driver at a crash scene may request a particular towing service, just as a driver in distress may place a call on his or her own to a towing company, without having to go through the dispatch center.
"22 months and sticking with it, Sally Sherman has helped Flagler County put rules in place to stop over billing tow customers," Brown said in a Nov. 21 email to FlaglerLive. "Kudos to her."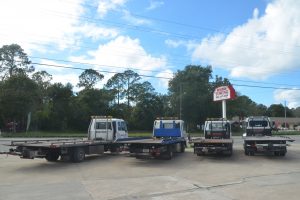 When Rogers and J.C. Sarmento, an owner of Rogers Towing, were given details of the Browns' tow, Sarmento said cases like that hurt the industry. "This sounds like a total 'let's take the tourist to town' kind of deal, and it's bad for all of us, not just them," Sarmento said. "Because when something like this happens, it makes all of us look bad, it makes the whole industry look bad."
Brown had sent a certified letter to Flynt asking him to explain the extra charges. Brown was billed $125 for an "Admin Notice of Lien," which didn't apply in his case, and he was also billed for a 10-mile tow, even though the accident location was four miles from Saxon's. His receipt also shows a $50 "yard fee" charge which appears nowhere in the county ordinance, and was billed an extra $25 for two nights of storage instead of the one night the Mustang actually sat in Saxon's property. The bill should've been $175, not $380. Brown's letter was returned and had been refused to be accepted by Saxon's.
Flynt at the time said he was "satisfied that the original tow receipt and charges were correct." He said he hadn't heard complaints about his business in years.
Commissioner Charlie Ericksen at last week's meeting wondered how customers are to know when they've beenovercharged.
First, the schedule is now required to be posted. But towers in their documentation are also required to all use the same terminology set out in the ordinance's wording, Sherman said, as lack of clarity and uniform language had–as in Brown's case–led to confusion and to towers charging fees under different definitions. "The terminology should be consistent with what we have in the fees that we're assessing, and again, the tow truck operators were all, provided a copy of this as a draft as well," Sherman said.
Though the ordinance took nearly two years to craft, it took just a few minutes for Sherman to present it to the commission, and it drew no comment from the public. Commissioners had a few questions, and approved it 5-0.
The full ordinance appears below.

The 2017 Towing Ordinance and Fee Schedule.