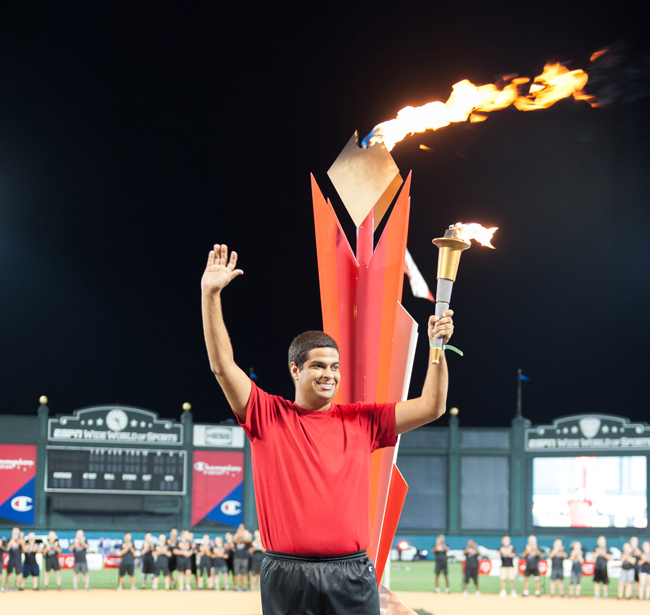 Flagler County Sheriff's deputies will be waiting tables at Bob Evans restaurant in Palm Coast on Tuesday, April 22, from 4 to 8 p.m. in a fund-raiser for the Special Olympics. The occasion gives patrons a chance to to have a meal and tip-a-cop for his or her service.
All tips collected will be donated to the Special Olympics. Children of all ages are welcome to attend and see the sheriff's office cars, SWAT truck and the K9 Unit, which will be on display in the parking lot. There will also be face painting, a balloon artist and special guests. One free kid's meal is being offered at the
time of an adult entrée purchase.
"This is a great opportunity not only to support a special cause, but to meet your local law enforcement officers," said Sheriff Jim Manfre.
The event is part of fund-raising efforts for the annual Law Enforcement Torch Run for Special Olympics, when each year some 5,000 officers carry the torch on a 1500-mile relay through 67 counties in Florida. The Torch Run is scheduled for Saturday, April 26.
Local participants that day can participate in the The 2.8 mile run with registration starting at 9 a.m. Saturday morning in front of the Town Center's Publix at 800 Belle Terre Parkway in Palm Coast. Registration is $12. Each runner will receive a Law Enforcement Torch Run t-shirt. (An earlier version of this story, based in information provided by the Florida Special Olympics, had incorrectly listed the starting point as Woody's Barbecue on State Road 100. The Sheriff's Office issued the more updated information.)
The run will be escorted by the Flagler County Sheriff's Office as runners carry the torch, also known as the "Flame of Hope", south bound on Belle Terre Parkway to the Target plaza on S.R. 100. Runners will continue on through the Target plaza to S.R. 100 where they will travel west on S.R. 100 to go north on Belle Terre Parkway and end in the parking lot of the Publix Town Center.
Lunch will be served at the conclusion of the run sponsored by Mezzaluna Pizzeria. Bring the family as Bruce Bryant Magic/Music and Balloon Art, the Challenge Cheer squad "Flagler Falcon Fire", Whispering Meadows Horse Ranch, Flagler County Fire Rescue and The Pink Heals will all be there to show their support and cheer the runners on.
"This is both an exciting and important event," Manfre said. "People of all ages are encouraged to come out and support all participants who are running for a good cause."
The Special Olympics Torch is being carried by law enforcement officers throughout the state. It is scheduled to arrive at Disney's ESPN Wide World of Sports on May 16 for the opening ceremonies of the Special Olympics Florida's State Summer Games.