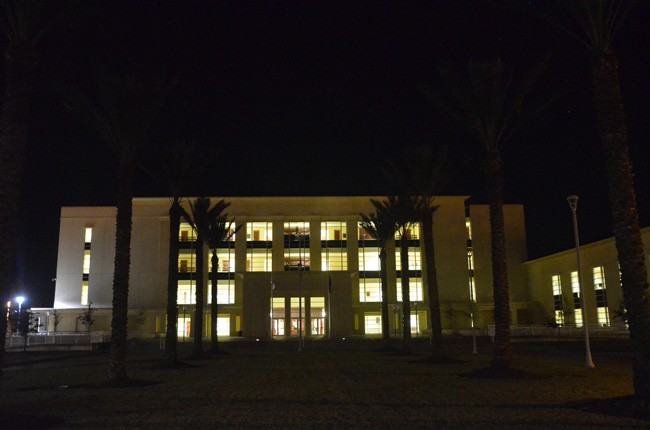 Flagler County Clerk of Court Gail Wadsworth declared the first amnesty of its kind a success.
"At the end of today we have collected $25,385, reinstated 20 drivers licenses and have 79 eligible for reinstatement from other agencies," Wadsworth said at close of business today. Wadsworth was referring to Operation Greenlight, which allowed anyone with an overdue fine for any sort of infraction or crime to pay it off today, without having to pay the collection fee, which usually tacks on an additional 40 percent. Anyone who'd been carrying such debts going back to the mid-1990s was eligible to pay it off. Wadsworth had tabulated 7,000 such cases totaling $1.9 million in overdue fines.
The operation may be repeated in future years, depending on how it went in the rest of the state. At the Flagler County Courthouse, Wadsworth had set up a giant traffic light, set on green, inside the first floor counter where people could go to pay off their fines.
"I think it was a pretty good day," Wadsworth said.
The previous story is below.

Clerk of Court Offering 1-Day Amnesty To Pay Off Overdue Fines Without Collection Fees and Restore Driver's License
Last November Palm Beach County Clerk of Court Sharon Bock experimented with a new idea that'd been devised through the state clerk association: for one day only, anyone who'd been issued a fine, including traffic tickets, and had seen that charge go to a collection agency and accrue interest, could come into the clerk's office and pay it off—free of collection fees, which can add up to 40 percent of the fine. People who'd had their driver's license suspended could also have it restored.
The Nov. 8 experiment in Palm Beach closed 1,700 cases, restored 400 people's driver's licenses and brought in $800,000.
Now the experiment is going statewide in what clerks of court, including Flagler's Gail Wadsworth, are calling Operation Green Light. The amnesty day in Flagler and across the state is Friday, April 17. Hours in Flagler will be extended for the occasion, stretching between 8 a.m. and 5 p.m.
Wadsworth says her office has tabulated 7,793 cases that have gone to a collection agency. Of those, 4,507 are civil traffic cases. The total amount in collections for Flagler County is—to be precise–$1,872,973.91.
Those figures account for cases that go back to the mid-1990s. This is the first such state-wide initiative, with 61 of 67 clerks participating.
The numbers lead to an arresting conclusion: Of those thousands of traffic cases, almost all mean that the person behind the number is driving—if that person is driving at all—on a suspended license, as charges by law go to a collection agency if after 30 days if an individual has made no effort to contact the clerk's office and either partially pay the fine or set up a payment plan, if the individual is unable to pay in full. Once the state-issued Uniform Traffic Citation goes to a collection agency, the license is suspended.
"So you go through this whole process of those 7,000 cases-plus, most of them are driving on a suspended license," Wadsworth said. "This is our public opportunity to not [assess] the 40 percent collection fee, to come into us and pay what they owe the state court system only, and we will help them get through the process of reinstatement. Sometimes we can just do it, other times, if it's a criminal traffic citation or if they have a traffic citation in another county, we can't do it all right then, but we can guide them to do that."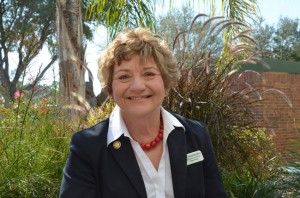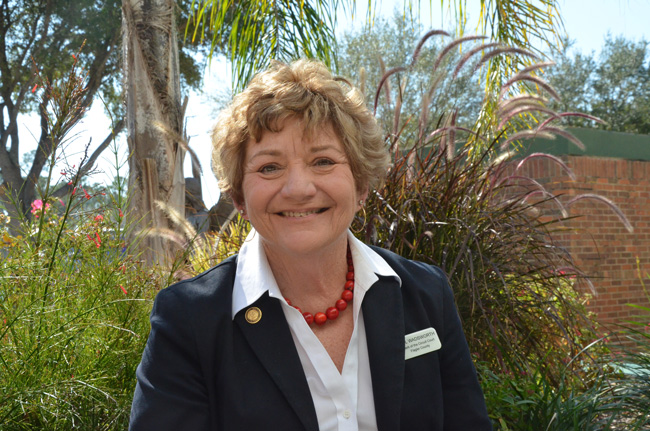 Many drivers ticketed in Flagler are from out of the county or out of state: that's the case with any jurisdiction with an interstate running through it. Clerks don't expect much success with out of towners. For the rest, it is essential that the ticketed individuals themselves show up for the transaction. The clerk will not accept third-party checks or emissaries doing the payment for someone else..
"I started sending things to collection in early 2002," Wadsworth said, "and at that juncture the statute of limitation applied so we could go back seven years and we did. So we went back to 1995, and we started with civil traffic because that's where the highest volume of traffic was."
The legislature eventually lifted the statute of limitation so clerks could go back as far as they could find people. "But pretty typically we haven't," Wadsworth says. "Flagler County hasn't gone back further than the 1990s. You have to validate it all. I, Gail, have to prove it to me that through all of the paper and software conversion we've gone through, that our numbers are sport-on. So we've broadened the case types we send to our collections providers using the time frames allowed by law. But I'd b be very hesitant to go back further than I can prove."
As for the money collected, it will not go into Flagler County government coffers. At least not yet.
The money will go to Tallahassee, through the clerk of courts' operations conference, and will be distributed as the law requires: some of the clerks around the state that had shortfalls this year will benefit, as will the police agencies that issued the original tickets (they always get a share), as will state programs related to public safety or c rash-related injuries. Some of the money will eventually trickle down to the clerk's office, but it's not clear how much, just as it is difficult to estimate how much Operation Green Light will bring in on April 17. But Wadsworth said she'll have a tally within days of the experiment.