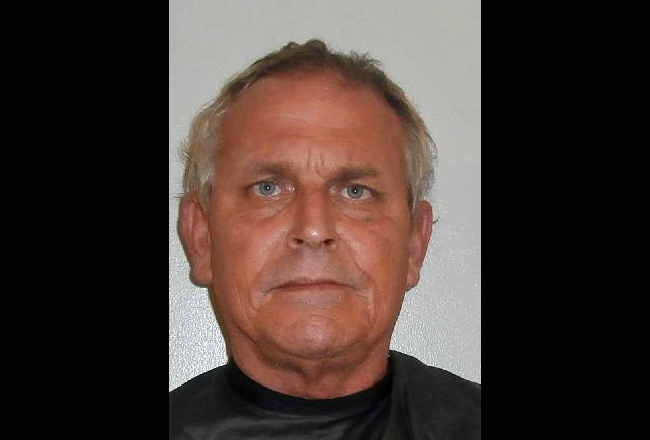 Around 3 p.m. Sunday a 9-year-old girl and her cousin were hanging out by the surf in the area of South 7th Street in Flagler Beach when Thomas Checchio, a 56-year-old resident of 612 John Anderson Highway, approached them and, according to his arrest report, began making offensive comments.
Checchio, according to the report, approached the 9 year old and her adult cousin and started "flirting" with the child, according to the police report, "saying she was beautiful and that she looked gorgeous in her bathing suit." He appeared to be drunk. then gave her a quarter, according to the cousin's account of the incident, and made random comments about dead animals and skulls in his house.
Checchio took a place next to the victim and her cousin. When the younger girl came out of the water, he allegedly "reached over and hit [the victim] with his fist on top of her right foot," the report states. The 9-year-old girl started to cry. The man took his lit cigarette "and flicked it at her, striking her in the left leg," the report states. The cigarette bounced off the girl's leg and landed on top of her left foot, burning her. The girl started screaming and crying louder as her cousin ordered Checchio to leave or she'd call the cops. He left.
A Flagler Beach police officer matched Checchio's description to his address, and discovered that Checchio had been arrested earlier this year—on a charge of defrauding an inn keeper. The officer combined the picture with a few others depicting men of the same age, creating a line-up that was shown to the victim's cousin. The cousin positively identified Checchio, out of the five images presented to her.
Police drove to Checchio's home, where he was read his rights at 10:18 p.m. According to his arerst report, he said he did not punch the girl, but that "he had stuck his foot out to trip the victim and she fell on top of his cigarette," according to the arrest report. After revealing that detail, Checchio told an investigator he would not speak anymore.
Checchio was arrested on a charge of felony child abuse and taken to the Flagler County jail, where he complained of chest pains. He was taken to Florida Hospital Flagler, but refused treatment. He was taken back to the jail, where he was still being held Monday on $5,000 bond.