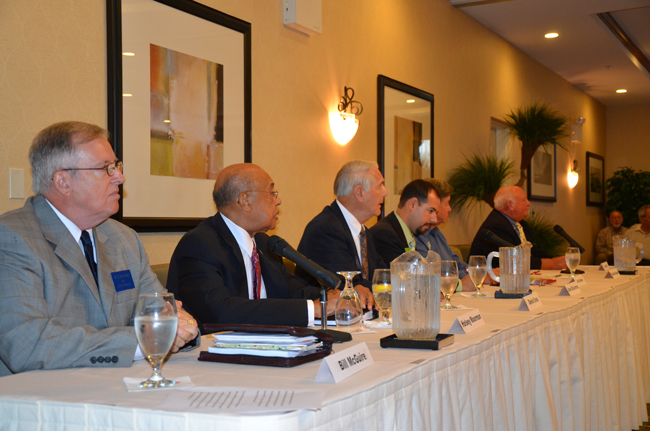 Note: all meetings are open to the public. You're welcome to send tips or suggestions to [email protected].
The Week's Quick Links

Early Voting Begins for Palm Coast Mayor Primary
Early voting begins Monday, Aug. 29, for the mayoral primary in the Palm Coast elections. There's only one location: The Flagler County Public Library, at Palm Coast Parkway and Belle Terre Parkway. Voting may take place there every weekday and Saturday until Sept. 10, from 8:30 a.m. to 4:30 p.m., except for Sept. 5, Labor Day, when the library will be closed.
You may also vote by mail. To do so, contact the Elections Supervisor office at (386) 313-4170 to receive an absentee ballot. An absentee ballot may be requested for a specific election or for all elections through the next two regularly scheduled general elections. Only the voter or a designated member of his or her immediate family or legal guardian can request an absentee ballot for the voter. Be sure the Elections Office has your correct mailing address. Absentee ballots cannot be forwarded by the post office. The absentee request deadline for the Palm Coast Primary Election is September 7, 2011.
Three candidates are in the running: incumbent Jon Netts, and challengers Charlie Ericksen and Joe Cunnane. Should one of the three garner more than 50 percent of the vote, he'll be the next mayor. Should no candidate get a majority of greater than 50 percent, the top two vote-getters will face each other in the Nov. 8 run-off, or general election, if you prefer, when the four candidates in the two other city council races will face each other. See the sample ballot below.
Click On:

Palm Coast City Elections Candidate Forum

Monday, 6 p.m., at the Government Services Building's main chamber: The Palm Coast Civic Association is hosting a candidate forum for the seven candidates in the Palm Coast city election. The forum is the last major one before the primary election for mayor. Early voting begins Monday. (See above.) Let's hope the questions at the Civic Association forum are more engaging, and a little more challenging, than the ones soft-balled to the candidates at the Hilton Garden Inn last Monday.
Click On:


The commission, having just finished some nine budget workshops, doesn't have a meeting this week. It needs the break after the bruising encounter with the Elections Supervisor and the funeral for Enterprise Flagler, which required psychological stitches on all sides. Its next scheduled meeting is at 9 a.m. on Sept. 7., and again the following day, Sept. 8, the first public hearing on the budget and the proposed county tax rate.
See Also:


9 a.m. Workshop at the City Market Place conference room of the city's offices. The city will take up pill mills again, with a presentation from the administration on the council's options. The council imposed a one-year moratorium on pain clinics in late December (it runs from Dec. 22, 2010 through Dec. 31, 2011). That moratorium soon expires. Flagler County Sheriff Don Fleming, who pushed the moratorium successfully through every county and municipal government agency, wants the city to renew it.
The city council will also hear the second part of an agreement in the making since late last year between the city and Contemporary Machinery and Engineering, the manufacturer on Roberts Road just outside the Palm Coast city limits. The manufacturer makes machines that make railroad wheels. It has about 25 jobs. It wants to expand. The council will consider a voluntary annexation agreement that would also extend sewer lines to the business–and forgive more than $17,000 in impact fees related to that extension. In exchange, the company promises to add 30 jobs within three years, pay those new jobs wages averaging 150 percent more than the current average county wage, and invest $3 million in the new location.

Palm Coast City Council Workshop Agenda, Aug. 28, 2011
See Also:

Flagler County Schools and School Board

The school board has no meetings this week. Its next set of meetings–three of them–are on Sept. 6, including the first public hearing on the school district's budget. Several schools are holding open houses and related events. The list is as follows:
Old Kings Elementary 6th Grade Open House: Monday, Aug. 29, 6:30 p.m.
Wadsworth Elementary 4th Grade Open House: Tuesday, Aug. 30, 6 p.m.
Wadsworth Elementary Open House for grades K,1,2,3,5 and 6: Thursday, Sept. 1, 6 p.m.
Indian Trails Middle School Open House: Tuesday, Aug. 30, 6 p.m.
The Flagler Youth Orchestra resumes rehearsals for returning students only on Monday, Aug. 29 and Wednesday, Aug. 31, from 3 to 6 p.m., at Indian Trails Middle School.


Wednesday, Aug. 31, 5:30 p.m. at City Hall: The city commission holds a workshop to discuss a settlement agreement in a legal case involving 110 Holly Ave. Corporation against Flagler Beach.
Flagler Beach holds its First Friday event on Sept. 2 at Veterans Park. Featured this month: Orion, the U.S. Navy Jazz Ensemble. The music begins at 6 p.m. The event is free. Orion will feature big band, jazz standards and contemporary tunes. The Flagler County Corvette Club will showcase many of its cars. Hands on activities will be available for children. So will many local vendors. For more information, write to [email protected]
See Also:

No meeting scheduled.

Gov. Rick Scott at the Flagler County Chamber of Commerce
8 a.m. at the Flagler County Chamber of Commerce on Airport Road: Scott holds a breakfast meeting with the chamber to discuss jobs and what to do about Flagler's high unemployment rate. (20 Airport Road, Suite C, in Palm Coast).

[Many more items not listed here are in the community calendar.]


It's another committee week for the members of the Legislature who will draw new district maps. This week they'll head to fast growing southwest Florida, and the Tampa Bay area, where districts are also overpopulated. Who will lose out?
The Public Service Commission, meanwhile, goes on its own round of field hearings, checking with people around the state about proposed water rate increases for Aqua Utilities.
On the campaign trail, GOP Presidential candidate Michele Bachmann starts the week in Sarasota.
MONDAY, AUG. 29, 2011
On Monday, Aug. 29, 2005, Hurricane Katrina made landfall along the Louisiana coast.
FLORIDA'S POPULATION AND WORKFORCE ESTIMATES REVISED: The state's revenue and demographic experts gather to deliver their latest forecasts on Florida's population and workforce size. These estimates can be revealing because the size of Florida's population and workforce are key indicators as to the health of the overall economy. The estimating conference on population is held in the morning, with the workforce estimate in the afternoon. (Monday, 10 a.m. and 3 p.m., 117 Knott Building, The Capitol.)
REDISTRICTING HEARING IN TAMPA: Legislative hearings on redistricting move on Monday to Tampa, a city whose demography has changed only marginally in the last decade, though like the rest of Florida it grew fairly steadily, at least until the recession. Census figures show the population of the city is more than 10 percent larger now – 335,709 – than it was in 2000, though that growth has likely slowed some with the slowing of the economy. The city of Tampa is younger than the rest of the state, with the largest age group being the 20-24 year-olds, and little in the way of retirees. It's certainly much younger – more a city of families and younger people – than its neighbor across the bay, Pinellas County, which has often been called "God's Waiting Room." Tampa is also more diverse than its whiter neighbors: the city is more than a quarter black, while almost a quarter, 23 percent, are Hispanic – some of that a remnant of the city's past, which included the founding by Cubans of several cigar factories in the area. Tampa also has a large military presence with MacDill Air Force Bay, which is home to the headquarters of the military's Central Command. Tampa is part of Hillsborough County, which, with 1.2 million people, has grown dramatically in the decade, by 23 percent. Much of that is suburban growth, and the broader county is a little whiter, only 16 percent African-American, but still heavily Hispanic – 25 percent, slightly more than the state as a whole, which is 22.5 percent Hispanic. The meeting Monday by the House and Senate redistricting committees that next year will finalize new congressional, and state House and Senate maps, is one of several lawmakers have held and will continue to hold around the state. There are others this week in southwest Florida. (Monday, 4 p.m., Jefferson High School Auditorium, 4401 Cypress St., Tampa.)
Read the News Service story from earlier about Redistricting in Hillsborough and Pinellas counties here.
DOE COMMITTEE ON PRINCIPAL EVALUATIONS MEETS: As part of the state's Race to the Top federal grant, a Department of Education-organized committee of Florida teachers, principals, district administrators, superintendents, and school board members will meet to discuss updating the draft of the "Florida Principal Leadership Standards" after getting public input for the past month. (Monday, 4 p.m., conference call.)
GREENACRES THE PLACE TO BE FOR WATER: The Public Service Commission will hold a hearing on a proposed water and wastewater rate increase for Aqua Utilities Florida Inc. (Monday, 6 p.m., Greenacres City Hall, 5800 Melaleuca Lane, Greenacres.)
TUESDAY, AUG. 30, 2011
REDISTRICTING HEARING IN PINELLAS: On Tuesday, redistricters move to Pinellas County, once simply a retirement haven, but now a more diversified peninsular county, and one of the most densely populated areas in the state. Politically, it's also one of the more interesting, known for "progressive Republicans" like, for example, St. Petersburg native Charlie Crist, and moderate GOP lawmakers like Dennis Jones and Jack Latvala. Some histories say Pinellas County, filled up in the 1940s and '50s by well-off, white collar northeastern retirees, was the first county in the state to tilt Republican in the Southern Democratic stronghold of Florida. Many of the more affluent retirees now seek out the area further south – like Naples, where Gov. Rick Scott moved to after getting rich, though Pinellas County still has its share of luxury cars and yachts. Pinellas County is so densely populated that it is home to the only congressional district in the state entirely within one county – the 10th district represented for 40 years by Republican Rep. C.W. Bill Young. Pinellas County also has a concentrated African-American population, in south St. Petersburg, that is drawn into districts that have made it likely that black lawmakers – or at least Democrats – will represent the area, for example, Rep. Darryl Rouson, D-St. Petersburg, in the state House. The county is truly a swing area, Young's 10th District for example, went 51-49 for Democrat Al Gore in the 2000 presidential race, then 51-49 for George W. Bush in the 2004 presidential, after being drawn in 2002 to be more Republican. But then, the district went 56-44 for President Obama in 2008. If lawmakers were to pull some African-American areas in southern Pinellas out of the 11th Congressional District, which is mostly in Hillsborough, but crosses the bay to pick up the southern tip of Pinellas, it would make the district lean Democratic, while making more in line with natural boundaries – but it would also cut those African-Americans off from more diverse and Democratic-leaning areas in Hillsborough. (Tuesday, 8 a.m., EpiCenter at St. Petersburg College, 13805 58 St., North, Largo.)
GOING TO SCHOOL ON WATER RATES: The Public Service Commission will hold a hearing on a proposed water and wastewater rate increase for Aqua Utilities Florida Inc. (Tuesday, 2 p.m., Lee County School Board, 2855 Colonial Blvd., Fort Myers.)
REDISTRICTING MOVES TO SARASOTA: The redistricting committee meeting moves Tuesday evening to Sarasota, an art-loving, seaside playground, mostly for the well-to-do, along the coast south of Tampa Bay. Sarasota County is older – more than one in three people in the county is over 65 – and the county is more than 90 percent white. The biggest minority is Hispanics, at about 8 percent. It's above average for the state in income and education level, home ownership rate, and it is nearly twice as densely-populated as the state as a whole. While affluent Republicans swarmed there after World War II, giving the area a strong GOP bent that remains today, ironically, the area was first settled by the antithesis of the well-heeled, genteel Republican: circus people. Sarasota's first large employer was the Ringling Bros. Circus, which needed a semi-tropical winter locale to keep its elephants from dropping over dead. The circus employees, presumably some of them, well, out of the mainstream, moved there too. Of course, the heads of the circus, the eponymous Ringling Brothers, were the first wealthy Sarasota denizens, building huge mansions there. George W. Bush won the 13th Congressional District, which covers much of Sarasota, with 54 percent of the vote in 2000 and 56 percent in 2004, and the area went against the Obama tide in 2008, voting for John McCain 52-47. (Tuesday, 6 p.m., Harry Sudakoff Conference Center, New College, 5845 General Dougher Pl., Sarasota.)
WEDNESDAY, AUG. 31, 2011
REDISTRICTING IN NAPLES: The Legislature takes its redistricting committee parade to Naples in southwest Florida on Wednesday morning. Much of what you need to know about the Naples area, politically and demographically, can be summed up in three facts: 1. Gov. Rick Scott is from Naples – at least that is where he moved as a wealthy business executive. 2. When Michele Bachmann was just a congresswoman, before she was a presidential candidate, the top zip code in funding her campaigns outside of her own state was the 34102 zip code in Naples. 3. The county has no elected Democrats in office. But … surrounding Collier County is a different story. The huge county – much of which is uninhabited Everglades – has a huge population of migrant farmworkers, most Mexican and central American, and the county as a whole is 26 percent Hispanic. Collier is one of the five Florida counties requiring federal preclearance of districting changes because of worries of discrimination – though it's not because of African-Americans' experiences there – the county is only about 6 percent black. Large numbers of language minorities can bring the preclearance requirement, and Collier has lots of Spanish speakers, but also has Miccosukee and Seminole Indians. (Wednesday, 8 a.m., Naples Daily News Community Room. 1100 Immokalee Rd., Naples.)
RACE TO THE WATER HEARING: The Public Service Commission will hold a hearing on a proposed water and wastewater rate increase for Aqua Utilities Florida Inc. (Wednesday, 10 a.m., Highlands County Administration Building, 600 S. Commerce Ave., Sebring.)
MENTAL HEALTH AND SUBSTANCE ABUSE IN BROWARD: The Florida Department of Children and Families is holding a meeting on the future of mental health and substance abuse treatment in Broward County. Behavioral health experts, others are urged to attend the meeting hosted by the Florida Department of Children & Families. (Wednesday, 1:30 p.m., Bank Atlantic Support Center, 2100 W. Cypress Creek Rd., Fort Lauderdale.)
REDISTRICTING MEETING IN LEHIGH ACRES: The Wednesday evening meeting of the legislative committees charged with redistricting is in Lehigh Acres, the southwest Florida community that may be ground zero for the housing bust. The New York Times may have captured the central element of life in Lehigh Acres with one sentence when it chose to make the town the focus of its big centerpiece story on the nation's housing bust: "Desperation has moved into this once-middle-class exurb of Fort Myers, where hammers used to pound," the paper said of the town in 2009. The town, 15 miles west of Fort Myers, was only planned out in the 1950s. In the early 2000s the area sounded like a construction zone – which it was, and housing prices tripled. Now, it's quiet with western Lee County the epicenter of the nation's troubled housing industry. The population boomed here early in the decade, but now people are moving out. Lawmakers will have to decide what all that means for political boundaries, and they'll hear from the public Wednesday night. (Wednesday, 6 p.m., Veterans Park Recreation Center, 55 Homestead Rd., South, Lehigh Acres.)
THURSDAY, SEPT. 1, 2011
REDISTRICTING MEETING IN AMERICA'S SWEETEST TOWN: Redistricting goes on Thursday to Clewiston, which calls itself America's Sweetest Town because it is the center of the sugar industry in the state and the home of U.S. Sugar. The company, which celebrated its 80th birthday earlier this year, is the lifeblood of this region near Lake Okeechobee, along with its two competitors, West Palm Beach-based Florida Crystals and the Sugar Cane Growers Cooperative, in nearby Belle Glade. Together, they produce about a million and a half tons of raw sugar a year. Clewiston is in Hendry County, regularly, along with Flagler County in northeast Florida, at the top of the list or second on the list for highest unemployment in the state. The poor, agricultural county still grew in the most recent decade, though, by 8 percent to 39,140. The county is 13.4 percent African-American, which is slightly under the state average. But the striking demographic feature of the county is that it is half Hispanic. In the 2010 Census, 49.2 percent of people in Hendry County said they were Latino. Lawmakers will decide how to make sure those people are represented when they draw the lines. The public hearing is Thursday morning. (Thursday, 8 a.m., Hendry County Health Department, 100 South Olympia Ave., Clewiston.)
ON THE WATER TRAIL: The Public Service Commission will hold a hearing on a proposed water and wastewater rate increase for Aqua Utilities Florida Inc. (Thursday, 10 a.m., Canterbury Retreat & Conference Center, 1601 Alafaya Trail, Oviedo.)
SUPREME COURT OPINIONS: The Florida Supreme Court releases its regular opinions. (11 a.m.)
CAMPAIGNS
SUNDAY, AUG. 28
BACHMANN HITS CHURCH SERVICE NEAR TAMPA: Republican Presidential Candidate Michele Bachmann attends a church service in the Tampa suburb of Lutz. (Sunday, 11 a.m., Idlewild Baptist Church, 18371 N Dale Mabry Hwy, Lutz.)
SARASOTA GOP RALLY FEATURES BACHMANN: GOP Presidential candidate Michele Bachmann is in Florida overdrive this weekend. On Sunday afternoon, she'll be at the Sarasota County Republican Rally, hosted by county GOP operations of Sarasota, Charlotte and Hardee counties, Tea Party Manatee, Taking Back Our Country, Sarasota Patriots and Venice 912. (Sunday, 4 p.m., Shahib Temple, 600 North Beneva Rd., Sarasota.)
MONDAY, AUG. 29
Republican U.S. Senate candidate Craig Miller spends a work day at Carey Baker's A.W. Peterson Gun Shop in Mount Dora. (Monday, 8 a.m., 4255 W. Old US 441, Mount Dora.)
–Tallahassee calendar Compiled by the News Service of Florida.