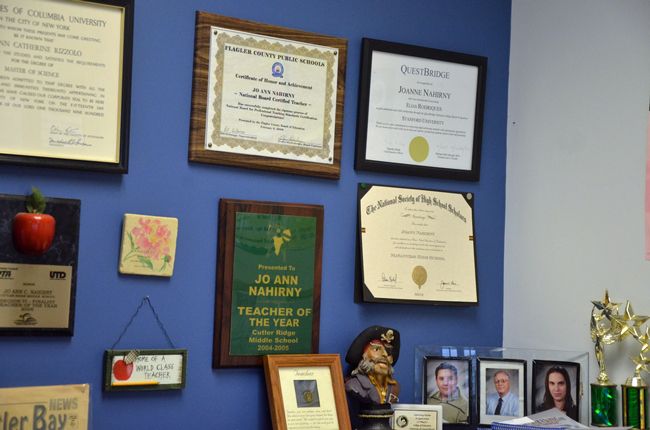 So it's Teacher Appreciation Week once more, and what better way to show educators we truly love them than to give every teacher an apple? (That really happened!) Or, better yet, as an administrator at one school did a few years ago, to present each faculty member with a Payday candy bar, because, as the accompanying card said, "Every teacher could use an extra pay day."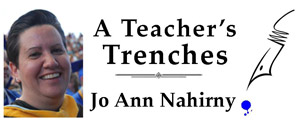 All joking aside, I have to say that in all my years of teaching, the folks who've made me feel most appreciated in what can otherwise be a rather thankless career field, are the people I really work for –and that's my students. Their successes and achievements make it worthwhile. Those wild, wacky and zany teens at Matanzas High School energize and reinvigorate me daily, even when almost everyone and everything else about this job makes me want to throw in the towel at times.
For example, last month, one of my students, Kathryn Perez, scored a major victory when she captured an-almost-impossible-to-achieve Runner-Up ranking in a nationwide editorial writing contest I assigned my students to enter, to develop their persuasive argumentation writing skills, and use authentic evidence to support their positions. The contest, sponsored by The New York Times, drew thousands upon thousands of entrants.  Kathryn's essay emerged as one of only 30 in the entire country to be recognized.
The Times, as its astute readers know, is a highly regarded daily newspaper that's won 112 Pulitzer Prizes, more than any other newspaper by far. Its website receives more than 30 million unique visitors per month. Kathryn's editorial, which discussed Barbie as a feminist role model, has been published on the Times' website, where some of those 30 million visitors will no doubt read her work.
As a result of this one assignment, Kathryn's fledging writing career has been launched, largely because I knew how and where to get her started, after seeing her display an uncanny flair for words in my classroom–something no FCAT test could, or did, ever detect. And in just a few weeks, she'll begin writing for FlaglerLive, too, the result of its editor's similar discernment of this young lady's profound personal and professional style.
Kathryn and her classmates know their success matters greatly to me; hence, they rarely, if ever, disappoint me. They want me to be proud of them. And I am.   As Kathryn emailed me on the night she learned she'd won, "I'm crying right now…I love you in the most platonic way a teacher and student can."
The next day, still feeling elated over Kathryn's triumph, I received an email from a parent who'd just moved to Flagler County from another state. Her son had entered my class a few days earlier, and she'd read about Kathryn's award. She wrote: "It's wonderful to see our children receive praise and notoriety for demonstrating their positive learning.  I'm delighted to see evidence of …an inspiring educator for my son and his siblings. So glad we've had the great fortune to end up here."
As the cliché goes, when it rains, it pours: the following day yet another unexpected email arrived. The parent had written to my principal a day earlier, and as an afterthought, courteously sent me a copy, which I otherwise wouldn't have seen.
"My daughter…has struggled with reading since elementary school. Passing the FCAT Reading has remained elusive. She was assigned to Mrs. Lagocki for two wonderful years of instruction in Intensive Reading and English.  And this is her second year with Mrs. Nahirny, both in English and the SAT Prep class. It is because of these teachers, in particular, Mrs. Nahirny pushing her to achieve, that my daughter did just that; today, we learned she passed the ACT Reading…beating the minimum 19 FCAT concordant reading score by a wide margin, and she is now 'college ready.' There are a number of other wonderful teachers at MHS to recognize, but Mrs. Lagocki and Mrs. Nahirny exemplify the passion and standards that result in success. Thank you for them!"
Kathryn and those two kind parents, who cared enough to say "thank you," probably don't even know what an enormous role they played in keeping me in the classroom, nor that they are part of the reason why I am still teaching at MHS today…and probably will still be for at least a while yet. But I'd like to tell them, and you, that when you thank a teacher, it does matter to us. More than perhaps you'll ever know.
When these kind people took just a few minutes to convey how much my efforts meant to them, they helped erase an anger and disappointment that had been festering within me so deeply that I physically ached. It was a pain that had kept me awake for nights, dejected for days, and had pretty much convinced me I wanted out.
You see, back in March, I'd applied for another job in this district which would have taken me out of the classroom. Somehow, I'd fallen prey to that misguided and mistaken belief so frequently expressed by many colleagues over the years, that the only way to get ahead and gain respect as a "educator" (albeit one who'd no longer actually be educating anyone) is to get out of the classroom. It's a sad notion that administrators, school boards, human resources offices and so-called reformists have unfortunately inculcated in teachers over the years, this idea that if you want to be successful or be taken seriously, or make any sort of impact, that you must stop teaching to do so.
The job I sought was that of a "teacher support colleague."  Every school in Flagler is getting one.   Grant money, which Flagler and several other districts in Florida received, is providing funds to take a group of teachers out of their classrooms for a year or more. They, according to the job description, will "provide school-based professional development and support that includes 
interim assessments and analysis, curriculum mapping, standards-based instruction, and small group instruction around student outcomes and educator practices, and provide individualized, job-embedded training and support to educators to allow for direct and immediate implementation of refined practices and standards- targeted instruction to enhance student growth."
Even though the description sounded like typical bureaucratic mumbo jumbo, I wanted that job. Badly. At least I thought I did. Because after a second serious bout with cancer not even two years ago, I craved the idea of finally not being exhausted all the time, and of not having to go home night after night to grade dozens and dozens of essays long after my husband went to bed. I yearned to escape the drudgery of creating tests and quizzes, checking student IDs, monitoring for dress code, tracking student behaviors, attending parent conferences that begin before daylight, and staying after school to help struggling students long after my "workday" supposedly ended.
How refreshing I thought it would be to assist other teachers to gain the skills that enabled me not only to become certified in six different subject areas (and a seventh I'll add this summer) but also to earn the designation of National Board Certified Teacher (a credential that fewer than five percent of educators in America ever attain).
I knew I had the education, experience and skills to do the job. Those who encouraged me to apply knew it, too. And so when the job ultimately went to a colleague –a much, much younger, and far less experienced teacher than me, I was crushed …for about two maddening weeks.  As a fairly spiritual person, who subscribes to the P.U.S.H. theory of a prayer life (pray until something happens) I couldn't help but wonder what exactly had happened.
And two weeks later, something did. That's when I received that magical set of pick-me-ups, that unsolicited, unconnected, but oh-so-magically weaved together words of gratitude that slapped me harder in the face than the sting of the recent job rejection.
"You idiot!" they seemed to screech. "You love what you do and you do it well. Why would you stop teaching? Who's got it better than you?"
Very few, actually.
And so at the inception of this Teacher Appreciation Week, I've decided to turn the tables a bit. I want to thank those parents and students who've let me know I've made a difference, and who recognize the challenges of educating all students appropriately, with their unique and myriad needs.
I'll display my thanks by continuing to challenge students with thought-provoking writing topics, such as the one I assigned a few weeks ago, in which I asked students to determine whether Thomas Paine's characterization of America as a place of unity and concord still applies to our country today. Most kids argued it doesn't.  But one perceptive young man got the point. He wrote that although Americans are no longer united and on the same page, that our current discord will ultimately be for the better. He adroitly reasoned that only the discomfort of discontent can engender radical change and true reform.
So that's why I'll be staying in the classroom. Because it's a place where I know I can effect the most change. It's where I'll still be teaching, really teaching. And it's where I'll be writing this column after hours as often as I can, to advocate on behalf of all those who teach.
It's here I'll be….until something happens.

Jo Ann C. Nahirny, a 1985 graduate of Columbia University and a National Board Certified Teacher, teaches English at Matanzas High School in Palm Coast. Reach her by email here.