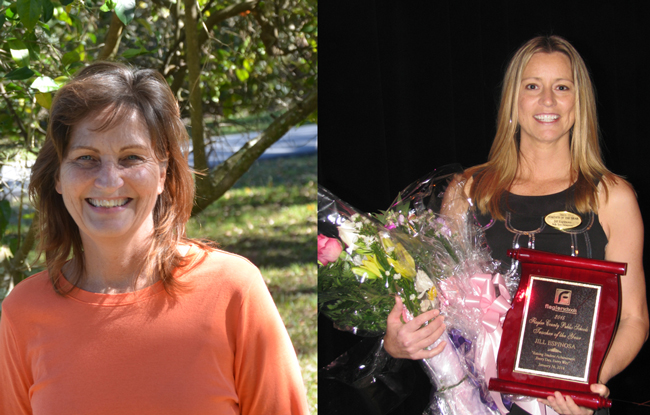 School board members were there, and a couple of them even did a jig on stage when their names were called. Jacob Oliva, the acting and possibly future superintendent was there, as was Pam Stewart, the state commissioner of education, who would normally be the headliner at any educational function not featuring the governor or, say, Bill Gates.
But there was no question who the true headliners of the evening were Thursday: Cindy Moore, who was named Flagler County Schools' Employee of the Year, and Jill Espinosa, who was named Teacher of the Year—not surprisingly, from Belle Terre Elementary, which has now claimed the Teacher of the Year award three of the last five years (2014, 2013 and 2011). Belle Terre is also the school that doesn't know how to get less than an A year after year: it's never had one in its decade-long history.
As for Moore, whose job includes being secretary to two assistant principals at Flagler Palm Coast High School, that school's 6,000-some standardized tests each year may not get the chance to be administered seamlessly and efficiently if it weren't for Moore's coordinating job at one end, and, well, even counseling job at the other, even though she is neither an administrator nor a counselor. But those who work with her know how much she takes on.
"Ms. Moore embodies a multitude of fabulous traits that make every day a better day for the students of FPCHS," Lynette Shott, the principal at the high school and often a mentor for Moore, wrote in her recommendation letter. "I rarely walk by Cindy's office, or see her in the hallway, when she is not patiently and kindly helping a student. As our testing coordinator she is often called upon to calm an anxious young man or woman who are facing a high-stakes exam that impacts their graduation. Her ability to take the time to reassure and console them one on one, while still managing almost single-handedly the thousands of [End of Course] and FCAT exams given at our school is amazing. Beyond the testing world, she is sensitive to the many needs of teenagers and will go out of her way to seek assistance for them from a variety of sources, no matter what the issue. What quality could possibly be more important in our profession than the ability and desire to make every day better for every student?"
Interviewed at her home Saturday, Moore tears up when she hears those words read out loud by a reporter. Not just because of her admiration for Shott ("everything I learned, I learned from her," Moore says, selling herself a bit short), but for the sentiments Shott voiced publicly. Work-horses in Moore's position often go unrecognized for most of their careers. "I'm a hard worker not just at home with my kids and everything else, so it's nice for other people to recognize it," Moore says. "I know my administrative staff knows it and they're always telling me how much they appreciate it."
Moore, a native of North Carolina who moved to South Florida when she was 8, moved to Palm Coast in 2001 and worked at Old Kings Elementary, the old Pathways Academy (now Everest, the alternative school) and for the past four years, FPC. She's a single mother who raised two daughters, one of whom graduated Matanzas six years ago. Her youngest is graduating Matanzas this year, half-way through her two-year degree from Daytona State.
Interviewing her at her home, in her surroundings—with her younger daughter Cheyenne next to her—was the right setting: as much of a workaholic as she is at school, so is she at home, either rebuilding interiors or recreating exteriors—or building herself up: she is completing an AS degree at Daytona State, much of it geared to improving her command of her job. "I consider myself a hard worker and highly motivated," she says. "It's hard for me to sit still." But it took her a while to realize that she had been chosen this year's winner. "It was like, OK, yep, that's my name," Moore said, her daughter describing her as briefly motionless before she made the connection and walked on stage.
For Jill Espinosa, a first-grade teacher, Belle Terre Elementary was simply in its usually winner's mode.
"It's been a fun morning," Espinosa said the morning after the ceremony. Students weren't at school Friday. It was a planning day for teachers. "It's been overwhelming. Haven't really absorbed it yet. When I came to work this morning everybody had things all over my door, plus they had a breakfast for me and a million emails congratulating me." Espinosa repeatedly credited her fellow-faculty at the school, particularly the supportive environment she encountered as she was going through the application process: fellow-teachers or administrators reminded her where she was selling herself short, proof-read her essays, provided the sort of feedback good teachers are known for with their students.
"That was one of the key things, the professional support," Espinosa said, humbled though she felt by still pulling it off. "To get an honor like that among your peers when there's such a high standard, it really means a lot."
When she was going to school as a student Espinosa wanted to be a writer, particularly after the encouragement of a 6th grade teacher. She would eventually go to college to study journalism. But her life was riddled with moves and challenging "family dynamics." She went to 12 different schools through 12 grades. Through it all she picked up on a common thread. There would be teachers who would make her feel welcomed, nurtured, cared for, especially in those first days and weeks at school when a new student feels like an alien. Between family difficulties and recurrent moves, ""It was troubling," Espinosa said, "but school was that solid thing for me all the time."
While in college she worked for the Children's Home Society, a child welfare agency that had her in and out of troubled families' homes a lot. "I began to see that there were a lot of children in need," just as she had been. So the journalism degree turned into an education degree (from the University of Florida), and was followed by a Master's in education, and a career as an elementary school teacher that in a little over a decade fills two pages of professional development, awards and accomplishments.
"As an educator, my role in fulfilling the needs of today's learners is complex and requires constant professional growth," Espinosa wrote in her application essay, describing how her role is to develop students who learn how to learn. "My role is to create an environment that supports self-directed learners capable of novel and adaptive thinking, and I must do this in a way that allows students to understand concepts across multiple subjects. I am also required to establish strong relationships with students, families, the community and my colleagues. These obligations require my own self-directed learning, research, reflective practice and willingness to try new things while trusting my students to do the same."
That is what Espinosa says she's able to do at Belle Terre every day.