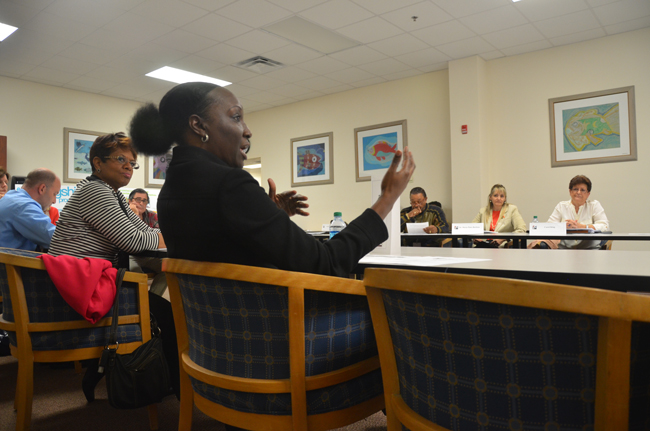 Before the Flagler County School Board gets its shortlist of four or five candidates for superintendent, district staff and the search committee the board appointed to provide that short-list must sort through a pile of applicants. On Thursday, the committee met and settled on a set of criteria (or a "rubric," in administrative lingo) it'll use to score candidates.
The committee, prompted by comments from some of the half-dozen members of the public in attendance, also voiced serious concerns, and criticism, for the speed with which it's being forced to conduct the search. The rushed schedule was set by the school board.
The criteria minimize subjective individual judgments and are designed to distill the candidates who, on paper at least, appear to be the best fit with the Flagler County school district. So the criteria give more weight to a candidate who's worked in a district with 12,000 to 24,000 students (Flagler has 13,000 students) than one who's worked in a larger or a smaller district. The criteria also give more weight to candidates who have worked many years in schools, as opposed to working in colleges or universities. "Teaching in the college sector, very different from teaching in the K-12 sector," Kristy Gavin, the school board attorney who led the meeting as its facilitator, said. (Jerry Copeland, the usual facilitator, could not make today's meeting.)
Also, no candidate will be considered who does not have at least master's degree in education leadership or school administration, no matter how well intellectually endowed the applicant might otherwise be. That rules out the likes of Stephen Hawking, Michael Bloomberg and Bill Gates (a college drop-out), but not Bill Cosby or Ron Jeremy (the 1970s porn star who has a master's in education).
Peter Birtolo found the ranking system odd, since it gave the same weight to, say, an individual who'd worked in the right-size district as an individual who had a master's degree in education, or one who'd overseen a district for many years, all the while potentially excluding valuable applicants who don't quite match the precise criteria.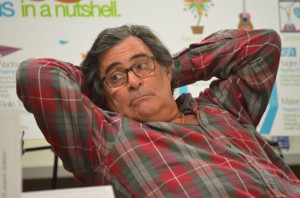 "I wonder if taking these with equal weight, what if–I don't know if lee Iacocca is dead or not, but if he were to apply for this job, would we want him to have the job?" The answer was no. Birtolo applied the same question to Barack Obama, should he have been available or willing to apply. The answer was again no. That struck Birtolo as strange. "I'm not so sure that these guidelines have equal weight. I'll work with it, but I don't like it." Birtolo again returned to those contentions near the end of the two-hour meeting, saying he was uncomfortable with "old ways of thinking" that equate third-grade achievement criteria with, say, a candidate's years of experience.
But most of the committee agreed that the weighing system was a standard way to narrow down the list of applicants, since some standards must be agreed upon.
"I don't think it's perfect, but at the end of the day I think this will ferret out" the names that can form a short-list, David Alfin, the committee's vice chairman, said.
John Winston, prodded by Birtolo's concerns, raised another question: what vetting process will be in place to verify that what candidates claim in their applications is actually true? "The internet is such a great thing," Gavin said. "If they are qualified candidates, I will be more than happy to provide to you the information they have ascertained."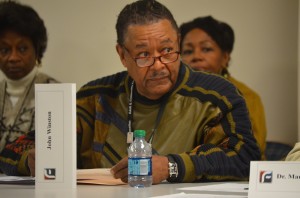 "Educators lie as much as anybody," Winston warned.
The first dozen questions are straight-forward applications of a candidate's years of experience as an administrator, as a teacher, as a supervisor, as a budget administrator, and as an educator working with racially diverse student bodies. There was also a question relating to "local public education experience."
"So you'd be giving the heaviest weight to someone who's been in Flagler County," Barbara Revels, the county commissioner who chairs the committee, asked rhetorically. That prompted a suggestion from Gavin: make it Florida, rather than Flagler County. The suggestion was immediately adopted.
Another dozen questions focus on academic improvements, broken down by reading and math levels, general populations, minorities (especially blacks and Latinos), students on free or reduced lunch or students for whom English is not a first language: candidates will be measured according to the degree of improvement they have achieved in their previous job capacities and can document in each category.
The next dozen questions focus on graduation rates, also broken down by various categories (racial, socio-economic, overall, and so on), and on the average increase in graduation rates across the same categories.
The final five questions focus on broader, less tangible criteria. One question is a direct response to a lawsuit b y the Southern Poverty Law Center, which charged two years ago that the Flagler school district disproportionately disciplined blacks and minorities. The question addresses "discipline disparities," and would measure how the applicant can show what he or she has done to narrow such gaps, if a any. Questions also measure "parental engagement" and "community engagement," and "collaborative work with employees and unions."
If you've never worked with unions, Gavin said, "it is an eye-opening experience."
Speaking at the end of the meeting, Sims Jones, a local pastor who is not part of the committee, told the committee that he was concerned about the sort of questions he was not hearing: questions that go to each individual applicant's vision as a leader, for the district–as opposed to question that, Sims said, focus more on the district as it is, rather than as it aims to become. Winston noted that the questions the committee will devise, once the candidates have been pared down, will aim to elicit those broader qualities.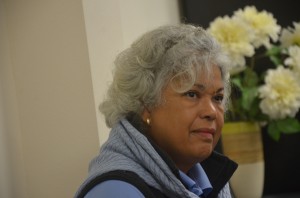 Anna Rodriguez, another member of the public in attendance, told the committee how sad and "pathetic" it is that the process of choosing a superintendent is taking less time than the district's process of choosing cleaning supplies. "It's sad, honestly, this is a pressure cooker situation that everybody is put in, and it really doesn't make sense. It's sad," Rodriguez said. Many members of the committee agreed. But their hands have been tied by the school board's rushed parameters–a rush that seems to make little sense, considering that the starting date for the new superintendent has also been set at July 1.
"The school district has a succession plan," Joe Rizzo, a member of the committee, said. "They have. They decided not to use it."
Winston, raising legal concerns, said the rushed schedule "doesn't look good, it smells terribly bad out there, and that bothers me."
"It's the board that has to hear these concerns," Myra Middleton-Valentine, another committee member, said.
The committee will next meet on Jan. 21 for a scheduled all-day session (and Jan. 22 as a supplemental meeting day, if necessary). By then district staff will have reduced the pile of applicants to those who meet the basic criteria. The committee's job will be to rate the remaining applicants. Each committee member will essentially grade every applicant, using the criteria (and number scale) approved today. The numbers will then be tallied collectively and averaged out, producing a ranking. The top four to six candidates will then form the short-list to be sent to the school board.
The candidates' applications will be available for examination by members of the committee–and members of the public–in the school district's human resources between 1 and 4 p.m. on Jan. 17 (Friday), and again on Monday, Jan. 20. One pile will be those that meet the criteria. A separate pile will include those applicants who have been eliminated, along with a summary explaining why they were rejected.
Only 11 valid applications have been turned in so far.
The closing deadline is midnight on Jan. 17, so applications may yet be turned in that evening. Two applicants had not applied on line, as required. The applications were rejected.