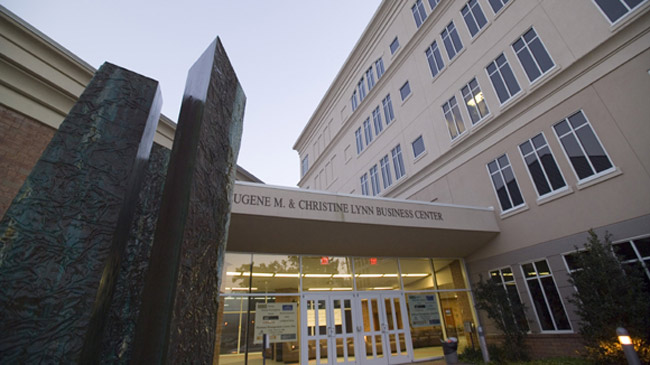 Stetson University School of Business Administration online master's degree programs have been named among the nation's "Top Online Graduate Business Programs" in U.S. News & World Report's Top Online Education Programs 2012 rankings.
The Stetson School of Business has two online programs – a Master of Accountancy degree and a joint Master of Business Administration degree program in which students earn an MBA from Stetson and a Master of Science degree in pharmacy from the University of Florida at the same time.
"As Stetson has become involved in online education, we wanted to ensure we offered only the highest quality educational experience. For that reason, all of our online offerings have been synchronous courses, allowing real-time interaction between the professor and our students," said Dr. Stuart Michelson, dean of the School of Business Administration. "We are very honored to be recognized by U.S. News & World Report for our high-quality online graduate programs."
Using statistical data and surveys, U.S. News ranked Stetson's online graduate business programs in three of four areas of consideration for the list: Student Services & Technology, Faculty Credentials & Training, and Teaching Practices & Student Engagement. To be included on the U.S. News honor roll of top online graduate programs, a school needed to place in the top third of ranked schools in at least three of four areas of consideration. See the rankings here.
Stetson's online Master of Accountancy degree, offered through the university's M.E. Rinker, Sr. Institute of Tax and Accountancy, began in June 2008 and is designed to prepare students for careers in business and public accounting. Students take 10 online courses, each five weeks long. Students complete assignments and exams online on their own schedule, and also "meet" online with their professor and fellow students for one session a week. Classes are taught by faculty who teach in Stetson's traditional, on-campus MAcc program.
The PharmaMBA Online program is an innovative online program offered jointly by Stetson and UF; it began in the 2008-09 academic year. Designed to teach students the business of biomedical science, the program is geared toward working professionals. Students take classes online, part-time, for three years. Live classes emphasizing critical thinking and case studies are held in the evenings twice a week using Elluminate, a virtual classroom program, which is also used in the Master of Accountancy program. Students also can view archived classes that they miss. The MBA courses are taught by regular Stetson faculty members.