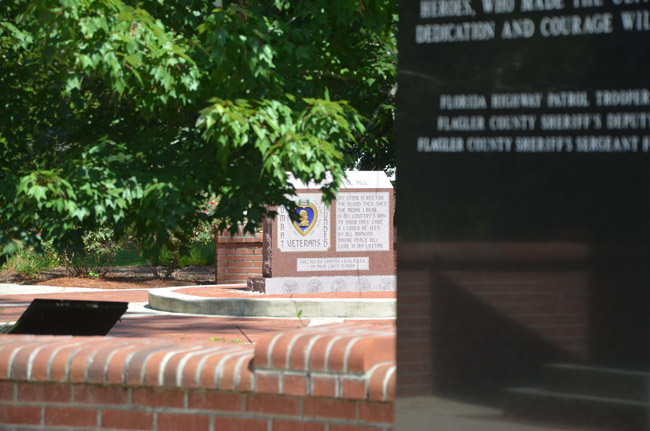 Flagler County Sheriff's units converged on Heroes Park in Palm Coast just before 8:30 p.m. Thursday after a report of shots fired there, and were in a standoff with an armed man, Tim Sturman, who used to be a Flagler Beach police officer. The standoff lasted until 10 p.m., when the man surrendered peacefully.
Sturman was initially reportedly not threatening to do harm to anyone but himself, eliciting unnerving memories of the October suicide at Heroes Park of former Flagler County Sheriff's deputy Joseph Delarosby, who had recently retired from the sheriff's office. The first-year anniversary of Delarosby's death is in six days.
"He is a retired law enforcement officer from Flagler Beach," the sheriff's chief spokesman said of the man at Heroes Park about an hour into the standoff. "We have him surrounded, we have done evacuations of several homes in the area," he said, "we're trying to negotiate to have him surrender peacefully."
Sturman had worked at the Flagler Beach Police Department until this summer (his Facebook page said he left in July), though he'd been on leave for several months before that. He'd worked for the department previously, then had stints as a police officer with Bunnell and with the Florida Fish and Wildlife Conservation Commission before returning to Flagler Beach, where he'd started as a volunteer fireman many years ago.
Just before 11 p.m., Jim Troiano, the sheriff's chief spokesman, narrated the succession of events that took place this evening, leading up to what Sturman had said would be his suicide: at 7:46 p.m., a Flagler County Sheriff's deputy got a call from his wife, who had been in contact with Sturman's ex-wife. Sturman had told his ex-wife that he intended to kill himself. He gave her a precise time: 8:14 p.m. The time has to do with a traumatic event Sturman himself lived through when he was a teen-ager: the suicide of his father.
The deputy called command. "What we knew at that point is that he was suicidal. We didn't know about a weapon, we didn't know about his whereabouts," Troiano said. His ex-wife informed deputies that he was at Heroes Park. As deputies were setting up, Sturman fired one shot. It's not at all clear whether he fired at the deputies or whether he fired randomly into the woods. He was not always within the sight of deputies.
Air One, an emergency helicopter from Volusia County, flew in and helped locate Sturman. He was "heavily intoxicated, we saw him at one time with the shotgun to the chin, so we certainly knew that this was a desperate situation," Troiano said. Sturman walked away at one point, and then re-engaged with deputies. He had been walking toward his car. Deputies persuaded him to turn back. He finally walked up to a group of deputy unarmed and surrendered without incident. Throughout, he'd been on the phone, likely with family, while he was speaking with deputies.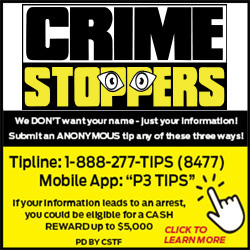 "This certainly could have ended with a much different result than it did," Troiano said. "We were able to use every resource at our disposal, we were patient with him, we showed a lot of restraint, and we were able to end the situation peacefully. Our guys did a good job, I watched it first hand, they did an excellent job."
When Sturman surrendered, he was immediately evaluated by paramedics, then held in a patrol car, in handcuffs. The weapon, a 12-gauge shotgun, was recovered. Its ownership is unclear for now. "Obviously he's impaired, he's under the influence of alcohol, he's under a great deal of emotional distress now, and it's time for the clinicians to step in and to help him and help his family," Troiano said.
Sturman does not face criminal charges for anything he did tonight, Troiano said. "He discharged a firearm, he's under the influence of alcohol," Troiano said, but looking at "the totality of circumstances," the sheriff's office feels there was no criminal act, and the best solution to the problem was a Baker Act–the non-voluntary committal of an individual to a psychiatric unit.
During the standoff, the Palm Coast Fire Police had shut down Palm Coast Parkway west of Belle Terre Parkway. Air One flew overhead.
"We have a tense situation right now, an individual has a shotgun," within the area of Heroes Park, Troiano had said during the standoff. Heroes Park is a short walk from the public library. He also described the situation as "very fluid."
So it was for a while. As the evening wore on, the situation became at times less controlled: Sturman for a time was no longer necessarily in law enforcement's sight, and several roads had been sealed off beyond Palm Coast Parkway. Some people who'd been shopping at Kohl's were prevented from leaving the parking lot there, at least for a short time. Troiano confirmed reports of certain houses being evacuated.
The sheriff's office SWAT team was deployed, with reports just after 9:45 p.m. that Sturman was in the woodline of the park, and was again in the line of sight of some deputies.
The standoff began around 8:30 p.m., with numerous rescue units standing by at nearby Corporate Plaza. A negotiator was at the scene. "We want this to resolve peacefully, we don't want to see it end in a different way," Troiano said, a matter of minutes before the situation was resolved as intended.