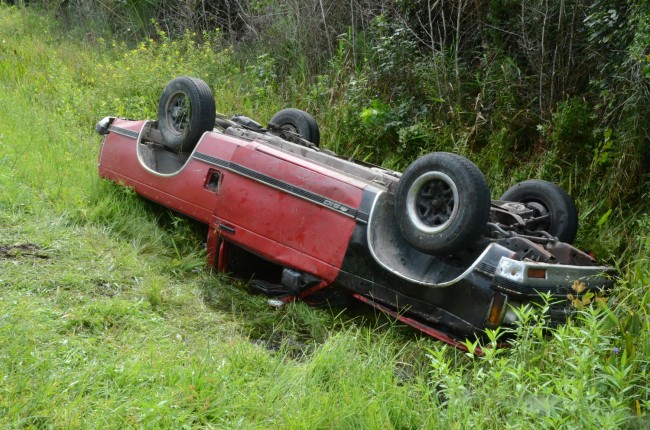 "Lucky girl," said Flagler County Fire Rescue Capt. Ron Bolser as he surveyed the wreckage.
"That's one lucky young lady," Bunnell Police Lt. Randy Burke said. Saxon's Wrecker's Jimmy Flynt and his crew were just then flipping the truck, which had been lying on its crushed roof in a watery ditch.
"Somebody was on her side," Palm Coast Fire Police Capt. Steve Garnes said.
By all accounts, 23-year-old Carlene Murphy survived what could have been a grisly accident.
Murphy, of DeBary, was traveling east on State Road 100, at the wheel of a red Chevrolet pick-up Monday morning.
Just past East Blackpoint Road (half a mile before the intersection of Deen Road and SR100) she lost control of the vehicle, drove onto the shoulder, overcorrected, started rotating, then flipped and ended up in the "slightly water-filled ditch," Burke said. "Thank goodness that drained well enough."
Had the water in the ditch been deeper, Murphy would have been in more serious trouble than she already was because rescue units had to perform an extraction to get her out, bringing in inflatable balloons to lift the truck and enable rescuers to get Murphy out.
Bolser and Burke said she survived with minor injuries, and was transported to Florida Hospital Flagler.
The wreck took place at about 10:15 or 10:20, and it shut down that segment of SR100 in both directions until just past 11 a.m. as rescuers, police and the wrecker worked the scene.
Flagler County Fire Rescue sent three units, the Bunnell Fire Department—including Chief Derek Fraser—and the Palm Coast Fire Police responded.