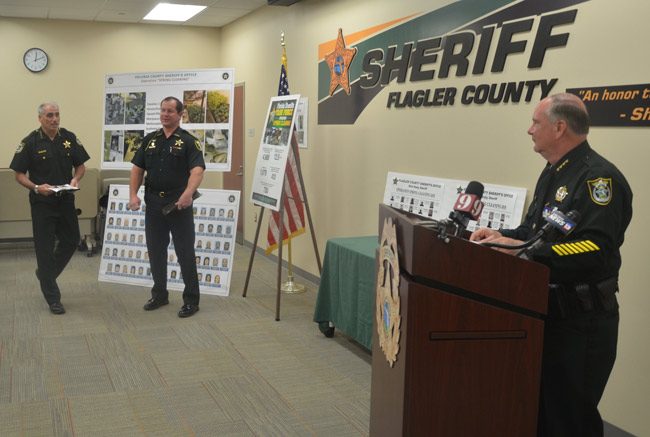 The names are almost familiar, at least to those wo keep up with the jail's revolving doors: Tyneka Addison, possession of cocaine and pot with intent to sell. Eric Ferrante, sale of oxycodone. Soloman Coley III, sale of cocaine. Joseph Colon, first-degree murder and drug charges. Shawn Crawford, possession of cocaine with intent to sell. Herman Robinson, meth. Douglas Thomas, oxycodone. Jeremy Tombs, meth, cocaine, hydrocodone. And so on. (See the gallery below.)
Colon, 34, was charged in the death of Savannah Deangelis, 23, who overdosed on heroin and possibly fentanyl in late October, allegedly after taking delivery of a package from Colon at her home.
Those are some of the 45 people arrested or sought over the past seven months in Flagler County's portion of ma 27-county operation that resulted in nearly 5,000 arrests for drug trafficking, with 12.5 million grams of controlled substances and 1,679 firearms seized. In Flagler, the seizure numbers add op to 266 grams of cocaine, 251 grams of heroin or fentanyl, 121 grams of opioid pills, 3,200 grams of pot, 14 firearms, nearly $58,000 in currency, and so on.
The mug shots, the figures and several pictures of the drugs and weaponry seized were arrayed on easels or against the wall at the Flagler Sheriff's Operations Center for a noon press conference today featuring three sheriffs: Flagler's Rick Staly, Putnam's Gator DeLoach, and Volusia's Mike Chitwood. It was the familiar format of such periodic press conferences over the years—involving some of the same people arrested over those years, a detail that the sheriffs referred to as a "generational" problem they're seeing in some families, where the drug habit has been passed down from parents to children. Some of those arrested have been convicted. Some are back on the streets. "Law enforcement is doing our job," Staly said. "The rest of the system is not."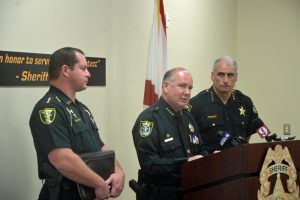 "Since many dealers sell various types of drugs, Operation Spring Cleaning focused on capturing sales and trafficking related to highly abused controlled substances," Staly said. "Often firearms were being used in the commission of these crimes or they were in the hands of convicted felons."
The 45 arrested in Flagler took place at some 35 different locations, the sheriff said, through undercover buys followed by search warrants. Staly said a lot of the drugs are coming from Orlando, with most of the cash going back there. "We do have a nexus to drugs out of Daytona and Putnam County," he added.
The operation started last Oct. 1, ending on April 30.
The sheriffs projected the usual tough-on-crime posture and "zero-tolerance" rhetoric familiar at such press conferences ("drug dealers, there are no boundaries," Staly said, "we're going to come after you no matter if you're selling your [poison in Volusia, Putnam, Jacksonville or in Key West, we all work together, we're going to go after you and fill up our jails"). But at various points the sheriffs also implicitly acknowledged the limits of their authority or ability to end a cycle that has repeated with little variation for decades of the so-called war on drugs: the types and virulence of favored drugs change, the amount of drugs, of addicts, of arrests and of news conferences reflecting the cycle don't.
"This is only one step of where we're going with this. Law enforcement's job is to crack down on the dealers, law enforcement's job is to crack down on the supply. But obviously we need help. Because it's not about the people you see on this poster. It's about their victims. It's about the 108 people that overdosed and died last year in Volusia County. It's about the 800-plus people who overdosed and survived. It's about giving them justice, it's about trying to get them the treatment that they need."
Chitwood wanted to make a distinction between the current opioid crisis and previous drug crises, saying opioids, unlike previous drugs, are causing addictions that are much tougher to conquer.
Chitwood said the United States proportionately consumes the largest amount of drugs of any nation, requiring more interdiction on one hand, and better education and treatment on the other. But treatment has suffered. "There's no receiving area to gear these people into the proper treatment," he said, "plus, there's no money. Stewart-Marchmann got their funding cut last year by 40 percent. They estimate they turned 1,600 people away in Volusia-Flagler counties that went there for help for opioid abuse. They just didn't have the money to treat those folks."
Staly addressed the larger picture of various drug crises over the years. "There's never been sufficient funding to do all the pieces of the pie," he said. "You do in enforcement, not enough money to do the true enforcement that you need. There's not enough money for education. There's not enough money for treatment. So if you don't fund all pieces of the pie, it's going to be a continuing cycle. And of course the dealers, you've got to have strict penalties. You can't be soft on them. They're going to go back and make money again. It's all about money with them. In some cases it's about habit, too, depending on the level of the drug dealer."
But Staly said that while he supports medical marijuana but not the legalization of marijuana, considering it a "gateway drug." Staly said he recalled reading previous FlaglerLive articles that referred to such press conferences as today's as "dog and pony shows," but as he walked toward the Flagler County posters showing the 45 arrests or pending warrants, he said the individuals in question could not be ignored—among them Colon, the dealer accused in the death of DeAngelis.