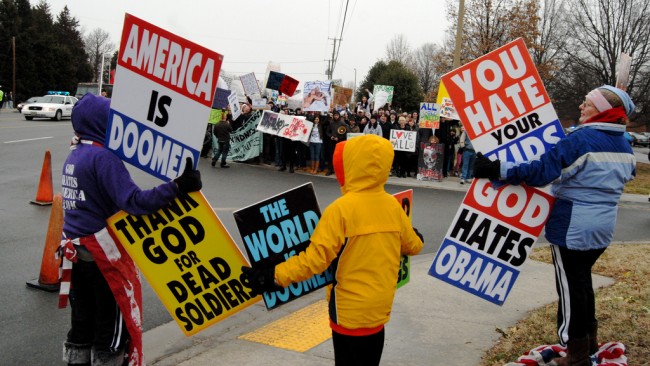 Matthew Snyder was a corporal in the Marine Corps. He was killed in traffic accident in Iraq, in a non-combat situation, on March 3, 2006. He was 20. His funeral was scheduled for March 10 in Westminster, Md.
That day, seven members of the Westboro Baptist Church of Topeka, Kansas, picketed the funeral from 1,000 feet away, in compliance with local ordinances and police directives. The protest was not unruly and involved no shouting or verbal profanity. But protesters held up signs that read, "God Hates the USA," "America is doomed," "Pope in hell," "Fag troops," "Priests rape boys," "You're going to hell," "God hates you," "Semper fi fags," and "Thank God for dead soldiers." The group also picketed the state capitol and Navy sites in Annapolis the same day.
Albert Snyder, father of the late Marine, never saw the signs before or during the funeral, or noticed the picketing. He only saw the protest while watching television news reports later that day. Subsequently, he happened by an "epic" video the church produced, titled "The Burden of Marine Lance Cpl. Matthew Snyder," in which the corporal is used to illustrate the church's belief—that God is punishing the United States and the military for tolerating homosexuality. The video accused Albert Snyder of teaching Matthew "to defy his creator" and teaching him that "God was a liar."
Albert Snyder sued Westboro Baptist Church in federal district court over the picketing and the video, charging intrusion on the funeral and intentional infliction of emotional distress. He won a $10.9 million judgment, including $8 million in punitive damages. The punitive award was reduced to $2.1 million. Westboro Baptist Church appealed. (The church has no more than 70 members, all but 10 or 20 of whom are related to Fred W. Phelps, who founded the church in 1955.)
On Sept. 24, 2009, the 4th Circuit Court of Appeals overturned the judgment in a 3-0 ruling. Snyder appealed to the U.S. Supreme Court. Today, the Supreme Court upheld the 4th circuit's decision in an 8-1 ruling that strongly endorsed First Amendment protections
"Simply put, the church members had the right to be where they were," Chief Justice John Roberts wrote for the court. "The record confirms that any distress occasioned by Westboro's picketing turned on the content and viewpoint of the message conveyed, rather than any interference with the funeral itself. A group of parishioners standing at the very spot where Westboro stood, holding signs that said "God Bless America" and "God Loves You," would not have been subjected to liability. It was what Westboro said that exposed it to tort damages. Given that Westboro's speech was at a public place on a matter of public concern, that speech is entitled to 'special protection' under the First Amendment. Such speech cannot be restricted simply because it is upsetting or arouses contempt."
Roberts cited a 1989 opinion on the issue (Texas v. Johnson): "If there is a bedrock principle underlying the First Amendment, it is that the government may not prohibit the expression of an idea simply because society finds the idea itself offensive or disagreeable." And a 1995 precedent: "[T]he point of all speech protection . . . is to shield just those choices of content that in someone's eyes are misguided, or even hurtful." (Hurley v. Irish-American Gay, Lesbian and Bisexual Group of Boston, Inc.)
Roberts concluded: "Westboro believes that America is morally flawed; many Americans might feel the same about Westboro. Westboro's funeral picketing is certainly hurtful and its contribution to public discourse may be negligible. But Westboro addressed matters of public import on public property, in a peaceful manner, in full compliance with the guidance of local officials." (Roberts had earlier noted that "the political and moral conduct of the United States and its citizens, the fate of our nation, homosexuality in the military and scandals involving the Catholic clergy," all of which are the centerpieces of Westboro's protests, "are matters of public import.")
Justice Samuel Alito, the lone dissenter, mischaracterized the facts of the case in his summation when he wrote that while Snyder wanted "to bury his son in peace," the Westboro protesters denied him that right by turning "Matthew's funeral into a tumultuous media event" and launching "a malevolent verbal attack on Matthew and his family at a time of acute emotional vulnerability." In fact, the Snyder family did not know about the "tumultuous" protest until after the funeral, which was not disrupted, the protest being 1,000 feet away, small, and, before it was amplified by television coverage, unremarkable.
"In this case," Alito wrote, Westboro's protesters "brutally attacked Matthew Snyder, and this attack, which was almost certain to inflict injury, was central to respondents' well-practiced strategy for attracting public attention." The justice also rejected the notion that Westboro's speech was a matter of public concern. "Neither classic 'fighting words' nor defamatory statements are immunized when they occur in a public place, and there is no good reason to treat a verbal assault based on the conduct or character of a private figure like Matthew Snyder any differently," Alito wrote.