Snow flurries are flirting with northern Florida as far south as St. Augustine, but not quite—not yet—in Flagler. There's a very slight possibility of that before precipitation ends later Wednesday afternoon, if the temperature continues to fall. It had fallen a dozen degrees in two hours late Wednesday morning, holding at between 38 and 39 in Palm Coast as of noon.
"We could see some wintery showers or wintery precipitation moving through Flagler County this afternoon," Bob Pickering, Flagler County Emergency Management's weather specialist, said just before noon. "At this point no accumulation is expected. As we speak they're having some snow accumulation in St. Augustine."
The last time the county saw snow flurries goes back to January 2010, but there was no accumulation. In December 1989 an ice storm with a dusting of snow passed through the region, closing roads and knocking off power for thousands, as much because of the ice as because Florida Power and Light kicked in intentional, rolling black-outs as a defensive measure, to keep the grid from failing more broadly—something many customers have complained of in the past 48 hours, especially in the northern part of the state. There's also been complaints in Flagler that FPL has kept certain homes' power from running normally through its "on-call" system, which remotely can control certain appliances' usage.
After rain or any other kind of precipitation ends late this afternoon—a half inch of rain was in the forecast, but that amount appeared to have been exceeded by midday–three successive nights of hard freezes are in the forecast for Flagler, with temperatures bottoming out in the upper 20s. (See the National Weather Services' full briefing below.)
Pickering said the storm, combined with high tides and winds, caused localized erosion and some "nuisance flooding" along the shore, particularly at Varn Park, in Marineland Acres and further north. Overwash was reported Wednesday morning at MalaCompra Road and at Flagler Drive in Marineland Acres, where there'd been a dune breach (there aren't very many dunes left standing there.) Flagler County Road and Bridge is working to secure the breach.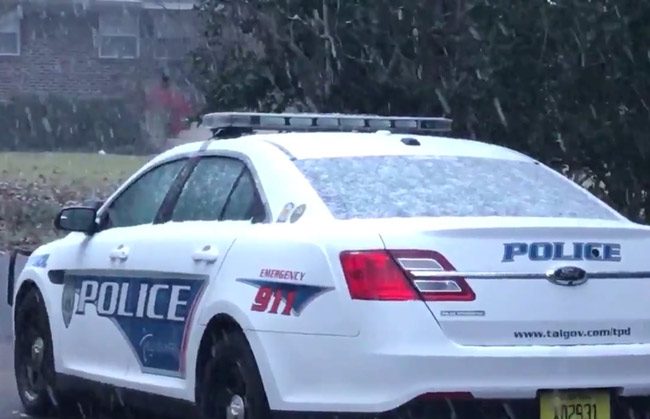 It's been more unstable further north, with an ice storm enveloping southeast Georgia and northeast Florida and shutting down I-10 west of Lake City. Pickering cautions travelers to be mindful of travel conditions if they're going north. "My personal advice is to wait until tomorrow," he said.
Early this afternoon Emergency Management issued an advisory to prepare for the next nights of cold. "We are asking our residents and visitors to protect their life and property during this cold weather event," said Acting Emergency Management Chief Sally Sherman. "Children and the elderly are the most sensitive to the effects of the cold temperatures and strong winds."
Officials are reminding residents to implement common-sense measures, to dress warmly and stay out of cold winds, to protect plants and pets and practice fire safety. The advisory includes a suggestion to "protect pipes" and "allow outdoor faucets to slowly drip to prevent from freezing and breaking," though individual residents may exercise their own judgment in that regard, since the freeze will be hard but not so deep as to compel the sort of measures associated with much colder and longer-lasting weather.
Fire safety, however, is essential: "Use safe heating sources indoors," the county recommends. "Do not use fuel-burning devices such as grills; they release carbon monoxide, which is a deadly gas. Also, make sure to use space heaters according to their instructions and be attentive to open flames."
For the homeless, the Sheltering Tree, the county's cold-weather shelter at the Methodist Church at 205 N. Pine Street in Bunnell,will be open to accommodate those without appropriate housing.
"We will serve a hot meal at 6 p.m.," said the Sheltering Tree's Vicky Letellier. "We provide a cot, hot breakfast in the morning, and a change of clothes for those who want it. We do not have a shower."
For safety reasons, once guests check in for the night at the Sheltering Tree they are not permitted to leave until the morning.
"We do everything we can to get people out of this horrible weather, but they cannot come and go," Letellier said. "Anyone with questions should call. We are very busy today, so leave a message if we don't answer and we'll return the call."
The Sheltering Tree is at 386-437-3258 ext. 105.


The National Weather Service's Weather Briefing, Wednesday at Noon