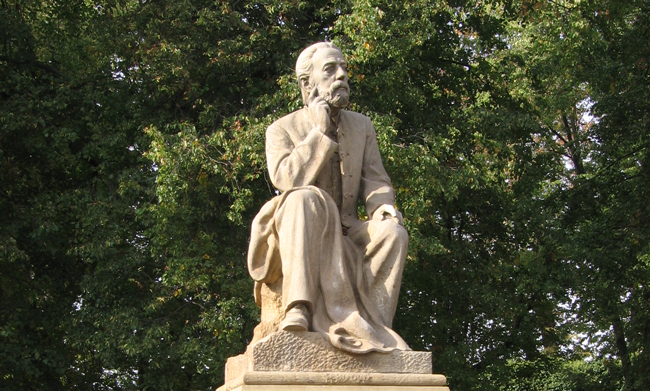 If you haven't heard Bedřich Smetana's "My Fatherland" in a while, or ever, and more particularly, "The Moldau," the second of the six symphonic poems that form Smetana's musical homage to what's known today as the Czech Republic, then pull up an ear and let the river flows carry you. True, the piece is one of those top-40 classical bits that get played over and over, when they're played at all anymore on what's left of the country's classical radio stations (including none, zero, silence, in our listening area). That doesn't make it any less powerful.
Listen to that opening flute ripple like the sight of a river glimpsed in the far distance, then the second flute's ripples and the pluck of strings as you approach, as you get drawn in to the swells of the landscape before your eyes (if you can keep them dry), growing ampler, mightier, until the scene bursts free in a flood of strings and melancholy: it's the old land, the river that runs through it, all the way from Smetana's heart 125 years ago. (The famous theme, descended from an Italian Renaissance tune, also resurfaces in Israel's national anthem, Hatikvah.)
The poem is part of a movement of romantic, transcendental works about nature written around the same period–Mendelssohn's "Hebrides" Overture, Berlioz's pastoral scenes in the "Symphonie Fantastique," Debussy's "Clair de lune." The United States had its literary equivalent in Thoreau and Emerson, though what sets "The Moldau" apart is an added dimension of nature transformed into a form of nationalism: those drums you hear at the end aren't just the whirls and fury of the river, but the insurrectionist echoes of 1848.
Smetana wrote the pieces in his later years (he was born in 1824, died in 1884, wrote the poems in the 1870s) as an homage to his country's history, its legends, landscapes and folklore. As Smetana wrote of "The Moldau," which premiered in April 1875, referring to the river by its Czech name, "The composition describes the course of the Vltava, starting from the two small springs, the Cold and Warm Vltava, to the unification of both streams into a single current, the course of the Vltava through woods and meadows, through landscapes where a farmer's wedding is celebrated, the round dance of the mermaids in the night's moonshine: on the nearby rocks loom proud castles, palaces and ruins aloft. The Vltava swirls into the St. John's Rapids; then it widens and flows toward Prague, past the Vyšehrad, and then majestically vanishes into the distance, ending at the Labe (or Elbe, in German)."
Incidentally, "The Moldau" was on the program on the May 26 concert of the Flagler Youth Orchestra at the Flagler Auditorium.
Enough words. Here's the poem. This is a performance by the Israel Philharmonic, Zubin Mehta conducting.