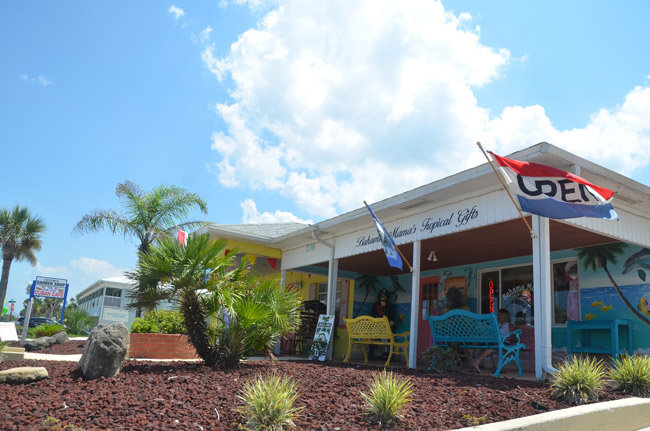 By Carol Fisher
Almost every day at the BeachHouse Beanery I feel that I make some special connection with at least one visitor, usually several times a day. A month or so ago, I overheard a conversation in which one woman was looking for an apartment in Flagler Beach, as she'd been "camping out" with relatives for quite some time.  I just happened to know about an  apartment close by that had just been vacated.  I excused myself for eavesdropping, but suggested she check out that apartment.  We talked a bit, I called my landlord, and a week later she moved in.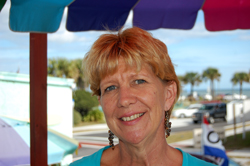 Since then Mary Beth visits us each day, and is a great addition to our "regular crowd".  I soon learned that she knew nothing about the sea turtle nesting happening on our beaches, so I told her what I knew. One day at the Beanery I introduced her to another regular, Patti, who is a turtle patrol volunteer, and they became fast friends.  My new friend got to see baby leatherbacks hatching Sunday evening, and could not stop talking about it today. She was hooked!  She plans to become a Turtle Patrol volunteer.
Small businesses, as you can see, aren't just about business. They're about community building.  But small businesses don;t just happen.
According to the Palm Coast Business Assistance Center, if every household in Flagler County spends $25 a month in a local business we can generate $1 million per month in our local economy.   Today (Aug. 4) is the day we celebrate the Shop Small movement and support the small businesses that help fuel the economy and invigorate communities.
"Small businesses create half of the jobs in the private sector," says American Express CEO Kenneth Chenault. "They have created 65 percent of the net new jobs over the last 17 years. If people support independently owned small businesses in their community, they can make a difference."
The small business advocacy group The 3/50 Project takes it even further, with every $100 that is spent at a local retailer, $68 will return to the community through taxes and payroll. If that money is spent in a national chain, $43 stays here.  If it's spent on national chains online, nothing stays here.
They ask this of us: Pick 3. Spend 50. Save your local economy.
Think of 3 businesses you'd miss if they went away. Stop in. Say hello. Pick up a little something that makes you smile. That's what keeps them around, after all.
Spend $50 a month in independently owned businesses. If half of the employed population in the nation Did this, their purchases would generate $42.6 billion
And visit The350Project.net.
Why support small business?
Small businesses are essentially the backbone of a community.  When you support small business, you support your town, your city, your local area all around.
Supporting independent businesses fosters better service all around. When people know each other, they're more inclined to care and treat one another with respect. Business owners listen more closely to what their customers want when they know who they're dealing with.
Buying locally allows each community to develop uniquely in accordance with the needs of those living there. We create prosperity, personality and character in our community.
Supporting small businesses makes you feel good inside. You meet new people, make friends, watch community members grow, prosper and create solutions that support a better way of life.  I can attest to this every day at the BeachHouse Beanery.  The sense of community among the regulars and the visitors is apparent  over and over.
"After moving to our quaint little beach town, I began to frequent The BeachHouse Beanery. It was one block from the ocean, great coffee, great atmosphere and free wifi," Josh, one of our customers, wrote. "I had found my remote office!  In addition to coffee, tea and the usual delectable's you would expect at a coffee house, they had a fairly extensive breakfast and lunch menu.  However, there was little for me to choose from that was vegan.   I found myself torn…I loved working out of this little gem of a location, yet I wanted to eat there!  And, since I felt it was  inappropriate to pack a lunch to bring into the establishment…I decided that I would ask the owners if they would consider putting something on the menu specifically for me (yes I know that's bold)." He pitched the idea. He got a vegan sandwich added to the menu.
A generational shift in shopping and spending habits, fueled by easy access to "big-box" stores and the internet, has complicated things a bit for small business.  Customers are used to the big-box shopping experience, and increasingly used to the the anonymity of shopping online.  When they come into a store and someone wants to help them, they're almost nervous about it.
For small businesses to thrive, shoppers must latch onto the old-school comfort of a unique, homey storefront with a staff that probably isn't decked out in specific matching uniforms. Small Business Saturday is a key to remind people of that alternative. It's important to have initiatives like this so people can start thinking outside their usual comfort zone and re-embrace the idea that you can come to a local store.
As a small business owner, this is my chance to remind my customers of how many of their dollars spent in small businesses stay in our town, supporting our schools, police, fire and service departments, and just as important, creating community.
I invite you to check out the Palm Coast Business Assistance Center's website  for participating members offering specials and deals for Small Business Saturday, or look for the "Participating Member in Small Business Saturday" sign in the window of your favorite business or one you haven't been in yet!"
Think first of small companies. Buy gifts at a local gift shop. Eat at local restaurants. Have coffee in a local coffee shop. Buy books at a real bookstore. Buy unique clothing at our local shops. Check out the iPhone app, "LookLocal."  It will help you search out businesses in your community.
Let's turn it into a year-round commitment. Let's get the word out to make every day the day to Shop Small.
I've seen a sign that says, "When you buy from a mom or pop business, you are not helping a CEO buy a third vacation home.   You are helping a little girl get dance lessons, a little boy get his team jersey, a mom or dad put food on the table, a family pay a mortgage, or a student pay for college."
I want that sign for my cafe.

Carol Fischer owns the Beachhouse Beanery with her husband, Jeff, in Flagler Beach. Reach her by email here.