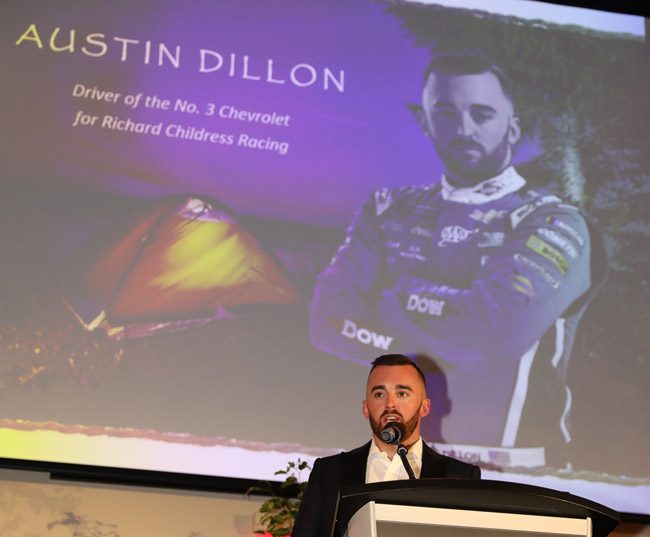 The Stewart-Marchman-Act Foundation raised nearly $140,000 at its Annual Dinner Celebration and Auction in July at the DAYTONA 500 Club at Daytona International Speedway.
The event featured Austin Dillon, driver of the No. 3 Chevrolet for Richard Childress Racing. The event was presented by title sponsor, Brown & Brown Insurance. The funds raised came through sponsorships, live auction sales and tickets for prizes. The Foundation's sole mission is to build resources, public awareness, and research to support the programs of Stewart-Marchman-Act Behavioral Healthcare, the leading non-profit behavioral healthcare organization in Flagler, Putnam, St. Johns and Volusia counties.
The live auction, always a hit at the event, included a Stetson hat autographed by all artists who performed at the 2017 Country 500, an all-access NBC TV experience at the Coke Zero 400 for four, and a handmade leather DAYTONA 500 champion jacket autographed by Kurt Busch, the winner of the 2017 DAYTONA 500. Those proceeds will be used to support the immediate needs of SMA's mental health programs and services.
"With mental health being the number one community health priority for many of the communities SMA serves, we are proud of the Foundation's fundraising efforts," said Jennifer Secor, Executive Director of SMAF. "Because of the continued support from our community, SMA is able to aggressively and strategically tackle this priority."
Volusia County Sheriff Michael Chitwood presented a check for $25,000 from forfeiture funds–money seized from suspects in certain crimes. These funds will be earmarked for drug prevention and education in the community.
This year's theme was "The Great Outdoors: Join the Adventure," inspired by Austin Dillon's love for hunting and fishing, which resulted in the recommended dress being 'camo couture.' In line with the theme, there was also live music by the Penny Creek Band, a contemporary bluegrass band from Melbourne, Florida.
"Our sold-out dinner may have been our very best to date," said Melissa Murphy, chair of the SMA Foundation board. "The support from our community, combined with a fun atmosphere, inspirational speakers and incredible sponsors made this an event to remember for the SMA Foundation and we are grateful to all who supported the event."