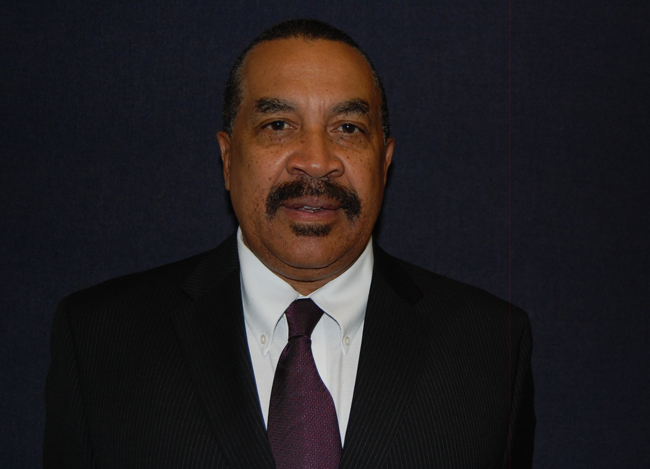 Sidney Nowell, who goes by Sid, is a 60-year-old native of The Bronx in New York, where he spent most of his professional life as a lawyer after earning his law degree from the University of Wisconsin. He's been in Flagler County since 1999.
---
Click On:
Nowell's Web Page
Nowell's Facebook Page
---
---
Nowell's 35-year law career—he is the oldest and most experienced of the six candidates vying for Circuit Judge Kim C. Hammond's seat—has been varied: 10 years as a lawyer with the U.S. Department of Labor and the National Labor Relations Board, several years in corporate law with a private law firm (representing large newspapers and oil companies, among others) and 10 years as assistant general counsel for the New York Housing Authority, from 1984 to 1995. For three years after that, he didn't practice law, serving as an instructor for Florida Aviation Management Development Associates, a consulting organization.
Nowell moved to Flagler County in 1999. His campaign website doesn't mention two stints he held in private practice early in his Flagler years: a three-year stint with Chiumento & Guntharp, a leading local law firm, and a shorter stint as a partner with Knight, Dwyer & Nowell—the Dwyer in the masthead being Marc Dwyer, Nowell's chief local rival in the judicial race. The association with Chiumento & Guntharp is listed on Nowell's voluntary disclosure statement to the Florida Bar, which asks for the last 10 years' work history. The association with Dwyer is not, though Nowell himself brought it up with a reporter, describing his split from Dwyer as resulting from "different philosophies on how to practice law."
Since that partnership's dissolution in 2004 he's been in private practice as Nowell & Associates, but also serving as several government agencies' attorney or hearing officer. He was former Flagler County Sheriff Jim Manfre's attorney for four years—a tenure briefly marred by a public record issue with the Daytona Beach News-Journal that resulted in the sheriff paying a settlement that paid for an open-government seminar—and has been the Bunnell City Commission's attorney since early in the last decade. He's also served as Palm Coast's code enforcement hearing officer in red-light traffic-camera appeals. About half his private practice today is family law.
Nowell has also been volunteering his legal services for the NAACP since 1998, and he coaches basketball at Matanzas High School, a mentoring role he ranks at the top of his responsibilities.
"There's no question that our system works," Nowell said last month. "However, there are two particular criteria that sometimes cause problems. One is time and the other is money. Unfortunately in our system, sometimes you get as much justice as you can afford, and that's a travesty. With regards to criminal cases, one of the things that I'm most concerned about are the number of juveniles that wind up getting felony records without understanding the long-term consequences of pleading to a felony. Often times that's a result of money. They did not have the wherewithal or the resources to hire private counsel, and that's with all due respect to the public defender. But they're tremendously overworked. The second issue that sometimes poses an obstacle is time. Particularly here in this circuit, our judges are overloaded. It should not take more than 30 days for parties to get a decision. Yet in some instances here, it's six months to a year before they can even get a hearing, and then it's another year before they can get a decision. So I would think that addressing the timeliness of decisions and the timeliness of scheduling cases, and the issue of being able to afford competent representation are the obstacles to our justice system."
Flagler County residents will have a unique opportunity," Nowell said of the election for the Group 5 seat, "and that's to ensure that a Flagler County resident wins this seat. Why is that important? Because as a growing community, we don't have anyone in the executive branch, we don't have anyone in the legislative branch, at least let's preserve someone in the judicial branch. And it's not the residency that's important. That person should be part of this community. I am part of this community."
Revered and considered an integral part of the Flagler Community as he is, Kim Hammond (who played football for the Miami Dolphins and the New England Patriots) was a Melbourne native who'd been a Daytona Beach attorney when he won the seat vacated by Melvin Orfinger in January 1980 (Orfinger was appointed to the 5th District Court of Appeals just two years after taking the bench in Flagler.)

Candidates for Circuit Court Judge (Click on the Name to Go to the Candidate's Page)