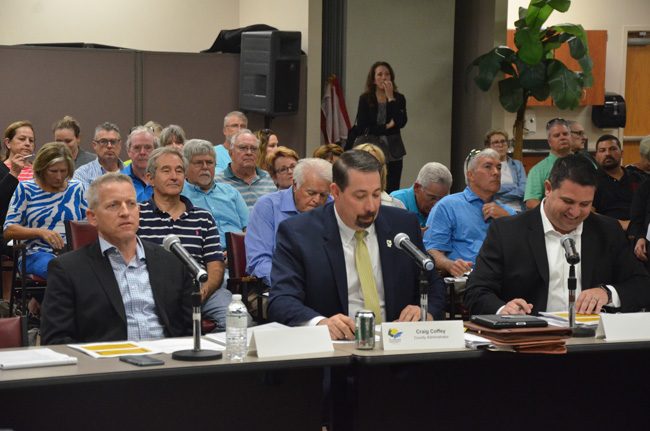 For the first time since the six-year wrangle over short-term vacation rental regulations began in 2011, Flagler County government officials, on the defensive over likely changes to current legislation, held a joint public workshop with the local legislative delegation in Bunnell Monday focused exclusively on the subject.
Flagler officials are hoping to convince Sen. Travis Hutson and Rep. Paul Renner, who represent Flagler, not to give in to likely proposals to scale back a 2014 law that gives Flagler and other local governments the authority to regulate their own rental industry, under home-rule authority. Flagler since 2014 pioneered the sort of ordinance other governments have adopted to regulate their short-term rentals. But the short-term rental industry has been trying since then to either scrap the law or emasculate it, returning the industry to the 2011 standard, when local governments were banned from regulating short-term rentals.
The mere fact that the workshop was necessary is an indication of the county's precarious position: changes to current law are more likely than not, and they're likelier to go against Flagler's existing regulations than not.
The short-term rental industry was almost successful in the last legislative session. When it failed, it vowed to return come January. Flagler is not in the strongest position to defend its ordinance, if only because its own legislators have been preparing local officials for what they see as certain changes ahead.
"The writing is on the wall for changes coming to the vacation-rental bill," Sen. Travis Hutson said, echoing words Renner has spoken as well. If that's the political reality, Hutson said, the challenge is to come up with an acceptable change. Hutson said it's mostly Republicans in the legislature who are grinding away at home rule in short-term rentals. "If there's a way we can find compromise, let's talk about it," he said. "Where are the problems, what are the possible solution, and let us do what we can to try to get you what you need at the end of the day."
But he also cautioned that the new head count in the senate bodes ill for advocates of local regulation.
Renner sees Flagler County as having struck the right balance between property rights and local regulation. But he said certain counties or cities are out of balance or violating state law, which gives "a lot of winds to the sails for full-on pre-emption," meaning a state law that would revert back to the 2011 standard when local communities were forbidden from regulating the industry beyond what the state allowed, which was no regulation.
Flagler officials put it simply: what's in place now is what they'd like to protect. If their own legislators acknowledge that it's the right balance, they see no reason to break that balance either way: they don't want to further regulate the industry. Nor do they want to weaken existing regulations. To that end, County Administrator laid out a regulatory landscape framed by its legal realities and many myths that he says opponents of local regulations are throwing around. But those claims, he said, can be easily debunked–as he debunked them.
"We're frankly tired of dealing with it," County Administrator Craig Coffey said at the end of his presentation, referring to the issue as a whole. It was not a joke: county officials in the last legislative session had to shuttle back and forth to Tallahassee with every hearing on the subject, straining resources and energy merely to defend what's in place–what they say is working. Today's workshop was another pre-emptive effort to defend those regulations.
At times, however, whether because Hutson was playing devil's advocate to the hilt or because he is less of an advocate for Flagler's regulations than he makes it sound, it was as if Coffey and County Attorney Al Hadeed had to fight Hutson, or at least strain to convince him that Flagler's existing regulations worked, rather than get assurance that he will fight on behalf of the county.
One homeowner speaking during the public comment segment of the workshop, Roger Cullinane, took on Hutson's seeming halfhearted defense of local regulations directly when he pointed out that earlier this year, Hutson had a chance, as chairman of a committee, could have stopped a proposed bill to scrap local regulations from being heard in his committee. Hutson chose not to do that. But Hutson then told the man that sitting on a bill would not have stopped it from going forward through other means. "What I did was not to slap anyone in the face, but it was actually to try to solve this issue," Hutson said.
Some 65 people, not including a dozen county staff members, filled the hearing room at the Emergency Operations Center in Bunnell.
Short-term rentals are single-family homes turned over to vacationers who rent the house for a few days or a few weeks. Such single family homes allow up to 10 people under current Flagler regulation (grandfathered properties could have up to 14), about four times the county average for a single-family home. "When you start putting homes with 10 or 20 or 30 next to them," Coffey said, "it tends to have negative effect."
To correct the record, Coffey said the county ordinance does not regulate 80 percent of vacation rental homes, including owner-occupied homes, camps, condominiums (which are properly regulated), and of course long-term rentals. Frequency and duration are not regulated, in accordance with state law. Annual inspections look for smoke detectors, carbon monoxide detectors, pool alarms, exit lighting, fire extinguishers. Inspections also ensure that there's at least one parking space per three occupants, one trash container for four occupants, and that there's a contact person the county can reach whenever there's an alleged violation. Violations are not equivalent to citations or shut-downs. The county asks managers or owners to fix the issue, and only if problems persist are actual fines issued. Persistent violations may lead to shut-down.
In the first year after the ordinance went into effect some 80 percent of homes failed the first inspection. Now, hardly any fail inspection, and none do, among those who hold a county's certificate–the equivalent of a license to operate a short-term rental. The rules apply to all. "We work with mom and pops to the corporate investor types," Coffey said.
The administrator then sought to debunk many claims about short-term rentals, including the generally false belief that state regulators inspect vacation homes, or that Flagler County is facing $22 million in property right claims from short-term rentals (it is not), a figure legislators earlier this year bandied about repeatedly during committee hearings.
Hutson and County Attorney Al Hadeed had a pointed disagreement with Hutson over whether the state Department of Professional and Business Regulation does or does not inspect short-term rentals. Hutson claims it's wrong to say the department outright does not inspect. Hadeed stressed that the department does not inspect single-family homes used for short-term rentals–not for safety, not for the standards the county does. The department only responds to certain consumer complaints.
"They do inspect but it's on a very limited basis," Hutson said. "They do a very poor job of inspecting." Hutson, who has been less amenable to local regulations of vacation rentals, was seeking to position the state as at least a potential regulator, if only it did a better job. Flagler officials feel the state would not have the capabilities–or the will–to do so.
The workshop was also a chance for the public to address lawmakers and the commission. That meant advocates of short term rentals and opponents both: advocates are by no means underrepresented, as many mom-and-pop type homeowners still seek to rent out their homes to vacationers. (A show of hand revealed that the room was split rather evenly between those who want current regulation to stay in place and those who'd favor scaling it back.)
Paul Pershes, president of the Ocean Hammock Property Owners Association, said companies that manage rentals have little to no oversight. "We are managing their business and get nothing for it, and that is the problem," he said, complaining of the absence of on-sight management.
Homeowner associations are worried that coming legislation would also take away their authority to set rules–or to ban–short-term rentals.
Jane Cullinane ridiculed the claim that the industry is about giving mom and pop property owners a chance to make money or stay above water with their mortgages. "Seventeen homes or lots are owned by one person," she said. "It is not mom and pop. There are some of those, but let me tell you, it is not the predominant one."
But she was followed by a woman who lives with her family in Hammock Dunes and helps her father manage Airbnb properties at European Village, which she said has helped the development toward recovery. "We're helping people economize and at the same time ind you we are paying occupancy taxes," she said. "Why can't the little people be allowed to host," she said. She was applauded as loudly by advocates of short-term rentals as were opponents, but from a different part of the room. But none of what she said contradicted the county's position: her short-term rentals are in Palm Coast, which is not in the county's authority to regulate, and even if it were, Coffey said the condos would not be regulated anyway.
"I hear a lot about property rights," another property owner said. "What property rights are being held from owners of properties? A vacation rental is not a rental, it is a licensing agreement that a homeowner uses, just like a hotel, just like a motel, just like a bed and breakfast." He said those types of businesses are zoned in commercial or tourist zones. Why, he said, should a vacation rental not be equally regulated? Yet another property owner, acknowledging that there's no need to restrict property rights or the right to rent to vacationers, said it's a matter of proper local management–and local ordinances that tailor regulation to local needs.
We're not against regulations, we're not against making someone accountable for how they handle their property," an Airbnb renter said. But, she said, the rules should apply to homeowners or standard renters equally. She pointed out that she has neighbors with dog that occasionally barks too much: she complains. And she pointed out that Airbnb has what amounts to a powerful self-policing tool: the reviews that renters leave online, and that can make or break a property owner. She said she's had innumerable such reviews, but not a single negative one. A business owner in Flagler Beach provided a different sort of endorsement for Airbnb: it swells her business volume, and generates no complaints.
Airbnb was the big winner of the workshop: host after host spoke of being in the Airbnb system, the additional income it provides, the alternatives it offers residents, the dearth of complaints it generates. They also made a necessary point: Airbnb rentals are not in the same category as the enormous family homes turned into vacation rentals, without a local property owner on site or nearby.