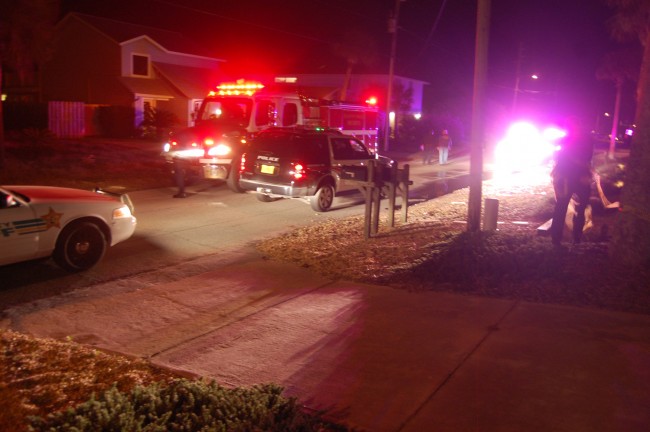 [Note: this story has been updated here.]
A shooting following what sounded like an argument shattered the Christmas eve calm in the 2300 block of South Central Avenue in Flagler Beach, between 20th and 21st Streets, tonight. The man who was shot was sent to Halifax Hospital with non-life-threatening injuries. The shooter remains at large.
A resident of the block heard the shooting and what had preceded it. "I was sitting in my library upstairs reading a book about 10 of 9," the resident said. "I heard what sounded like a firecracker, because it didn't sound like a gun. Actually, a little bit before that I heard some yelling. I couldn't distinguish what they were saying." Shortly after the shooting, the resident heard repeated cries of help. He wasn't sure if it was a hoax. He called 911. Dispatch at 911 said several callers were reporting a similar-sounding incident. The resident turned on his home's outside lights to illuminate the scene for police, who arrived shortly afterward.
When this reporter arrived on the scene a little after 9 p.m., several Flagler Beach police officers and Flagler County sheriff's deputies were in the middle of the street, examining a pool of blood and human tissue, about half way between 20th and 21st street, not quite parallel with Martin's Restaurant a few dozen feet across on A1A. Police then taped off the area and declared it a crime scene, but only briefly.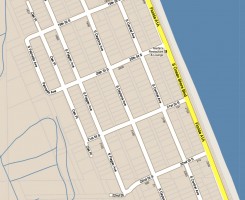 Within 20 minutes, Flagler Beach Department personnel was hosing down the street. A police officer took a few pictures of what looked like a shattered pair of glasses on the side of the road, a few feet north of where the blood was being cleaned off. The crime-scene tape was taken down at 9:28. The resident who spoke to FlaglerLive was briefly interviewed by police about what he heard. And by 9:30, the scene was cleared of all law enforcement and fire department personnel.
Flagler Beach police said there would be no further information, nor did they provide the identity of the victim, though they confirmed that the suspect was at large. Several Flagler Beach police and sheriff's deputy cruisers were seen patrolling the streets of the city on the beach side and across the bridge.
The neighborhood around 20th and 21st Streets along South Central is, like most neighborhoods in Flagler Beach, quiet, residential, and occupied mostly by people who own their home. The home immediately across from the scene of the shooting, on the west side of the street, owned by people who live in North Carolina, appeared unoccupied. Renters live in a duplex on the southeast corner of 21st and Central.