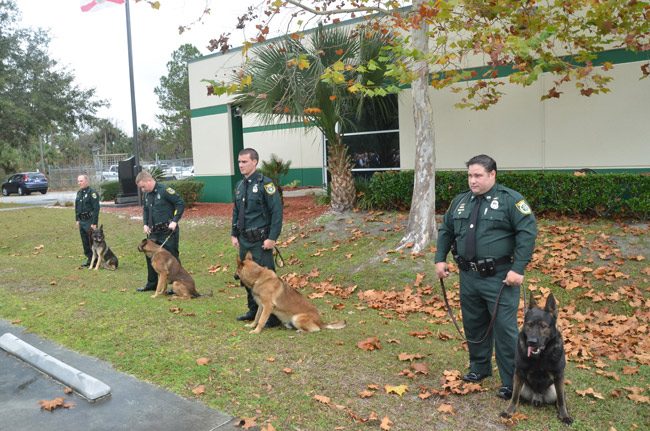 The recognition of two K-9 deputies, both of them on the job for eight years, were among the highlights of Flagler County Sheriff Rick Staly's quarterly award ceremony recognizing department employees last week, including three recognized as January, February and March employees of the month.
Unsurprisingly, Jeffrey Puritis, a Flagler deputy for just five years who's assigned to the Flagler County courthouse, was named March Employee of the Month for his control of a situation in the courthouse parking month when a man was believed to have a gun, and was threatening to use it in a suicide-by-cop situation. The weapon turned out to be a toy gun, though it looked identical to an actual firearm. Puritis drew his gun and issued commands until the gun was thrown from the vehicle. The incident was resolved peacefully, and the man taken to a psychiatric ward under the Baker Act.
The ceremony began with the retirement of the two K-9s. Repo, a Belgian Malinois, began his service with the Sheriff's Office in the summer of 2009. He was assigned to Deputy Robert Tarczewski after his original handler, Jamie Roster, was fired. Tarczewski and Repo completed a 480-hours Florida of Department of Law Enforcement K-9 Team training course and a 200-hour narcotics detection course. K-9 Repo served the agency with Tarczewski, deploying over 140 times to assist deputies with area searches for criminal suspects and sniffs for narcotics, among other duties. Their combined efforts resulted in the arrest of some 30 individuals, 15 of as a direct result of K-9 Repo's efforts.
K-9 Reno, a German Shepherd, also began his career with the agency in the summer of 2009 when he was assigned to Deputy Joe Dailey. They completed the same training regimen and served together until the dog's retirement last month. As a K-9 Team, they primarily supported the road patrol division by assisting in locating and apprehending criminal suspects and sniffing for drugs through 50 deployments, resulting in 11 arrests six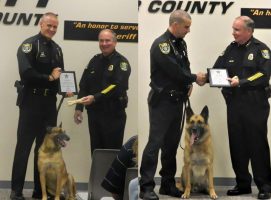 Tarczewski and Daley aren't losing the dogs: they're now theirs to keep. It's part of the K-9's retirement benefit.
"We are proud of both Repo and Reno's accomplishments and they will be missed by our agency. We hope they enjoy the retired life," Sheriff Rick Staly said in a release.
Employees of the month included Deputy Alicia Cowan for January. She also received the Life Saving Award for her quick action on December 24, when, administering CPR, she revived a woman who had collapsed. February's Employee of the Month was Crime Scene Investigator Lainie Weibling, who received the Distinguished Service Award for her instrumental influence in the growth of the Forensic Unit at the agency.
Sergeant Jason Neat, Deputy Richard Petkovsek and Corporal Ryan Emery got the Meritorious Service Award for their work in January 2016, rescuing a man from a pond after he'd crashed his car in the water off a ramp verging off of I-95 at State Road 100. The driver, James Austin, of Ormond Beach, 53 at the time, fully recovered.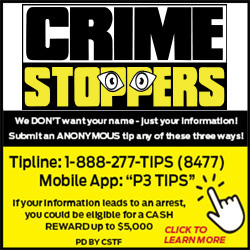 The Unit Citation Award was presented to the detention deputies including Sgt. Manuel Sa, Cpl. Randy Vickers, and Deputies Edward Faircloth and Justine Padilla for saving an inmate after she;d collapsed from ingesting drugs.
Staly also presented Years of Service awards to 64 employees who have been working for the agency for five, 10, 15, or 20 years, with combined time of service totaling 620 years. Those who have been there 15 years included Sam Cooper; David Edmonds; John Landi; Greg Nunziato; Josie Ralleo; Linda Tannuzzi; Jennifer Taylor; David Williams; Eric Allen; Anthony Buendo. Those there 20 years were Chief Paul Bovino, Cmdr. Sam Ferris, Cmdr. Chris Sepe, and Det. Greg Tietje.
Staly was himself surprised when his own opponent in the last election, Larry Jones, who retired from the agency after three decade's service in 2014, and Cmdr. Lou Miceli, presented the sheriff with a plaque for the agency's involvement with the Christmas with a Deputy program. Jones started the program to ensure that poorer children get a shopping spree with a deputy. The agency participates every December. For some children, those are the only Christmas presents they receive.
"On behalf of this agency, thank you for this award," Staly said. "Our employees make this possible and I know we are all hoping for a great turnout again this year."