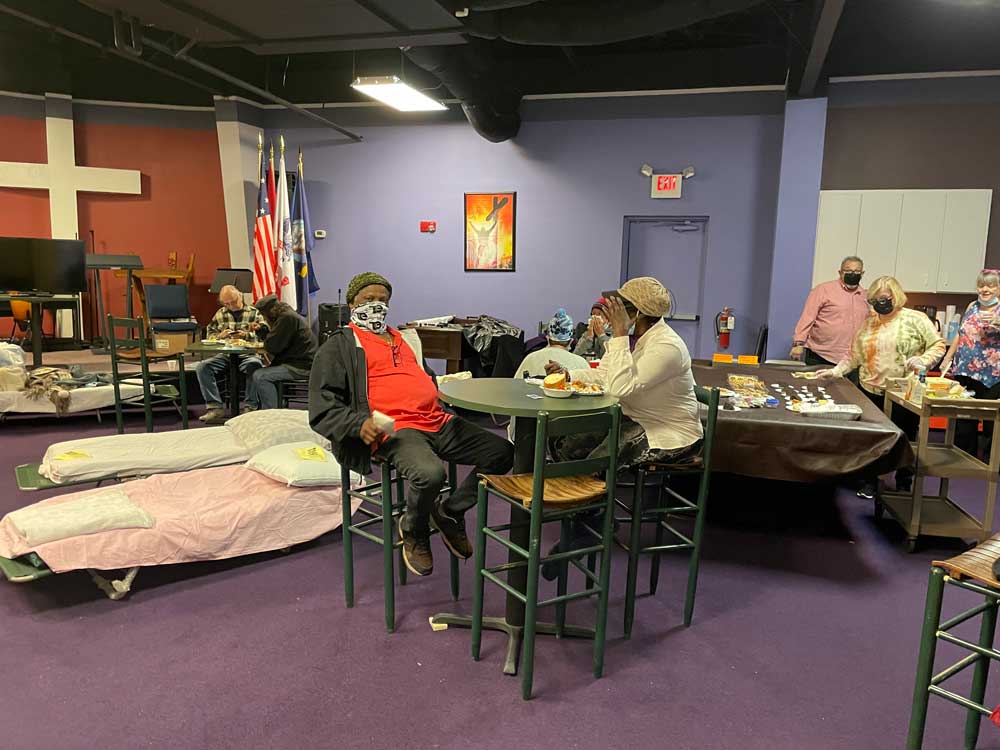 Note: The Sheltering Tree is urgently in need of volunteers. Please call 386-503-0816 to help. 
The Sheltering Tree will open the Flagler County cold-weather shelter Friday, Saturday and Sunday nights–Jan. 13, 14 and 15–as a cold front plunges local overnight temperatures below 40 both nights.  The shelter opens only when the temperature falls below 40.
The shelter will open at its usual location, Church on the Rock, 2200 N State St, Bunnell, at 5:30 p.m. each evening. It will close the following day at 8 a.m. Guests, who may be homeless or who may simply need a heated place, as some homes in the county lack heat, will receive a hot dinner and a hot breakfast, free of charge.
The shelter is run entirely by a corps of Sheltering Tree volunteers, who operate in teams. Security is provided, as is overnight supervision and transportation, if needed. Though the shelter is hosted by Church on the Rock, the shelter operation itself is non-denominational, and open to people of all creeds, faiths or no faith. The Sheltering Tree is under the umbrella of the Flagler County Family Assistance Center, a non-profit established in 2011 to provide cold-weather sheltering during cold nights in Flagler County.
There are no permanent shelters for the homeless in the county. When the Volusia-Flagler Commission on Homelessness and Housing conducted its last survey–a literal person-by-person count of the homeless by volunteers who fan out across the two counties in places known to be frequented by the homeless–it found a total of 65 people, a suspiciously low number.




Flagler County, Palm Coast and Bunnell jointly contribute up to $25,000 a year–or $1,000 per night–to defray the costs of the shelter, which include food, security, rent, and incidental supplies provided to those in need. The county also provides free transportation to those who need it.
The county will provide bus transportation along two routes, along this schedule:
Dollar General at Publix Town Center, 3:30 p.m.
Near the McDonald's at Old Kings Road South and State Road 100, 4 p.m.
Dollar Tree by Carrabba's and Walmart, 4:30 p.m.
Palm Coast Main Branch Library, 4:45 p.m.
Dollar General at County Road 305 and Canal Avenue in Daytona North, 4 p.m.
Bunnell Free Clinic, 4:30 p.m.
First United Methodist Church in Bunnell, 4:30 p.m.
Call 386-437-3258, extension 105 for information about transportation to the shelter, or for information about the shelter itself.
"As temperatures approach freezing, serious medical conditions including hypothermia and frostbite can develop or be exacerbated," said Health and Human Services Director Joseph Hegedus in a release issued this morning. "We urge those who are unhoused or lack adequate heat at their residence to access the cold-weather shelter."