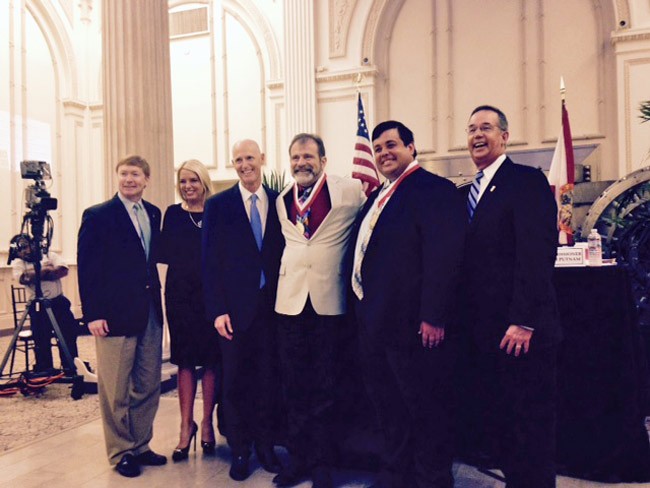 Meeting in St. Augustine Tuesday, Gov. Rick Scott and the rest of the Florida Cabinet debated such issues as delaying the delivery of driver's licenses, confirmed Jon Steverson as secretary of the state Department of Environmental Protection (with something of a scolding from Agriculture Commissioner Adam Putnam, who doesn't like Steverson's goal of making Florida parks "self-sustaining," as no public parts in the nation can be), and talked about St. Augustine's 450th anniversary celebration, among many other issues.
But the ceremonial part of the meeting, when awards and recognitions are announced, was dominated by Flagler County names. Three names in particular: Rick Staly, who until spring was the undersheriff in the Jim Manfre administration, John Seth, the long-time band director at Flagler Palm Coast High School, and Ed Wolff, the county's teacher of the year.
Scott awarded Staly with the Medal of Heroism for his bravery and quick reaction during a dangerous situation when he saved a fellow officer's life, early in his career with the Orange County Sheriff's Office.
Recounting the 1978 incident in an April interview, when he was shot three times,
Staly credited his $250 Kevlar jacket for saving his life after the assailant had ripped off another deputy's gun and started firing. The assailant was eventually shot five times. He survived but served time in prison for attempted murder. Staly was treated and released from a hospital the same day.
"Retired Undersheriff Rick Staly did not hesitate to risk his life to protect a fellow officer," Scott said Tuesday, "and I am honored to recognize his tremendous courage today with the Medal of Heroism. Rick served Florida families as a law enforcement officer for 40 years, and I am thankful to him and his fellow officers for their selfless commitment to protecting our state."
Scott and the cabinet, which also includes Chief Financial Officer Jeff Atwater, Attorney general Pam Bondi and Agriculture Commissioner Adam Putnam, presented the award at the beginning of the Cabinet meeting at St. Augustine's Treasury on the Plaza.
"It is an honor to be presented with the Medal of Heroism by Governor Scott. During my years of law enforcement service," Staly said in comments cited in a governor's office news release. "I worked alongside countless brave men and women who also deserve to be recognized as heroes and I am proud to represent them today." (Barely 24 hours after the award, Staly issued a press release announcing his run for sheriff, against his old boss.)
Five agenda items later, the cabinet turned its attention to Seth and Wolff, who received the governor's Shine Award. The award recognizes educators and administrators who make significant contributions to education. This program spotlights the state's teachers of the year and other outstanding teachers and administrators. The Governor presents medals to the recipients throughout the year.
Wolff, a 17-year veteran in the teaching profession, is a science and math teacher at Belle Terre Elementary School. Beside being Flagler's Teacher of the Year, he received the Magic of Teaching Award at this year's 2016 Florida Department of Education Teacher of the Year celebration. The award was presented to educators who went beyond the basic job description with unique abilities to continue positive growth in their students. He's created an outdoor classroom, the first in the district, which includes an Aquaponic's farm supported by solar panels and a model wind farm with wind generators, a water recovery system, a live feed supported solely by solar and wind power, student operated Drones, 3D printing, and a fully operational weather station.
Wolff's approach to teaching comes by researching business and technology and applying those observations to the curriculum creating hands on projects and programs, focusing on future skills and inevitable employability. He takes his students to the realization that they are leaders as their work unfolds in the real world. He has acquired a number of grants and presented numerous professional development workshops.
Seth is the demanding and popular Director of Bands at Flagler Palm Coast High School. where he was the 2014-2015 Teacher of the Year. He's taught in the Florida public school system for 12 years and is currently beginning his 8th year at Flagler Palm Coast High School. He teaches three symphonic bands, jazz band, advanced placement music theory and marching band. Seth is an active adjudicator, clinician and mentor for band programs throughout Florida and serves on the Florida Bandmasters Association Concert Music Committee.
Ensembles under his direction have consistently earned high marks at all Florida Bandmasters Association district and state events. He instills unrivaled work ethic in his pupils and leads by example. He is adept at discovering hidden talent and helping it flourish, always keeping the best interests of his students first and foremost and bringing honor to Flagler Palm Coast High School, the county and the state, the governor's office notes.
Seth and Wolff were joined by Superintendent Jacob Oliva and Lynette Shott, Director of Student and Community Engagement for Flagler Schools. Oliva noted the awards Tuesday evening during a school board meeting.