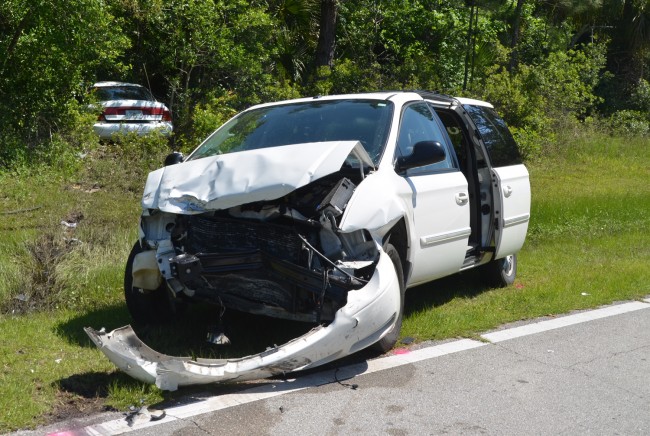 Yelizaveta Horton, a 60-year-old resident of Palm Coast's W-Section, was air-lifted in critical condition after her car was t-boned by a van on Sesame Boulevard Friday morning. A woman and two young children in the van were taken to Florida Hospital Flagler with minor injuries.
The wreck took place at 10 a.m. at the intersection of Sesame Boulevard and Smith Trail, where Smith Trail turns into Seward Trail East.
Horton was the sole occupant of her white Saturn. She was driving north on Smith Trail. Robin Best, a Bunnell resident, was in her Town and Country Chrysler, with two young children in the back seat–a 4 year old and an 8 year old. She was driving east on Sesame Boulevard. (In the highway patrol's initial assessment, the roles had been reversed: Best was believed to have been on Smith Trail while Horton was believed to have been traveling east on Sesame.)
As Best described it in a brief interview this afternoon, the Saturn "came out of nowhere," causing the van to slam into the driver's side of the Saturn, sending the Saturn a near-full speed into the wood-line, where the car leveled brush and small trees and was eventually stopped by a thick palm trunk, which was nearly uprooted. (A highway patrol report on the crash released later this afternoon describes Horton failing to see the van "for unknown reasons.")
Horton was entrapped and was rescued by Flagler County Fire Rescue and Palm Coast Fire Department paramedics and EMTs, then taken to Flagler County Fire Flight, the emerge=ency helicopter, which landed and took off from Sesame Boulevard, near the intersection. She scored a 3 on the Glasgow Coma Scale, according to an investigator at the scene, at the more critical end of the 15-point scale, with 15 meaning that the patient is able to walk of his or her own accord.
The portion of Sesame Boulevard between Sleepy Hollow Trail and Smith Trail was closed to traffic for about two hours, with the Palm Coast Fire Police regulating traffic. John's Towing towed both vehicles from the scene.
All drivers and passengers were wearing their seat belts, the investigator said, though it is likely that the Saturn's driver would will be cited with a right-of-way violation, for driving through the stop sign when a car was passing. Conditions this morning were normal: a cloudless sky and unimpeded lines of sight.
A fresh, blooming red rose was found on the passenger side of Horton's Saturn as it was being prepared for towing.
The video below shows Horton's Saturn as it was pulled out of the woods.