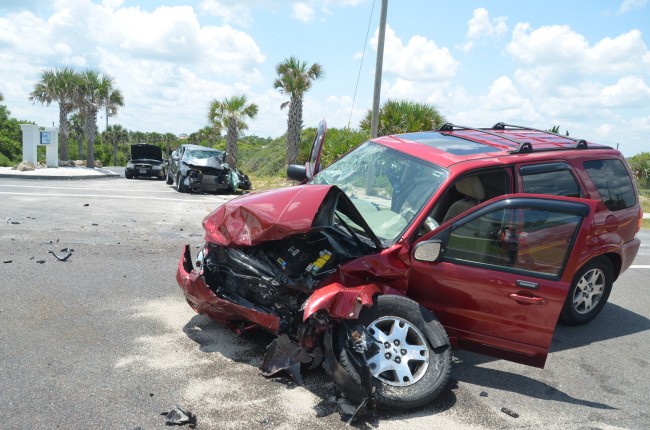 A grave, apparently head-on wreck between two 4,600-pound vehicles on State Road A1A in Beverly Beach sent two people to Halifax hospital with critical injuries and closed A1A after 12:30 p.m. (The road reopened at 3 p.m.)
It is the second grave wreck on Flagler County roads in less than 14 hours. A Palm Coast resident was killed in a wreck as he drove his motorcycle into a car on White View Parkway after 10 p.m. Wednesday evening.
The violence of the crash on A1A, which took place at 12:30 p.m., was such that Florida Highway Patrol troopers at the scene were still trying to figure out the direction the vehicles were traveling when they collided, or whether one of them was attempting a turn.
The wreck took place at the intersection of Osprey Point Drive and A1A, or parallel to it. A 38-year-old woman was at the wheel of a gray, 2011 Dodge Avenger. She had to be extricated by paramedics, the driver's side door having been crunched out to allow for the extrication. The Dodge ended up parallel to Osprey Point Drive, facing the ocean. The car radio was still playing faintly, long after the wreck.
The red Ford Escape, a 2004 SUV, ended up in the middle of the road, straddling the yellow lines. Like the Dodge, its left front was pulverized. The windshield on the passenger side was smashed from within, suggesting that the driver, a 75-year-old man, had swung far enough to the passenger side and struck it. A cane was slung sideways on the passenger floorboard, jutting out of the car. The license plate was in a Disney "Been There, Done That, Going back!" frame. Hand-written notes taped to the dashboard provided directions on how to turn on the wipers or turn on headlights.
Both vehicles' air bags deployed.
Roger's Towing cleared the road and towed the vehicles. Both cars leaked fluid, which was sopped up with sand. Units from Flagler County Fire Rescue, the Flagler Beach Fire department and Palm Coast Fire Police responded.
Flagler County Fire Flight evacuated the 75-year-old man, whose condition was, on a scale from 3 to 15 (3 being the worst), a 3, according to officials at the scene. The woman is believed to have a punctured lung. She was taken to Halifax by ground.
Identities of the victims were not yet available.