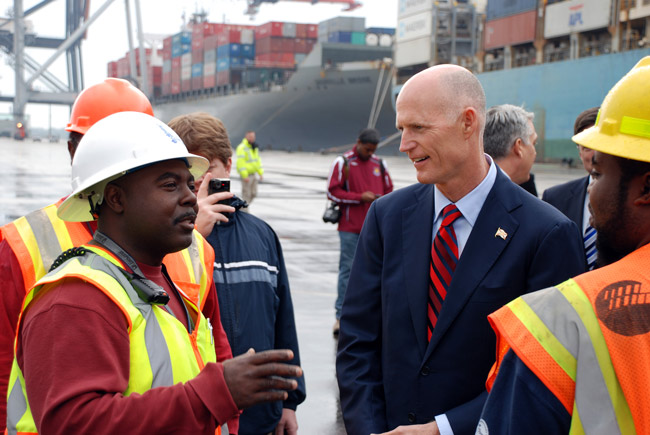 Gov. Rick Scott's aggressive economic development effort got more legislative pushback Tuesday as budget committees in both chambers questioned the direction, expense and oversight of the governor's "jobs, jobs, jobs" agenda.
Meanwhile, Enterprise Florida went on the offensive, refuting findings of a recently completed study that questioned the agency's methods, ethics and bang for the buck.
The increased scrutiny of what the state pays to lure companies to Florida come as lawmakers start to lay the foundation for the coming year's budget, against a backdrop of the governor's request for more spending on economic development.
In the House, members of the Transportation and Economic Affairs Subcommittee on Tuesday peppered Enterprise Florida executives with questions, asking the job creating agency to justify the governor's request to more than double the amount of money the state spends on bringing companies here.
Scott's budget request calls for boosting economic-incentives from $111 million to $278 million, much of which would be distributed by Enterprise Florida.
Already briefed on the Enterprise Florida initiatives, the Senate Appropriations Subcommittee on Transportation, Tourism and Economic Development got a line-by line summary of the governor's spending plan, with plans to begin to formulate its own ideas next week.
Most of the fireworks, however, took place in the House, with Rep. Mike Fasano, R-New Port Richey, openly skeptical of Enterprise Florida track record and request for more than twice as much money in economic incentives.
Pointing to a study released last week by Integrity Florida, Fasano questioned the need for economic development grants to companies like Publix and Coca Cola, established, highly successful corporations that he argued probably don't need the state's help. In the meantime, small business owners are shuttering their storefronts.
"I'm not hearing from those small businesses, saying 'Wow! Enterprise Florida just showed up at my door and I'm doing great now,'" Fasano said.
Standing in for Enterprise Florida Chief Gray Swoope, whose absence drew the ire of subcommittee chairman Rep. Ed Hooper, R-Clearwater, the agency's chief operating officer defended Enterprise efforts.
"The assertion that we only pander to large companies, honestly, is just inaccurate," said COO Griff Salmon.
Enterprise Florida has found itself in the legislative crosshairs in recent weeks as lawmakers and outside groups have questioned the agency's performance.
Last week, watchdog group Integrity Florida released a report that concluded questionable bonuses, conflicts of interest and a 'pay to play' mentality was hampering Enterprise Florida's efforts. The findings were similar to an earlier study release in April.
"This is an organization that is long overdue for a close look by the Florida Legislature," said Dan Krassner, Integrity Florida executive director and co-author of the report. "It's been 20 years. It's time to see if we are getting what Enterprise Florida promised. Let's see if the jobs are really here or not."
On Tuesday, Enterprise Florida fired back, with Swoope saying the report, paid for by Americans for Prosperity/Florida, a conservative group funded in large part by the Koch brothers, was inaccurate and biased.
Speaking to the House subcommittee Tuesday, Krassner said he welcomed a review of the study findings.
"We certainly applaud your efforts to seek more transparency and accountability at Enterprise Florida," Krassner said. The people of Florida need you to take a close look at this organization and watch every penny of the taxpayers' money."
–Michael Peltier, News Service of Florida