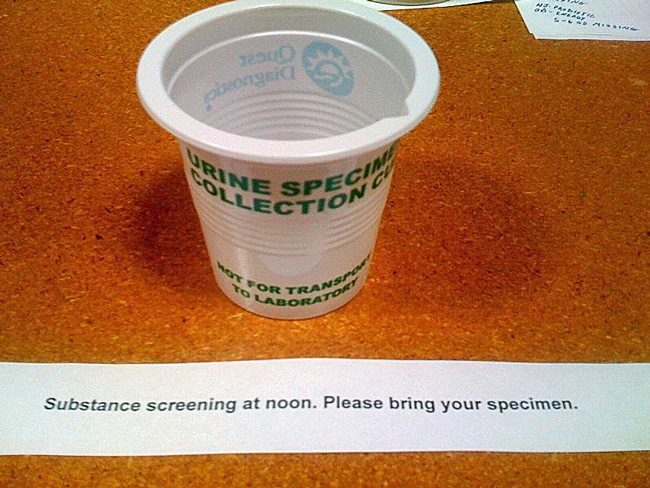 Gov. Rick Scott has capitulated in his crusade to require all state workers to submit to suspicionless drug tests, giving up on about half of the state's classes of workers in a drawn-out legal battle that could end up before the U.S. Supreme Court.
Accountants, economists and translators at the Department of Economic Opportunity; museum curators and librarians at the Department of Environmental Protection; and painters, carpenters and groundskeepers at the Department of Military Affairs are among the nearly 1,000 job classes Scott's lawyers have deemed totally or partially ineligible for drug screening, according to court documents filed last month.
While Scott has agreed not to test those classes of jobs, the governor has not conceded that forcing state employees to undergo urinalysis is unconstitutional despite lower court rulings that spurred the concessions. The U.S. Supreme Court earlier this year refused to take up the case, but it is believed Scott will again ask the high court to rule on the case if he ultimately loses in lower court proceedings.
So far, Scott has spent more than $400,000 on legal battles about his attempts to require drug testing for state employees and welfare applicants. A union representing state workers filed a lawsuit over a 2011 executive order requiring across-the-board random urinalysis for about 85,000 state employees. A separate case involves a challenge to a 2011 state law requiring drug testing of welfare applicants. Courts have ruled against the state in both cases, which remain under appeal. The drug tests are on hold while the legal fights continue.
Scott campaigned four years ago on the drug tests and has insisted they are necessary to keep Florida families safe.
But the 11th U.S. Circuit Court of Appeals ruled last year that Scott could not constitutionally justify drug testing for all types of state workers without a reason. Drug testing could be limited to certain jobs with a "special need sufficiently important to outweigh the plaintiffs' privacy interests," the appellate court ruled, sending the case back to a lower court in Miami. Lawyers for Scott and the American Civil Liberties Union, which represents the state workers, have been working for months to reach an agreement on which types of jobs should not be required to undergo the tests.
The latest filings came as the ACLU seeks a ruling on the case in the hopes of avoiding an even more protracted, costly trial slated for next year. The ACLU accuses Scott's of trying to "manipulate" the judicial process.
But Scott's lawyers said the governor needs more time and more information to decide which "class codes" can be entirely eliminated as eligible for testing and instead wants to postpone a final decision on the executive order.
Scott has taken "significant steps" to determine "the constitutionality of drug testing in given positions," Thomas E. Bishop, a private lawyer hired by Scott, wrote to court-appointed Special Master Lewis Brown last week. "Some particular positions within the class code may have duties that make them appropriate for testing, and some may not. It requires a position by position analysis. "
But ACLU lawyer Shalini Goel Agarwal argued that Scott already has all the information he needs.
"Defendant has failed to assert what discovery it needs from its own agencies to establish what Defendant has already stipulated to after three years of litigation. Defendant simply asserts, without specificity, that there is an 'ongoing process of reviewing relevant information' and that 'the parties continue to gather and review information concerning class codes and position descriptions and that discovery re-commenced only last week,' " Agarwal wrote Sunday to Brown.
Scott only needs to update the list he has already created, not "perform a top to bottom review of all positions in order to create a new list from scratch."
Some of the positions that Scott's office would not agree should be exempt from random drug tests include database analysts, consumer complaint analysts, engineers and architects at certain agencies.
–Dara Kam, News Service of Florida