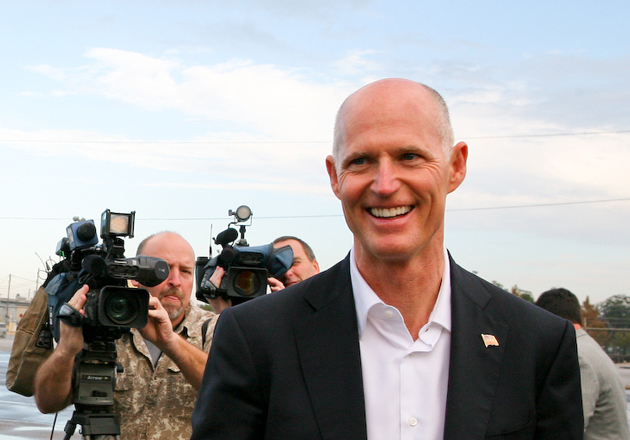 Gov. Rick Scott pulled twin stunts on two successive days late last week, putting in an abbreviated doughnut-maker's shift at Nicola's Donuts and Bakery on Dale Mabry Highway in Tampa one day, then dropping in on a television news crew's morning chat show the next. Both stunts delivered the kind of gauzier camera time he's been seeking since his poll ratings have been flirting with the gaudier side of the 20s.
Scott, the News Service of Florida points out, "has done either a radio or television interview, done an editorial board interview, or made himself available to some member of the print media nearly every week day for more than two weeks." It's part of his plan to seek rehabilitation for his image, prompting the Palm Beach Post to ask: "Is Rick Scott the most hated nice guy in Florida?"
At around 6 p.m. today, Scott tweeted: "I am going to be on C-SPAN's Washington Journal tomorrow morning from 7:30-8:15 a.m. to discuss Florida's Balanced Budget. Tune in!" That tweet followed by a few hours his earlier tweet from the keys: "Fishing in Key West is great! Just caught a beautiful grouper." Scott appears to be vacationing almost as often as Barack Obama.
Here's the full appearance:
Scott's approval rating did stitch up slightly in the latest poll, to 35 percent, but his disapproval rating remains high, at 57 percent, and 45 percent of Floridians personally dislike Scott.