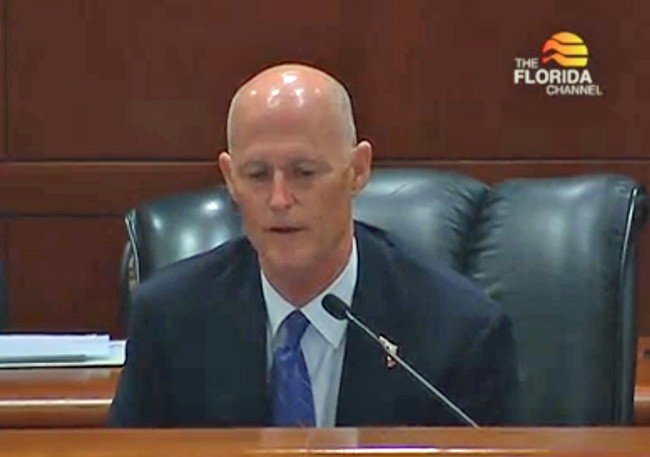 Attorney General Pam Bondi said Wednesday she believes Gov. Rick Scott's staff acted without his knowledge in the way former Florida Department of Law Enforcement Commissioner Gerald Bailey was pushed out last month.
"Did I know that Jerry Bailey was going to be told he was fired and have his things packed up, his entire life as a career law enforcement officer in a cardboard box, and be told to be out of the office before the end of the day? Absolutely not. Nor do I believe the governor knew it," Bondi said to reporters and editors gathered at the Capitol for the annual Associated Press Legislative Planning Session.
Later, she added: "I do not think that Rick Scott would do that. I think it was done at the staff level. I firmly believe it was done at the staff level."
Bondi acknowledged she had no proof to back her opinion and had not discussed the matter with Scott. The comments were Bondi's first, other than statements through press releases, on a controversy that has inundated the governor's administration as Scott begins his second term.
Agriculture Commissioner Adam Putnam described the treatment of Bailey as "shabby."
Scott, whose appearance earlier at the planning session was primarily focused on his proposed budget for next fiscal year, acknowledged that his office asked Bailey "to step down."
"Gerald Bailey was given the opportunity to step down, he did," Scott said.
Two weeks ago, Scott told reporters that Bailey had "resigned."
Scott added Wednesday that comments by Bailey in news reports during the past couple of weeks are "absolutely untrue and ridiculous."
---
The attorney general's defense doesn't quiet calls for an independent investigation.
---
Bailey told the Miami Herald/Tampa Bay Times Tallahassee bureau that he rejected a request to participate in the governor's re-election efforts. Also, he said Scott and staff members sought to have the state police in 2013 indicate that acting Orange County clerk of court Colleen Reilly was the target of an investigation, a request that Bailey turned down.
Florida Democratic Party spokesman Max Steele said Bondi's comments show the need for an independent investigation into Bailey's ouster.
Asked about Bondi's comments, Scott's office referred to a list of "frequently asked questions" it released earlier in response to the Bailey controversy.
Among the office's answers to the questions, it said Pete Antonacci, then Scott's general counsel, advised Bailey on Dec. 16 that the governor wanted new leadership at FDLE and requested the resignation.
The release also made three references to Scott's wanting new leadership a FDLE.
Bondi, who said she hasn't talked to Scott since a Jan. 13 Cabinet meeting, declined to say if she would call for an investigation.
Instead, she followed comments from Putnam and Chief Financial Officer Jeff Atwater that Bailey's departure will be addressed when the Cabinet meets Feb. 5 at the Florida State Fair in Tampa.
"This will be fully hashed out at a Cabinet meeting," Bondi said.
A big part of the Tampa meeting will be on separate suggestions by Putnam and Scott related to Cabinet-level agency head appointments and agency reviews.
Putnam, who said the Cabinet may have taken too much of a hands-off approach the past few years with its agencies, has proposed clarifying the requirements for agency heads, requiring candidate interviews, establishing an appointment-selection committee and setting a process to review each agency through quarterly performance standards.
Scott, in modifying Putnam's suggestions, included suggestions that agency leaders annually provide the Cabinet with their legislative budget requests and undergo annual performance reviews and that the governor and Cabinet members can call for a director's removal "for any reason."
Scott is also calling for the Cabinet to begin the process of possibly removing at least three agency heads: Insurance Commissioner Kevin McCarty, Office of Financial Regulation Commissioner Drew Breakspear and Department of Revenue executive director Marshall Stranburg.
Putnam and Atwater reiterated Tuesday they are not in favor of discussing leadership changes until the hiring process is revamped.
Atwater said he doesn't expect any turnover at the Tampa meeting. He also pointed to a number of issues that he continues to work on with McCarty.
Those issues range from establishing a "stress test" to determine the fiscal health of insurance companies if Florida is hit by a hurricane to a report on when and by how much insurers will lower rates after 2012 legislation aimed at reducing fraud in personal-injury protection auto insurance.
"I've got things I'm expecting to see from Commissioner McCarty for a few more months," Atwater said.
Next week's Cabinet meeting in Tampa is an annual event that has traditionally focused on more-ceremonial aspects of opening the fair, including a number of events and local officials. Those aspects led to the rejection of a Putnam suggestion to move next week's meeting to Tallahassee.
Scott's comment that Bailey "resigned" came after the Cabinet voted Jan. 13 to name Rick Swearingen, the former head of the Capitol Police, as the new FDLE commissioner.
Putnam and Atwater, while separately addressing the media Wednesday, admitted they were caught off guard by Bailey's departure.
Both said they had been advised in December by Scott's staff that the governor was interested in making a change at FDLE, but expected the change to come up at the January meeting. Instead, Scott office announced in December that Bailey had left the agency and Swearingen was put up as the replacement.
"I wasn't aware that it was accelerated," said Atwater, who declined to say he was "mislead."
Senate Minority Leader Sen. Arthenia Joyner, D-Tampa, said earlier Wednesday that while she wasn't questioning Swearingen's abilities, Scott handling of the FDLE leadership hurt the agency's appearance of independence. She said the perception is that the commissioner would be "answering to one person."
"It's the perception that they would do whatever they're told to do, as opposed to doing what the job requires," she said.
–Jim Turner, News Service of Florida