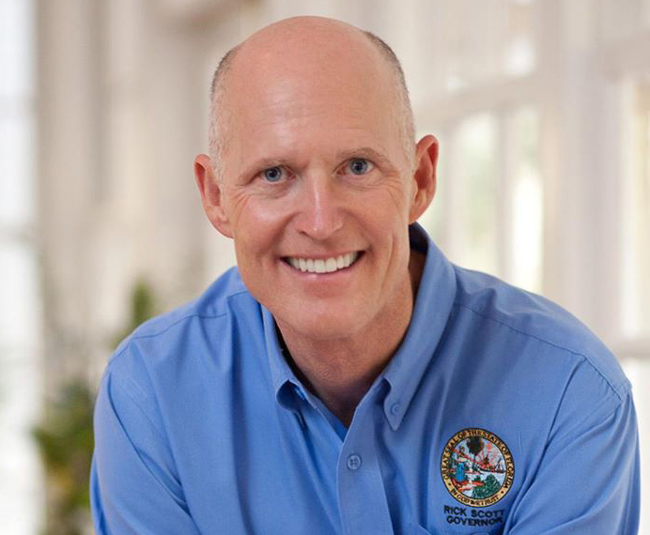 Unwrapping a couple of new highlights after a weeks-long rollout, Gov. Rick Scott released a nearly $74.2 billion budget Wednesday that would leave total state spending relatively flat, slash taxes and boost funding for education and child welfare.
Most of the major components of Scott's proposal — which is expected to be reshaped by the Legislature — had already been revealed in previous events. But the blueprint released Wednesday included at least two notable items: an increase in the exemption from the corporate income tax that would cost the state $21.6 million, and up to $70 million for land conservation efforts.
During remarks to Florida reporters and editors, Scott touted the economic turnaround the state has seen during his tenure and the tax and fee cuts that he placed at the center of his budget plan. That plan includes about $400 million in savings for motorists by rolling back vehicle-registration fee increases approved in 2009.
"My message to the people of Florida is this: It's your money," Scott said during an annual Associated Press event at the Capitol. "We want you to keep it in your pockets. Invest in your hopes, invest in your dreams."
According to Scott's office, the budget would actually be reduced by 0.1 percent. The increases in spending would be bankrolled or offset by an increase in local property tax revenues; $287 million in savings; and $222 million in trust-fund sweeps.
The full budget for the fiscal year starting July 1 provides some details of Scott's already-announced proposals. The governor had touted a $542 million increase to education funding earlier in the week, but the spending plan released Wednesday showed that $374.7 million of that money would come from rising local property taxes powered by an increase in property values.
Scott brushed aside criticisms that the increase in the education budget, which would boost per-pupil spending by $168.59, was too small. It would still fall about $177 short of high-water mark for education funding during the 2007-08 school year. Scott pointed to measures that show the state's students doing better in the classroom.
"We're heading in the right direction, and we're investing the right amounts of money," he said.
The Florida Forever conservation-program increase would include $30 million in funding and the ability to use up to $40 million from the sale of state property for land purchases. But a similar land-sale program approved last year has failed to raise much money, with Sen. Jack Latvala, R-Clearwater, calling it "a disaster."
The Florida Forever Coalition, a group of environmental organizations, said the new plan wasn't adequate.
"Funds from the sale of non-conservation lands is an appropriate but uncertain source for Florida Forever," the coalition said in a statement. "Florida's identified conservation needs are much greater than the governor's proposal."
Scott would hold $1.7 billion in reserve and plow $1.1 billion into the state's rainy-day fund. The Lawton Chiles Endowment Fund would sit at $600 million, while $1.7 billion would be held in other trust funds.
Legislative Republicans were largely receptive to the proposal, though they signaled they have ideas of their own. Appearing with House Speaker Will Weatherford, R-Wesley Chapel, Senate President Don Gaetz, R-Niceville, said they would push for tax cuts that "target low-income and working Floridians."
Asked if Scott's proposals to lower a tax on commercial leases and to increase the corporate tax exemption from $50,000 to $75,000 would fit that definition, Gaetz said they would not.
"But what the speaker and I have said is that the one area we have agreed upon is the [reduction in] tag and title fees, which affect every working Floridian and every Floridian who has to drive to school, is going to be the centerpiece of our tax cut package," Gaetz said. "These other areas, we're certainly willing to look at, but we think that the centerpiece of the tax cut package has to be broad-based and affect working families."
The two leaders, though, also threw their weight behind one of Scott's long-time goals by promising not to increase tuition in the higher education system.
House Minority Leader Perry Thurston, D-Fort Lauderdale, rejected Scott's characterization of the proposal as "historic," particularly in terms of education funding.
"Historic disappointment — that's what's historic about this governor's budget," he said.
Senate Majority Leader Chris Smith, D-Fort Lauderdale, suggested that Scott was politically motivated in some of the budget recommendations.
"Four years ago, Rick Scott spent $70 million of his own money to win the election," Smith said. "This year, he's preparing to spend $500 million of Floridians' tax dollars to do the same thing."
–Brandon Larrabee, News Service of Florida