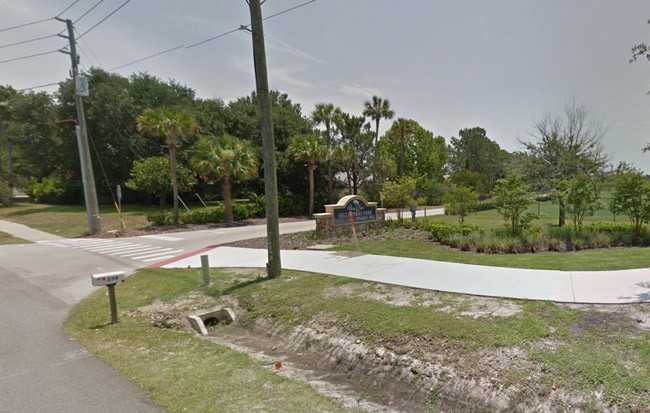 A Buddy Taylor 8th grader was struck and injured by a Flagler County school bus this morning on Parkview Drive, within sight of Wadsworth Elementary school, officials said. The stduent was treated for minor injuries at Florida Hospital Flagler, and by just after noon, had been released.
"He was transported to the hospital this morning for precautionary measures at the scene he was able to stand on his own and talk," Superintendent Jacob Oliva said.
The student was riding his bike in the crosswalk in front of Belle Terre Park, along Parkview Drive, just after 7 this morning, when bus 2014 collided with the student. The sheriff's office got the call at 7:05. By 7:08, it had confirmed that the student, who was taken into the bus after the crash, was not injured, according to dispatch notes. The bicycle was under the bus after the crash. The bus-accident team was paged at 7:19.
"There were students on the bus, they were on their way to Buddy Taylor to be dropped off," Oliva said, "so we had counselors available on stand by in case students were upset, but the response to that was pretty minimal."
The driver of the bus, Ronald Schmidli, 69, was at fault for the collision: he was cited for failing to yield in a crosswalk, and has been placed on administrative leave pending the conclusion of an internal investigation. When school bus drivers are involved in any infractions, including running a stop sign or a red light, their actions are subject to review by a district safety review panel made up of union personnel and administrators, "and they have basically a point system, so certain incidents you have accumulate a certain points, and if you have so many points you can't drive," Oliva said.
The panel is called the Accident Review Committee.
Schmidli has been driving for the district just since April 17, but had been a school bus driver for two years before that, and was a heavy equipment vehicle transporter for eight years, Oliva said.
The district's response team was immediately activated following the incident, with school administrators at the scene quickly. It was new Transportation Director Larry Nelson's first encounter with a serious incident since he fully took over the department from Winnie Oden earlier this month. The district does a lot of training for such incidents, Oliva said, so when they take place, everyone is prepared to react as trained. "We're doing well," he said.
The Flagler County Sheriff's Office is investigating the accident.