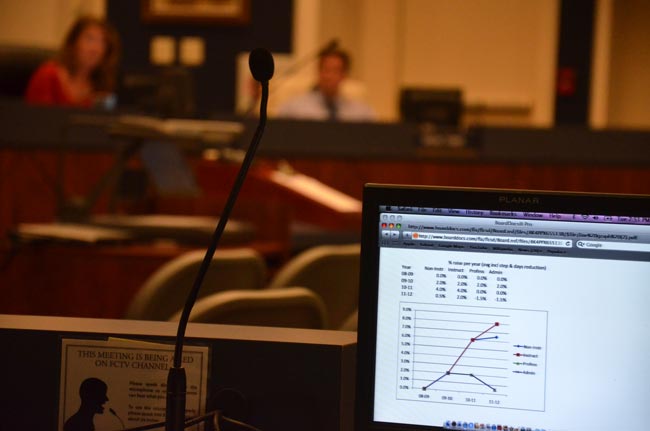 Immediately after a meeting of the Flagler County School Board where the finance director, Tom Tant, outlined roughly $10 million in cuts for the coming school year, shorter school days, employee lay-offs and a slew of savings tallied up along the way to balance the books, Superintendent Janet Valentine again recommended to the school board 2 percent raises for a group of professional and administrators, some 50 of whom make between $70,000 and $100,000 a year.
Valentine excluded herself from the equation, stating right off that she would not take a raise regardless. She is making $142,788 this year, a decline from her original contract of $145,000.
Valentine brought up the issue for the third time in five weeks Tuesday evening during a meeting scheduled specifically to discuss the proposed 2 percent raise, which has triggered a political wildfire for the board members.But the superintendent also split the proposal into two groups: the more than 50 highly paid administrators in one group, and 28 other employees who are categorized as "professional," who are not part of any union, who supervise other employees, and who, for the most part, make less money than a starting teacher. (Staring teacher pay will be close to $40,000 this year, helping to rank Flagler County 8th in average teacher salaries in Florida.)
A four-voice majority of the school board rejected the proposed 2 percent raise for administrators, which would have cost the district just over $100,000 and erased the savings just achieved by furloughing the very same employees for four days. (The decision will be formalized in an actual vote next month.)
Citing the recent employee furloughs, which the 2 percent raise would erase, board member Colleen Conklin said: "It would be in my mind not appropriate to give them an increase in pay. That's me. Does not mean that I don't value them as a member of my staff."
The board endorsed the raise for professional staff, however, given their already relatively low pay.
"These are people who are probably making it barely and feeling the effects of the economic situation," board member Andy Dance said, approving their raise. Colleen Conklin was also supportive.
But Dance, like Conklin and board member John Fischer, did not buy the notion that administrators are underpaid in the county, or that they are underpaid in relation to administrators in other counties. To the contrary. Fischer went through some figures he had gathered to show that in many instances, Flagler's administrators are being paid about $10,000 more than their peers in surrounding counties.
Dance pressed the point. "Our salaries compared to surrounding counties, even Volusia, with much more students, are pretty significantly higher," he said, "and even like counties we've talked about, Nassau and others, we pay those leadership positions really well. I think they get a fair compensation."
Trevor Tucker was also opposed to the administrators' raises.
"You all know that I'm going to disagree with you all," Board Chairwoman Sue Dickinson said. She was alone in dissent by then, and was last to speak.
We all say that our schools are good schools," Dickinson said, citing the rank and file, "but they're also good because of our leaders," meaning the administrators. She echoed Dance in saying that many of the administrators and professionals turn to the school board to "look out" for them, because they have no union to do their bidding for them and, in Dickinson's words, "force us to give them raises." That's why not giving them a raise for the third year in a row was not acceptable, Dickinson said, when doing so will require the board to play catch-up in the future. She called it a matter of maintaining the higher morale in the county.
Flagler County government employees, sheriff's deputies, firefighters and paramedics included, along with Palm Coast city employees, are also entering their third year facing no raises.
Dickinson then said that she wanted to bring back a list of cost-cutting proposals the teacher union had proposed earlier this year, when the board was looking to make cuts, and find the $100,000 there in order to make the 2 percent raise possible. Conklin was opposed, but said, "If the majority of this board would like to do that, I would simply say, we have gone through that list, and we may need to re-look that list for the coming year," to make next year's budget work.