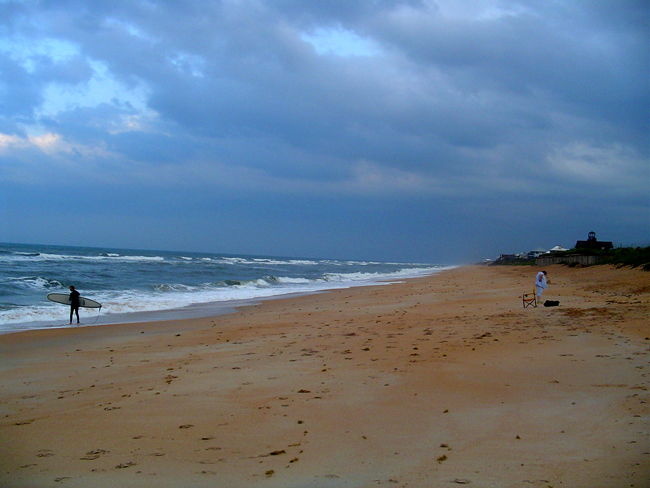 For the third time in four months, the Flagler County Tourist Development Council turned back a request to pay for beach clean-ups by the Friends of A1A Scenic and Historical Byway group. The 4-3 vote was close, but the substance of the request, and the council's resistance, hadn't changed from previous attempts. And although one no-voter invited the group to try yet again, with more clarity, that's not about to happen.
"I didn't want to give up until they voted," Scenic A1A President Anne Wilson said this afternoon, hours after the vote, "but once they voted I saw strong resistance on the majority of the board," making another try unlikely. "I thought they would have had more vision but they didn't."
Before the council this morning, Wilson said the was "for us to set up the adopt a beach groups, to train them, show them what to do, and turn them loose," Scenic A1A  President Anne Wilson told the council, setting up the latest defense of the grant request by Sallie O'Hara, the program's would-be coordinator, "so that this will be a self-sustaining operation that after it's organized and running, that it will operate by itself, and that we will not need to have paid management to keep it running."
That part pleased some council members: the money requests wouldn't be recurring. But it wasn't enough, even though there is no beach management plan in Flagler County (as there is in St. Johns), and no one is systematically doing beach clean-up.
As in December, the request was for $15,000, down from $32,000 the first time the request was made in November. As on previous tries, a majority of the council was turned off by an unconvincing business plan and a $75-an-hour fee for O'Hara, who went through yet another jarring grilling by members of the council, as well as a $25-an-hour fee for a volunteer coordinator.
"It's a wonderful cause but I can't justify the expense for the administration," council member Bob DeVore said. "Sally, your group had $100,000 last year to do St. Johns and Flagler, and when you first came here, it looked like you only had three or four beaches in St. Johns that had adopted the program. So I questioned where the $100,00 went. Then you came before us and you wanted $30,000, and at that time, if my memory is correct—probably isn't—you were still only using $3,000 of it for supplies and equipment, so now you're back asking for $15,000, and it's still just $3,000 for supplies and equipment. And if you look at these rates, even though I understand it's part of your overhead that's in the rate, at 2,000 hours a year, that's 150,000 bucks, at $75 an hour."
Mary DiStefano said she was supportive of the idea behind the plan—volunteer clean-ups—as all council members appeared to be. "My only issue when I looked at the cost for people, personnel issues, I find $75 an hour kind of astronomical, and volunteer coordinator, $25," DiStefano said. "I find that's high, and I don't know people in this community get that kind of money." The only publicly funded salary that comes close to that rate in Flagler County is that of DiStefano's employee, Jim Landon, the Palm Coast city manager, whose base pay equates to about $81 an hour, not including benefits and deferred pay. (DiStefano is a member of the Palm Coast City Council.)
Some council members said the county should be paying for such a plan, not the council, though the objection was a matter of semantics: the council is an arm of the county. It recommends uses of public dollars collected by the county through the county's 4 percent bed surtax on hotel, motel, RV stays and the like.
Opposition to O'Hara's plan seized on the plan's spending priorities. As in December, council member Linda Mitchell was particularly pointed in her questioning. She asked O'Hara where she worked out of, and what rent she paid.
"We get most of our overhead in kind, so we do not pay any rent" whether in St. Augustine or in Flagler Beach, O'Hara said.
Mitchell questioned travel costs for cars and for travel and things like that. What does that include? I mean, where will you be going?"
O'Hara: "Well, If I'm going to coordinate the activities of the volunteer coordinator who, by the way, not only arranges volunteers but arranges publication for promoting the beach cleanups as well as obtaining incentives from local area businesses to entice people to do the clean-ups, that entails their travel, I have to pay somebody something to go from point A to point B, Jungle Hut, Malacompra, River-to-Sea Preserve, Flagler Beach. It doesn't come free."
"What are you talking about?"
O'Hara:  "The expense associated with personnel related to organizing and conducting the program."
"What businesses now are giving you assistance?"
O'Hara: "None right now. I haven't gone out and aggressively promoted this particular program for want of funding."
"Previously what did you do?"
O'Hara:  "We had Disney, Walt Disney Corporation gave us packages on a monthly basis, and we had contributions from other area recycling forms and a number of other things."
"But you don't have those now."
O'Hara: "No Ma'am."
"And is it because you just haven't followed up on them?"
O'Hara:  "Yeah. I'm one person. I need help. And it needs to be organized. I need a foundation from which to ask for funds from corporate entities."
"Now, we're just talking about cleaning up the beach, we're not talking about anything else, correct?"
It's about beach clean-up, O'hara said.
DiStefano gave O'Hara a way to win her majority on the board if she returned yet again with a break-out of O'Hara's personnel and costs—if it were to bring the $75-an-hour fee down. "I guess I'm asking you to come back with better answers," DiStefano said. But that was the same suggestion the council had made twice before.
"They didn't seem to get that that was more than somebody's wage," Wilson said after the meeting. "The assets that we bring to the program are more intangible, and certainly not–what do you pay for a ream of paper." It's not entirely the end of the program, but it won't be much: "We'll obviously continue to work on the adopt-a-beach program," Wilson said. "We can't spend as much time on it as we would like to because we only have one part-time employee. We'll do the best we can. It's part of our goals and our vision. They'll certainly get something for nothing."