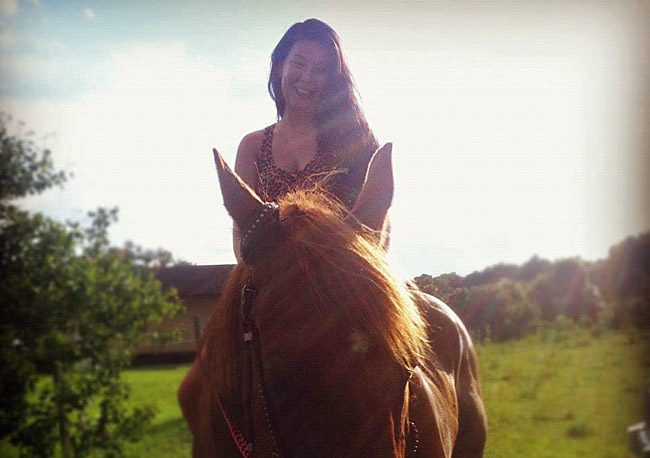 Note: A celebration of life in memory of Savannah Deangelis will be held at 2 p.m. Sunday, Dec. 3, at the Seventh Day Adventist Church, 5650 Belle Terre Parkway, Palm Coast. In lieu of flowers, the family asks that donations be made in Savannah's name to the Florida Hospital Flagler Foundation.

Every day, 175 Americans die from opioid abuse. On Monday, Savannah Marie Deangelis, a 23-year-old Palm Coast resident and 2011 graduate of Matanzas High School, was one of them. She had overdosed at her home on Oct. 28, just two days after her release from the Flagler County jail.
Barely half an hour before paramedics were called to her parents' house on Front Street in Grand Haven, where she lived, she had had a very brief encounter with someone who'd pulled up in a black car. She'd taken something from him, and the driver sped off, according to a sheriff's incident report. She'd told her mother that she had met a friend from drug court, a 24-year-old Palm Coast resident called Zachary Gonzalez.
She then locked herself in the bathroom. Her father got concerned after a while because of her history of drug abuse. He forced his way in and found her unresponsive. He performed CPR until he was relieved by paramedics. There was a used syringe and clear plastic baggies on the bathroom counter. Deangelis was no longer breathing on her own. She was taken to Florida Hospital Flagler, where she never regained consciousness.
Deangelis's spiral over the past two years, since her original arrest on prescription-drug charges, followed a pattern familiar to law enforcement, the justice system, supportive parents and the social service agencies that intersect with the lives of addicts in hopes of steering them back to sobriety. Often, and with a mixture of pre-trial interventions, probationary programs, parental support and other means, the mixture of penalties, tough love and serious treatment programs succeeds, as graduates of Drug Court regularly attest.
At times they don't.
A Relapse
The reasons can seem innocuous at first, tragic in retrospect, like the way Stewart Marchman Behavioral Healthcare's Project WARM in Bunnell, a program for recovering addicts, allowed Deangelis to go home for five days during the Hurricane Irma emergency in early September. Program staff allowed her to do so even though she was not fit for so much as a four-hour pass in normal circumstances, and even though there was no evacuation order applying to the facility, or any desire on her parents' part to have her home. To the contrary. The Deangelis parents felt their daughter would be safer at the facility than at their home on the Intracoastal, particularly because of the fragility of her recovery.
It was during that "furlough" that Deangelis relapsed again, breaking rules of program eligibility and forfeiting her place there. Despite the dubious circumstances of her release from Project Warm during the hurricane, she was kicked back into the criminal justice side of the equation with more jail time, delays and uncertainty.
And at times the supportive programs don't have the intended result for reasons Deangelis herself diagnosed with painful clarity days before her last overdose, in words she wrote from jail after that hurricane-days relapse, and in words that could have just as easily been part of a keynote speech at one of those Drug Court graduations. Had she lived-had she persevered-she might very well have delivered them in one form or another, revealing as they are to individuals struggling as she was.
She had been rearrested over what amounted to her latest probation violation on Sept. 21. On October 5, she sat down to write Circuit Judge Dennis Craig, who presides over Drug Court weekly.
"That Will Never Be Worth My Life"
"During my time sitting here in County Jail," she printed in her straight-forward script, "I have had plenty of time to think about my decisions I've made in my life that have led me up to where I am at this moment in time and I wanted to share with you what I have learned about my relapse. I put myself in [an] awful position by even being around people who were using, people who I thought to be my 'friends' only to find out that it is not true at all. I'm going to be 100% completely honest with you. When I got arrested 5 months ago and pled out to drug court something inside me felt like I was missing out on the things I could be doing on the outside, therefore in the event of the hurricane I took full advantage of the situation which ultimately led to my demise. I regretted what I had done immediately! I had lost my 5 months of clean time and risked everything that I have been working hard for, for what? One last high… that will never be worth my life or my freedom and it truly took me having to relapse to really realize that."
---
"I will no longer disappoint the courts, my family or myself."
---
The letter is written with the desperate sincerity of someone surrounded by walls, but is also replete with the promises of someone who has been breaking promises repeatedly. The language reflects to what extent Deangelis had absorbed the mantras of Drug Court without applying them as successfully. She goes on to pledge to Craig that she is "willing to go above and beyond to excel" in Drug Court, her decision to write him personally being her first step, as she saw it. "I realize how completely out of control I was and the power my addiction had over me," she wrote.
She spoke of all she had going for herself, the job she had with her father's family business, how different she felt from fellow-inmates who are "obviously not living a recovery-based lifestyle as I am willing to do." She had the benefit of supporting parents, who had themselves recently and regularly attended weekly classes at Stewart-Marchman Behavioral Healthcare to better understand "our addict," as they described their daughter in a letter to the court. Even her sister attended.
She asked for "redemption." She took responsibility. And she asked if she could speed up her release and appearance before Craig, pleading with him to note how long she had previously been away from her family-two months in jail and three in rehab at Project WARM, from where she was expelled after breaking rules during the Hurricane Irma furlough. She spoke of wanting to go home in Grand Haven before it is sold and helping her family "in cleaning the house and packing up all my memories and belongings."
"After everything I have put everyone through I would sincerely love the opportunity to help my family," Deangelis wrote on the fifth of her five-page, single-spaced letter, "and I believe that positivity would also be beneficial to my recovery. My hope in writing this letter is that you can see just how seriously I am going to take this opportunity." Before finishing with a humorous line about her "dreadful" spelling, as she described it, she pledged: "I will no longer disappoint the courts, my family or myself. I am ready to prove myself in any way possible."
Beginning of the Spiral
She had been arrested on Sept. 2, 2015, on Old Kings Road, when a Flagler County Sheriff's deputy noticed her driving a vehicle with an expired tag. The deputy discovered that her license had been suspended a few months earlier over unpaid red-light camera traffic infractions. Pursuant to her arrest for knowingly driving on a suspended license, deputies then searched her purse and discovered prescription pills, without prescription, which led to a more thorough search of her car and the uncovering of additional pills. Before being taken to jail deputies asked her if she had anything else on her person, warning her that bringing contraband into the jail would result in an additional felony. She said she had nothing. But a deputy subsequently discovered a baggie hidden in her groin area, containing a syringe and other "common items used in intravenous narcotics use," the arrest report states.
---
"This shit is killing young,beautiful people that I care about, and it's not okay."
---
Some charges were eventually dropped. For the rest she signed in November 2015 a pre-trial intervention contract, completion of which would lead to the remaining charges being dropped. But she violated her contract twice. She was placed on community control for a year, followed by what was to be three years' probation. Last April, she violated her community control after an April test revealed she had cocaine, amphetamine and marijuana in her system, uses to which she admitted to her probation officer. She was rearrested on Sept. 21, just after midnight, at her home, on a probation violation.
It was never made clear why she had been released from Project Warm during the hurricane, the time period that led to her latest rule-breaking: it was never made clear to her parents whether she had been mandatorily sent home as a safety measure. In fact, county officials had ordered the mandatory evacuation of several health care facilities, but only those east of I-95, which Project Warm was not: Deangelis could have stayed there, and could have told her parents as much. She did not, leaving her parents perplexed "as to how it was to be expected that someone who was not yet even eligible for a 4 hour pass yet was expected to succeed in the outside world for 5 days," as they wrote the court even as they conceded that Deangelis bore part of the responsibility for her dishonesty.
Inexplicably, when Deangelis had called her parents to speak about coming home during the hurricane, she was on speaker phone at her end, supervised by Stewart Marchman staff, who never, according to her parents, signaled that her release from the facility was mandatory, or that there were alternatives, leaving it to Deangelis-who was known to have honesty issues-to disclose the alternatives to her parents. She did not, suggesting a motive she had spoken of in her own letter to the judge when she was in jail: "Something inside me felt like I was missing out on the things I could be doing on the outside."
Prompting Her Own Expulsion
And yet it was Deangelis's ultimate honesty that contributed to her expulsion: it was she who admitted, when promoted by Stewart Marchman staff during a group meeting, to using drugs while on furlough, all but signing her own expulsion and re-arrest order.
Writing to the court, her parents said they would have advised their daughter to "stay put" at Stewart Marchman during the hurricane, since at any rate they lived on the Intracoastal, and the Bunnell facility was safer. "It is so frustrating to think that if not for a hurricane," her parents wrote the court at the end of a remarkably restrained letter written in September, "Savannah would be safe and sound at WARM where she belongs. That being said our goal as a family is to reinstate Savannah into WARM when possible."
Charles and Renée Deangelis concluded their letter to Judge Craig on a note they could not have intended to be as haunting as it now reads: "Though we can't go back in time hopefully when we move forward we can have her reinstated into the program. We feel that it can save her life."
Savannah Marie Deangelis died Monday morning at Florida Hospital Flagler.
Among the many tributes to her on her Facebook page, a friend noted: "She is a hero, her organ donations with give life to 7 Recipients who will receive a new lease on life." Another wrote: "Pleading with those I love who are still suffering..Take a look around..the odds are stacked against you. This shit is killing young,beautiful people that I care about,and it's not okay. We love you Savannah..praying you up♥ ♥ ♥. "