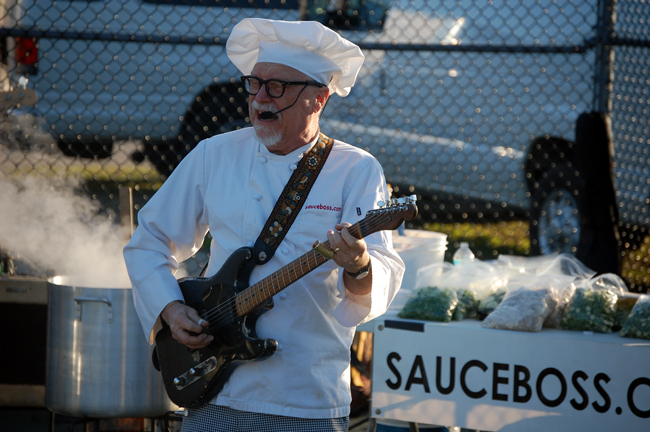 Hearing Bill Wharton—the Sauce Boss—talk is like hearing him play his blues and cook his gumbo for homeless and other poorer people, as he did Friday afternoon at the Hidden Trails Community Center in Daytona North, for free: you're moved.
"There is a portion of the population that believes that the homeless are just shiftless, worthless people, and they use names like roaches, rats, that kind of thing, to describe the situation," he says after playing for more than an hour, with his gargantuan gumbo cooking pot steaming up the okra and crawfish and rice and celery and onions and peppers. "If you've seen the amount of women and children and people that are challenged, physically or mentally, that are stepping up for a bowl of gumbo, then you know it's not just lazy people out there. There are a lot of people that just, unfortunately, can't help themselves, and the whole thing with the economy, and the greed, if you will, from the whole housing meltdown, the banking meltdown—these people that did that are the last people to help a man on the street who needs 25 cents."
Wharton and his band are blues performers who, at every performance, cook up an enormous batch of gumbo, which gets distributed for free at the end of every set. It's part of the story Wharton is telling, part of his purpose: "Gumbo is more than a dish. Gumbo is culture in a pot," he says. "The gumbo became the metaphor for what this is." This being the scene behind him at Hidden Trails: people of all sorts and ages, most of them down on their luck, including mothers, children, older men, gathered together for a moment's reprieve from their daily challenges. "You look at all those people out there, they're all different. But we're all, deep down, we're the same."
Wharton and his band will be putting on a show beginning at 2 p.m. today at the Florida Agriculture Museum in Palm Coast, following singer Linda Cole's set at 1 p.m. The event, sponsored by Beach 92.7 FM and WNZF, is a fund-raiser for the museum and for Feed Flagler, the annual county drive for the poor around Thanksgiving. That's where the $5 entry fee will go.
But Wharton isn't just a performer. And by now, after 21 years of doing what he's been doing for the homeless and the poor—about twice a month he puts on a free show at a homeless shelter or similar places –he is primarily not a performer, but a humanitarian and an advocate: though the radio station is paying him and his band for their gig at the Ag Museum, Wharton insisted on outing on a free performance for the neediest somewhere in the county. Only a few dozen people showed up. "You know, people around here, they really feel their way," says Charles Silano, the pastor at Grace Tabernacle Ministries and a leading advocate for the county's poor. "They're not sure as to what the motive is, so they'll pass by and look at something like that. They'll sit in their car. I had to go get a few sitting in their car."
That's the other thing about Wharton: whether he's performing in an arena of thousands or performing for an intimate group of a few, his steaming energy is the same. It's all about gumbo. It's all about sharing. His words, repeated again and again like refrains between songs.
It all started years ago with his hot sauce. "It started for me as a way to showcase my liquid summer hot sauce," he says. "I made this hot sauce for myself because I was unsatisfied with what was around. So all these people come over to my house and eat it all up. I mean I'd make like two gallons, it'd be gone in two weeks. That's a lot of hot sauce. So I decided I'm going to put this in bottles and I'm going to sell it to them, OK? So I started carrying around to gigs with me and first thing I know, if I didn't have it, people got really irate, they'd walk out the door. I can't afford that, right? So I just started holding it in the van wherever I was. That's where the Sauce Boss was born." The gumbo addition is a different story: He was doing a gig in Sanford. The blues singer Kenny Neal was around. Neal's mother was cooking gumbo. He watched her like a hawk. He thought at first it'd be a good gimmick for his own show. Then it him: the cultural thing, the melting pot, the sharing.
Then Planet Gumbo was born: his non-profit foundation, the underpinning of his humanitarian works. He'd been invited to the Daily Bread Soup Kitchen in Orlando for a show. "That performance," he says at his Planet Gumbo website, "was a watershed because so many things came together that gave us a template for what we do. On that day I took my old 1933 National Steel guitar and my gumbo pot down to play for the folks at the soup kitchen. I played and sang and spoke about the gumbo. The response was absolutely incredible. The workers at the center said they had never seen these people smiling, laughing, and talking like this. It was totally energizing for me as well. But here's the kicker. Not only did we feed the people in need, but we also had a live feed via satellite to the local Fox News network beaming the whole mess all over Orlando for the morning news and that's a large market. Lots of people saw the faces of a faceless problem."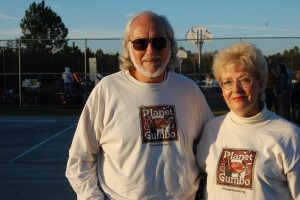 All but two of Planet Gumbo's board members are from Tallahassee (Wharton lives near there). The two other board members are Dale and Peach Hench of Flagler Beach, who have traveled with Wharton and helped him put on his show. They were at Hidden Trails Friday. "It's a great thing to do. There's so much need out, and you know, when we go into these shelters, it's amazing that people are so impressed that somebody would take the time, like Bill does, to go in and give of himself, and bring some joy into their lives," Peach Hench says.
"We've done a number of shelter shows with him," Dale said. "One we set up when we were still in Springfield was a shelter show, and we had a very street-hardened, perpetual downtrodden guy. He wasn't your typical homeless person you see now. This was back before the economy had tanked, very tough, mean, and he came to us in tears and said nobody has ever cared enough about me, ever, to do something like that. Of course by that time we were in tears. But it's been like that at almost every shelter show we've done."
As the Henches spoke, Wharton was playing and cooking on his makeshift stage: the basketball court at Hidden Trails, where three rows of tables had been lined up. With him were Justin Headley on drums, Jonathan Grooms on bass, and Jonathan Paradise on guitar ("these guys are gold," Wharton says.)
The Sauce Boss afterward credited the way "individuals, businesses, and government got together to put this on." Among them Milissa Holland, the county commissioner and Feed Flagler leader, who brought in all the ingredients from another donor: Hammock Dunes Club in Palm Coast, which usually works quietly but persistently and generously on behalf of the neediest without seeking the attention. The club acquired all the ingredients through its suppliers, including crawfish from Louisiana. It was providing the food for today's event at the Agriculture Museum as well.
Wharton finished his set as the sun fell, and the temperature fell with it. By then his gumbo was ready. His audience lined up. Bowls filled up, compliments to the chef poured out.