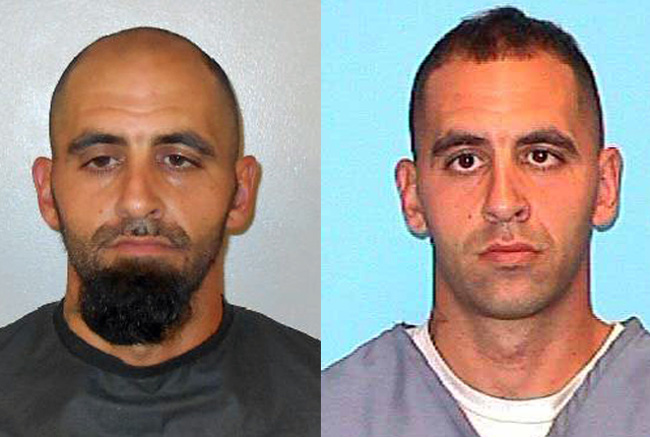 Ryan Giovine had been to jail twice already this year, on a drug charge and a probation violation charge. He didn't want to go back a third time this weekend. Instead, he ended up being jailed twice on a total of nine charges, including domestic violence battery, assault, burglary and probation violation.
Since 2008, Giovine has been booked at the Flagler County jail seven times, and spent a year and a half in state prison on a racketeering conviction, getting out just last January. He also got 10 years' probation for that.
Giovine's latest run-in with police began Friday around noon. A deputy was called to a Palm Coast address over a battery complaint. Gionine's sister and father told the deputy that Gionine, 32, of 9 Radial Place in Palm Coast, had punched his girlfriend, choked his sister, taken a knife from the kitchen, pledged that he wasn't going back to jail, then was said to have either been hiding in the house or fled out the back. The deputy found him hiding in a master-bedroom closet.
According to Giovine's statement to police as rendered in Giovine's arrest report, he'd been wanting to see his two children, so he'd come over to the Radial Place house to see them. His half-sister wouldn't let him in. There was a scuffle at the door. As a result, the woman fell or was pushed to the ground. Giovine said he couldn't remember if he'd pushed her, though he remembered pushing on the door. When he tried to leave in his car, it wouldn't start. So he got into a car that belongs to his girlfriend, who was at the wheel. It was locked. He reached in through the window. The woman began driving away even as his hand was in the car, but she then stopped and let him in—only for the pair to start slapping each other away from the ignition. Giovine denied having a knife.
By then the two had already had an argument earlier in the day when, as she was taking her boyfriend to Palm Coast Data, where Giovine works, so he could retrieve his car, his girlfriend told police that Giovine stole her cell phone.
Giovine's girlfriend would later tell police that he'd elbowed her against the cheek and ear during the scuffle, leaving a reddening that deputies noted in their reports.
That afternoon Giovine was arrested on two counts of battery domestic violence, petit theft, burglary with assault, burglary, and trespassing. He posted bail on $2,250 bond and was released.
Exactly 48 hours later he was arrested again. A deputy was called in to assist a state probation officer who'd reported that Giovine had violated his probation. The probation officer, Deborah Laso, had made contact with Giovine and asked him if his girlfriend was at the scene, which she was. 9The incident was unfolding at a Wheeler Place address in Palm Coast.)
But the girlfriend had a no-contact order in place, which required Giovine not to come within 500 feet of the house. The girlfriend told Laso that she did not want the no-contact order anymore, nor did she want Giovine to get in trouble. The deputy told the woman that for that to happen, she'd have to resolve the matter in court. Until then, the order had to be enforced.
As all that was concluded, the deputy moved in to place Giovine under arrest for violating the no-contact order. Giovine was at the door of the residence, holding a remote. When the deputy asked him to put down the remote and come outside, Giovine asked why. "I told [Giovine] to put the remote down and I attempted to grab his arm, at which time he pulled away and began running into his residence," the deputy reported. Two deputies followed him into a bedroom as one of them drew his Taser and aimed the laser at Giovine, ordering him to show his hands. Giovine complied and was placed under arrest on two counts of felony probation violation and resisting arrest. He remains at the county jail Monday.