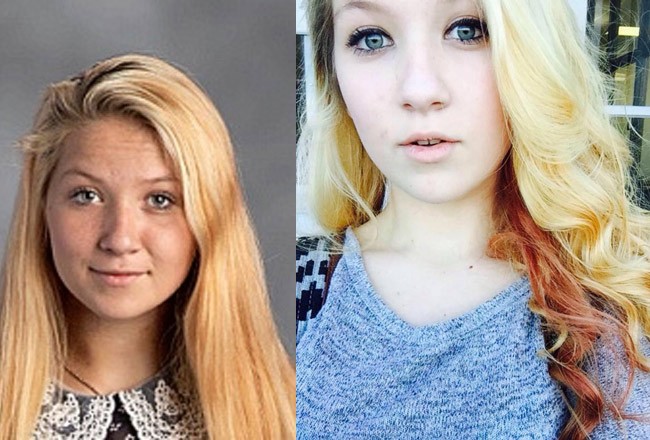 Update: At about 10 p.m. Friday, Ashley Martin posted the following on her Facebook page: "For everyone that has been worried thank yall for everything. It's a lot to explain but thank you all and I'm safe and I'm home I should be off Flagler live [sic.] tonight." As of 11 p.m. FlaglerLive had not received confirmation from the sheriff's office that Ashley Martin is, in fact, safe and home.
Saturday, June 27 Update: Reported 14-year-old runaway Ashley Martin was home safe, at her father's in Bunell, Friday night, the Sheriff's Office reported, after leaving her mother's house and staying with friends for almost a week.
A sheriff's incident report released this morning traces the way the sheriff's office was led back to Ashley, starting with a traffic stop of the Ford F-150 that had been flagged earlier in a be-on-the-lookout alert. The driver of the car, Coleman Johnson, and a passenger, Alexander Meyer, informed the deputy making the traffic stop on U.S. 1 near Whiteview Friday evening that they had dropped off Ashley at her father's house off County Road 13 earlier. By then, Ashley's father, Todd Bennett, had called 911 to let dispatchers know that his daughter was with him, safe.
The deputy checked on Ashley at her father's house. "Ashley appeared in good health and uninjured," the deputy reported. Ashley told the deputy she'd not run away, but rather had been told by her mother to leave the house during an altercation on June 20. Bennett told police Ashley's mother, Amy Martin, had contacted him several times, asking Bennett–whose primary residence is in Georgia–to take Ashley for six weeks. Bennett had driven down to Palm Coast to pick her up (and had told Martin that he would not be able to do so until late this week.)
The report does not address Martin's or Ashley's earlier reports that Ashley's grandmother had driven south to pick Ashley up, as they'd reported to police earlier in the week.
Bennett and Martin agreed to meet today to discuss custody arrangements.

Sheriff Seeking Help Locating Runaway Ashley Martin, 14, Who Left Home on June 20

June 26–Ashley Martin is a 14-year-old resident of 16 Ranshire Lane in Palm Coast. She has a history of running away.
Last Saturday–June 20–she had a friend over, then told her mother that she wanted to leave with her. Ashley's mother Amy, 40, told her she wasn't allowed to leave, and asked her friend Maria to leave, which she did. Not long afterward, when Amy Martin checked on her daughter in her room around 10:45 p.m., her daughter was gone. Martin told police she has no further information on Maria. (The night before, Ashley had posted on her Facebook page and on Instagram: "I need a ride or die.")
Amy Martin told police that a neighbor saw Ashley leave the house through the garage door and take off running down the street with a backpack, at about 10:45 p.m. that safe night. Ashley then got into a small white pickup truck with two white male occupants and left the area. The neighbor was unable to provide any further information to her mother in reference to either the vehicle or its occupants' description, an incident report states.
Ashley is described as white, 5'7" with blond hair, hazel eyes, and weighs 105 pounds. She has a thin build. Ashley was last seen wearing blue jeans.
Her mother told police she believes her daughter may be with James Cortright, an individual her daughter has been with in the past. (Cortright is on 15 months' probation after being found guilty a month ago on a charge of littering several hundred pounds of chopped wood on Rayonier property. A reckless driving charge is pending against him, with arraignment set for July 7. He's faced several criminal charges previously, including burglary and grand theft.)
A Flagler County Sheriff's deputy attempted to speak with Cortright at his new address on East Moody Boulevard in Bunnell. He was not home. His mother contacted him, and he then said he was on his way to Miami with Joshua Lemaster, the latter having been in contact with Ashley earlier.
Ashley had let Lemaster know that she was in in Daytona Beach and that she would be at her grandmother's house the evening of June 24–what proved to be misleading information, since the girl's grandmother lives in Virginia and is herself on her way to Florida to help look for Ashley.
A deputy was then able to reach Ashley on her cell phone on Wednesday. She told the deputy, according to the incident report, that she was leaving Flagler Beach but would not give her location, and that her grandmother was going to pick her up and take her to Virginia. "I told Ashley that would not be legal and that she needed to cooperate with me," the deputy reported. Ashley then told him she would be going to her dad's house in Bunnell.
On Thursday at 2:33 p.m., she posted a picture of herself on Facebook with a male in a truck. It's not clear when the picture was taken.
Anyone with information regarding the whereabouts of Ashley Martin is asked to call the Flagler County Sheriff's Office at 386-313-4911 or Detective Elizabeth Conrad with the FCSO Investigative Services Division at 386-586-4844 in reference to case number 2015-64672.