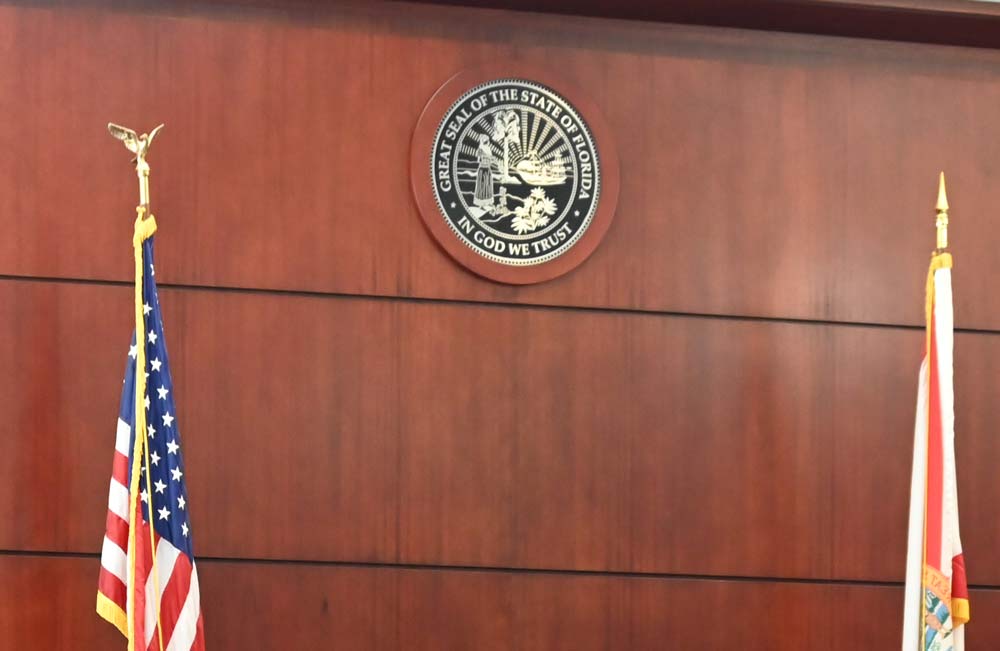 The following is a round-up of notable law enforcement, court and other related developments over the last week or so. The reports are based on arrest affidavits, incident reports, court documents, and occasional agency press releases.
Running a Stop Sign Leads to Arrest on Two Felonies
When 24-year-old Darrin Zellner was pulled over in a traffic stop on U.S. 1 near Otis Hunter Road on Sept. 5, after running a stop sign, a deputy smelled marijuana. Zellner owned up to it: he told the deputy he had some marijuana in a bag, and also told him he had a firearm in the vehicle. He was not required to have a concealed carry permit, now that a Florida law has made that unnecessary. But he had one anyway.




Still: Zellner ended up with a second degree felony, punishable by up to 15 years in prison, for having the firearm. The reason: The amount of marijuana found in the car exceeded 20 ounces, making it a third-degree felony possession charge. And since he was committing a felony with the pot–which was found dispersed in several bags "commonly used for narcotics sales," according to his arrest report–carrying a gun while committing a felony is itself a second degree felony.
The Glock and 25-round extended magazine was under the seat, not concealed by any type of holster (open carry is not allowed in the state). He was carrying $600 in cash. The sheriff's office seized that money as part of its forfeiture authority. A written warning was issued for the running of the stop sign. Zellner was booked at the county jail and released on $8,000 bond. He had no previous record in the county.
Bored Inmate Triggers Fire Sprinkler, Flooding Cell
Shortly after Christmas Franko I. Louis, a 26-year-old resident of Miami, was arrested in Palm Coast on burglary, possession of burglary tools and grand theft, among other charges. He posted $10,500 bond and was released, but never showed up for court hearings, leading to a new warrant to be issued for his arrest. He was arrested in Miami and transferred to the Flagler County ail on Sept. 1.




Shortly after midnight on Sept. 2, jail video captured Louis climbing on his bunk, reaching for the fire-sprinkler, and causing it to go off. The cell flooded and water seeped into the recreation area of the cell block. Louis admitted to a corrections deputy that he had damaged the sprinkler. The reason? He was bored, he told the deputy. He was charged with a new count of preventing the use of a fire-extinguisher, a third degree felony that now runs up his count of felony charges in Flagler to three. The grand theft charge has been dropped.
Four Arrested for Picking Palmetto Berries
Every year, Flagler County government officials and the Sheriff's Office remind residents that picking Palmetto berries on Flagler County public lands is illegal. The county did so on Aug. 8. The Sheriff's Office did so three days later. "If you don't have permission from the property owner and a permit – don't do it. Otherwise, you could be arrested," Sheriff Rick Staly said. Picking palmetto berries interferes with food sources for wildlife, though out of county companies harvest and profit from it.
On Sept. 1 and Sept. 3, four individuals, T.C., 38, and J.W., 39, both of Palatka, K.F., 33, of Old Town and Lisa G. Caldwell, 58, of Bunnell, were charged with illegally harvesting palmetto berries. J.W. and K.F. were located in the area of Buffalo Plains Lane, T.C. in the area of Seminole Woods Boulevard and Slippery Trail, Caldwell–who would eventually be charged with felonies–off of 58 Pritchard Drive.




J.W. and K.F. picked the wrong place: the area neighbors the home of Adam Mengel, Flagler County's planning director. Mengel had heard noise in the woods and saw the two on the property, along with a third individual who was cited for a traffic infraction but not berry picking. Another neighbor had also seen the unusual activity in the backyards, and called authorities. J.W. had a pillowcase half full with berries. The third individual's car's trunk was filled with berries.
In the Seminole Woods incident, T.C. was found with a plastic bin with a large amount of palmetto berries, and a pair of garden shears. Another individual fled. The charge is a first degree misdemeanor. On Pritchard Drive, Caldwell had gone into a wooded lot, according to her arrest report, causing a neighbor to call authorities. It took deputies half an hour to find her. A search of her car revealed her in alleged possession of pot and other controlled substances, resulting in a pair of third-degree felony charges in addition to the charge of illegal harvesting.
A Drunk Driving Charge, with Underage Children Aboard
K.L.S., a 35-year-old resident of Lob Wedge Lane in Bunnell, was pulled over on I-95 the night of Sept. 2 as she drove 45 mph on the highway, causing several vehicles abruptly to change lane to avoid striking her, according to the Florida Highway Patrol. An FHP trooper found her to be driving with two young boys, both seat belted in.
The trooper reported K.L.S.'s speech to be slurred and her eyes glassy. She called her husband, who picked up the children. She declined to conduct field sobriety exercises or to speak with the trooper, and at the jail her arrest report states she declined to take a breathalizer test, though the State Attorney's information, when the DUI charge was filed on Friday (Sept. 8), states she "did have a blood or breath alcohol level of 0.15 or above."




K.L.S. was initially charged with child neglect, a third degree felony, and DUI. The child neglect charge was dropped. The DUI charged was filed as "enhanced DUI."
Child Drowns on Seattle Trail
A 19-month-old boy drowned in a swimming pool at 19 Seattle trail in Palm Coast the evening of September 3. The family had been staying at the house in Palm Coast because its own home in Jacksonville had flooded. The Palm Coast home belongs to a relative. One family member told authorities she had been sleeping and was woken up by a scream.
Another family member told authorities he was in the kitchen and the living room, feeding his other child, and had not noticed that the 19-month-old had somehow managed to go through the sliding glass door leading to the pool deck. The parent found his child in the pool, pulled him out and started compressions, guided by a 911 operator, until paramedics arrived and continued life-saving measures.
The child was transported to AdventHealth Palm Coast South (the hospital on State Road 100) and pronounced deceased in the emergency room that night a minute before 9 p.m.
Brendan Depa's Pre-Trial Rescheduled
A pre-trial scheduled for Sept. 7 in the case of Brendan Depa, the now-18-year-old former Matanzas High School student facing a charge of aggravated battery of a school employee, was rescheduled to Oct. 11. Depa's attorney, Kurt Teifke, argued in a continuance motion–which the prosecution did not oppose–that the defense needed "additional time to continue preparation of the case for trial or for plea resolution," leaving open the possibility for such a resolution, which almost all concerned would prefer over going to trial. Teifke also argued that there was no sense putting Depa, who is autistic, unnecessarily before the "gawk of onlookers during court proceedings," especially as all that would have occurred was a continuance.




FDLE Arrests Paid Petition Circulator for Personal Identification Fraud
The Florida Department of Law Enforcement (FDLE) arrested Maria Guadalupe Bautista, 24, of Ocala, on 16 counts of fraudulent use of personal identification information. Bautista was a paid petition circulator. Investigators with Fifth Judicial Circuit State Attorney Bill Gladson's Office, and the Alachua County Sheriff's Office assisted in the case.
The case began in November of 2021 when FDLE agents met with the Marion County Supervisor of Elections (SOE) about a complaint of widespread fraud related to a constitutional amendment for the limited authorization of casino gaming. The SOE staff identified 767 petition forms suspected of being forged. Bautista turned in 191 of the suspected fraudulent forms. The investigation confirmed that 16 petitions submitted by Bautista contained fraudulent signatures. Two of the 16 forged petitions she submitted to the SOE were for individuals who were deceased prior to the date on the signed forms.
Bautista was booked into the Marion County Jail on Aug. 28 and is being held on a $80,000 bond. The case will be prosecuted by the State Attorney's Office, Fifth Judicial Circuit. The investigation remains active.

Note: While some exceptions apply, individuals charged with misdemeanors will generally not be identified beyond their initials.